Advertisement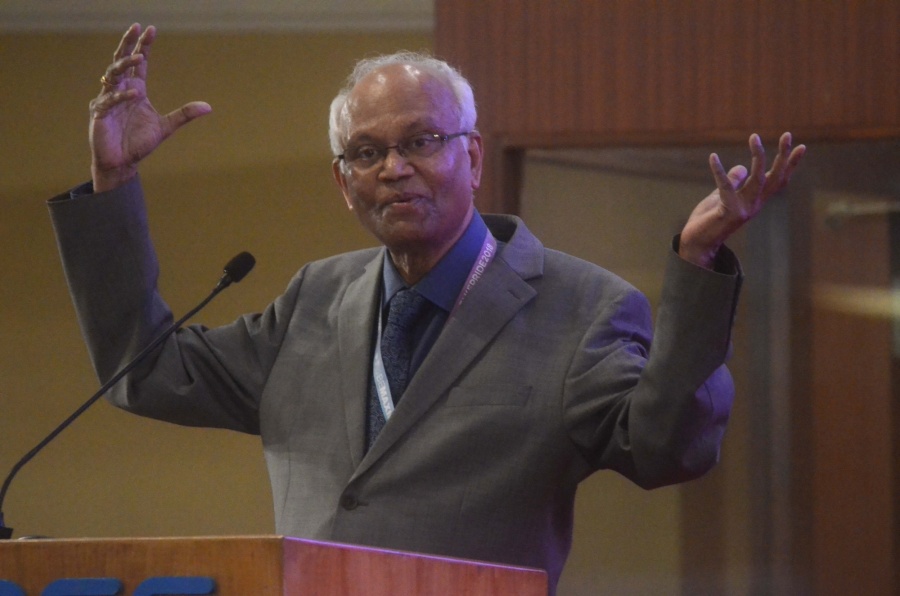 India needs to reinvent the 'Make in India' programme, according to R.A. Mashelkar, Former Director General of the Council of Scientific and Industrial Research (CSIR).
"We do not need just assembled in India but invented and designed in India," he told India's management leaders in an online dialogue organized by the All India Management Association (AIMA). He argued that India can become 'atmanirbhar' only with 'atmavishwas'.
Mashelkar pointed out that it was easier to trade in India than to make in India because of extreme bureaucracy. He said that businesses of different sizes had to comply with hundreds and thousands of compliances routinely.
Also Read – Indian pharma sector to grow 4-6%: ICRA
He cited the example of mobile phone assembly in India, in which the Chinese had a 9 per cent share five years ago and now they have a 68 per cent share. Indian companies' share has become negligible from 45 per cent in these five years, he pointed out. "India stuck to trading whereas the Chinese did innovations," he said.
He also pointed out the case of pharmaceutical APIs in which India used to be self-sufficient but gave up on producing because importing from China became cheaper and easier. China's processes were not environmentally clean and their costing was opaque, he argued. He expressed satisfaction that the Government of India was changing its policy now.
Sanjay Kirloskar, President AIMA and Chairman and Managing Director, Kirloskar Brothers Ltd, moderated the dialogue and Rekha Sethi, Director General, AIMA, anchored the session.
Kirloskar pointed out that during Covid-19, most countries were opting for self-sufficiency following the breakdown in global supply chains and trust among nations. He said that India's own attitude had hardened particularly against imports from China after the violence on the border and the ban on Chinese apps was indicative of India's self-confidence in replacing those with locally developed apps.
Mashelkar proposed a five-point strategy to make India self-reliant. He listed buy, make, buy to make better, make to buy better and make together as the ways to overcome the technology deficit in the country.
In this regard, he gave the example of Sony's purchase of transistor patents from America to make better products than the Americans to illustrate how buying technology can help. To make buy to make better, India needed critical components from China in many sectors such as pharmaceuticals, automobiles, electronics and capital goods.
"India's strategy has to be less China and not no China," he said.
Also Read – India to upgrade defence PSUs
About making to buy better, he gave the example of India making the Param supercomputer on its own to convince America that if it denied technology to India, India could become its competitor.
Mashelkar said that making it together was critical for developing new technologies and applications in the country. He argued that the government should take the financial risk and the private partner should pay back only if a project succeeds. He said that the government also had to bear the risk in procurement to promote start-ups, which are typically barred because of tender conditions.
Allowing competition from overseas is a necessary condition for India to become self-reliant, Mashelkar said. India needs to develop global standards and not local standards because Indian companies will remain small and confined to India. "We cannot go back to licence raj," he said.
Mashelkar regretted that while India had talent and technology, it was short on trust. According to him, India's biggest challenge is trust deficit and not budget deficit.
He cited the example of Simputer, which was made just for India and was ahead of Apple's iPhone and Samsung's Galaxy but it was not accepted because trust was missing.
He also cited the example of a dengue test developed by an Indian company which found no takers till the dengue epidemic hit, at which time the developer did not have the stocks.
However, during Covid, he pointed out that Indian start-ups, IITs and CSIR have been quick to develop Covid testing kits and ventilators because imports were not available.
"We need support from the government, as trust for Indian technology is necessary," he said.
Mashelkar said that the new generation of Indians was thinking beyond self-reliance and they had the self-confidence to make global Indian companies. He pointed out that young Indians do not want to emulate Satya Nadela and Sundar Pichai and go overseas to find jobs and rise to the CEOs position. They want to make Microsofts and Googles right here in India, he said.
The session with Mashelkar was attended by more than 800 people via video conferencing and the programme was broadcast live on social media channels.