Advertisement

The captivating 3-hour virtual program attended by diplomats saw novice writers, eminent literary figures, renowned singers, and community members reciting self-written poetic pieces, reports Asian Lite News
International Mother Language Day was enthusiastically marked with poetry, song, and monologue presentations recently. Organised by Sanskruti Centre for Cultural Excellence and conceived by Ragasudha Vinjamuri, the online event named Kaavyaanjali had highlighted 27 languages. The captivating 3-hour virtual program attended by diplomats saw novice writers, eminent literary figures, renowned singers, and community members reciting self-written poetic pieces.

Roshan Kanal, Deputy Chief of Mission at the Embassy of Nepal, Hassan Shifau, former Deputy Ambassador at the High Commission of Maldives in London, Tim Brookes, Founder of Atlas of Endangered Scripts who joined from the USA, have spoken eloquently on the occasion. Mr Hamdun- former Minister of Planning, and a Member of Parliament, and currently President of Lexical Comity of the Academy of Dhivehi language was also in attendance.
Presenters included Bhaswati Gagan Dey (Assamese), Dils Lakshmindra Sinha (Bishnupriya Manipuri), Arindam Dhar (Bengali), Ishtar Zikr (Dhivehi), Indu Barot (Dingal), Lalit Sharma (Dogri), Mayura Patel (Gujarati), Gyan Sharma (Hindi), Dr. Vipin Nadda (Himachali), Radhika Joshi (Kannada), Dr Harsha Jani (Kathiawadi), Mario Fernandes (Konkani), Rinchen Wacher (Laddakhi), Karma Barfungpa (Lokeh), Sharad Jha (Maithili), Deepa Nair (Malayalam), Maithili More (Marathi), Leina Moirangthem (Meitei), Acharya Durga Prasad Pokhrel (Nepali), Bhagyashree Singh (Odia), Amrinder Bobby (Punjabi), Kamalini Somalinga (Saurashtra), Dr. Nari Mansukhani (Sindhi), Sushil Rapatwar (Sanskrit), Sugath Senevirathne (Sinhalese), Dr. Laksmi Vyas (Tamil) and Ragasudha Vinjamuri (Telugu).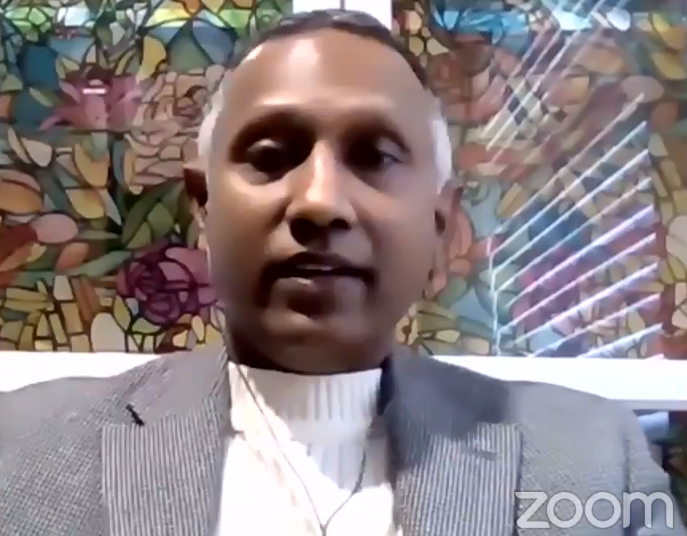 Rinchen Wacher is a renowned lyricist and composer from Ladakh, Amrinder Bobby is a leading singer from Punjab, and Lakshmindra Sinha is an acclaimed writer of Bishnupriya Manipuri language. All three have joined from India. Ishtar Zikr, a noted poetess, has joined from Maldives, Indu Barot is an award-winning poetess and Gyan Sharma is a ghazal singer, both based in the UK. 85-year-old Dr. Nari Mansukhani is a retired medical professional who has been active in Sindhi congregations for decades.