Advertisement

Two persons in Karnataka have tested positive for Omicron, the newest variant of Covid-19, after genome sequencing, Balram Bhargava, Director General, Indian Council of Medical Research said, reports Asian Lite News
Two persons in Karnataka have tested positive for Omicron, the newest variant of Covid-19, after genome sequencing, Balram Bhargava, Director General, Indian Council of Medical Research (ICMR), said here on Thursday.
Both cases have travel history to South Africa.
"Two cases of Omircron have been detected in Karnataka so far through genome sequencing effort of INSACOG consortium of 37 laboratories established by the Ministry of Health. We need not panic, but awareness is absolutely essential. Covid appropriate behaviour is required," Bhargava said.
The contacts of the duo who tested positive for the latest variant have been identified and are under monitoring, he said.
"All Omicron related cases are found to have mild symptoms so far. No severe symptoms have been noticed in all such cases, both in the country and abroad. The WHO has said that the virus' emerging evidence is being studied," said Lav Agarwal, Joint Secretary, Union Health Ministry, adding that around 29 countries across the world have reported 373 cases of Omicron so far.
Addressing a press conference on the ongoing Covid situation, Agrawal said that a surge in cases is being observed across the world, with Europe alone reporting 70 per cent of the cases in the past one week.
Meanwhile, Bruhat Bengaluru Mahanagara Palike (BBMP) Chief Commissioner Gaurav Gupta on Thursday said as many as five persons who were primary and secondary contacts of one of the infected persons with Omicron variant, have tested positive for Covid-19, and their samples have been sent for genomic sequencing for confirmation.
"The Omicron variant has been found in a person who doesn't have travel history. He was tested after fever, body ache symptoms developed in him. His samples were tested on November 22 and later, samples were sent for genomic sequencing on November 24. There is a possibility of the presence of Omicron virus in the society. People need to be careful and wear masks," he said.
Among the two infected individuals — one is a 66-year-old person from South Africa. He came to Bengaluru airport on November 20 and tested positive for Covid-19. Later, BBMP sent his sample to genomic sequencing of which the result has come on Thursday, Gupta explained.
He was isolated in a hotel.
All primary 24 contacts and 240 secondary contacts have been traced and samples were taken by Urban Primary Health Centre officials. All have been tested negative. "We are keeping a watch on them till date," he underlined.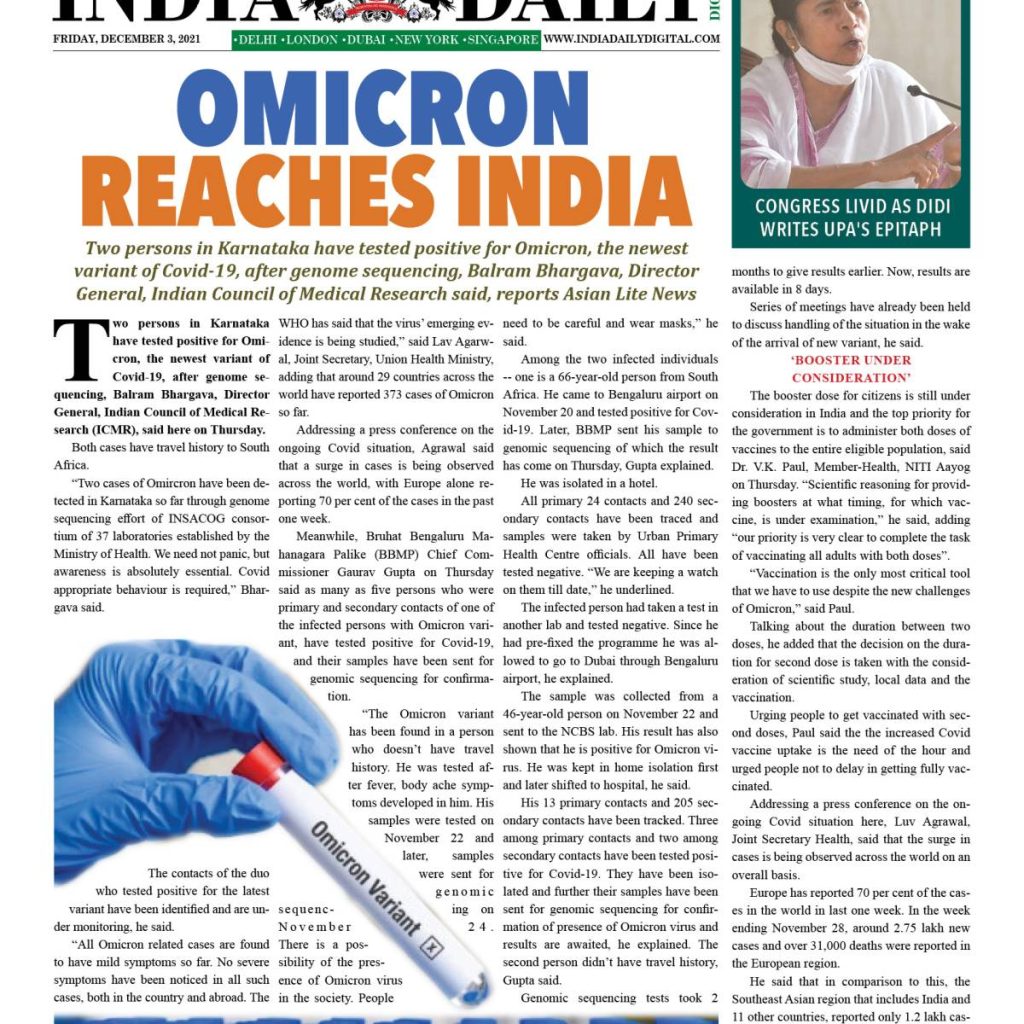 The infected person had taken a test in another lab and tested negative. Since he had pre-fixed the programme he was allowed to go to Dubai through Bengaluru airport, he explained.
The sample was collected from a 46-year-old person on November 22 and sent to the NCBS lab. His result has also shown that he is positive for Omicron virus. He was kept in home isolation first and later shifted to hospital, he said.
His 13 primary contacts and 205 secondary contacts have been tracked. Three among primary contacts and two among secondary contacts have been tested positive for Covid-19. They have been isolated and further their samples have been sent for genomic sequencing for confirmation of presence of Omicron virus and results are awaited, he explained. The second person didn't have travel history, Gupta said.
Genomic sequencing tests took 2 months to give results earlier. Now, results are available in 8 days.
Series of meetings have already been held to discuss handling of the situation in the wake of the arrival of new variant, he said.
'Booster under consideration'
The booster dose for citizens is still under consideration in India and the top priority for the government is to administer both doses of vaccines to the entire eligible population, said Dr. V.K. Paul, Member-Health, NITI Aayog on Thursday.
"Scientific reasoning for providing boosters at what timing, for which vaccine, is under examination," he said, adding "our priority is very clear to complete the task of vaccinating all adults with both doses".
"Vaccination is the only most critical tool that we have to use despite the new challenges of Omicron," said Paul.
Talking about the duration between two doses, he added that the decision on the duration for second dose is taken with the consideration of scientific study, local data and the vaccination.
Urging people to get vaccinated with second doses, Paul said the the increased Covid vaccine uptake is the need of the hour and urged people not to delay in getting fully vaccinated.
Addressing a press conference on the ongoing Covid situation here, Luv Agrawal, Joint Secretary Health, said that the surge in cases is being observed across the world on an overall basis.
Europe has reported 70 per cent of the cases in the world in last one week. In the week ending November 28, around 2.75 lakh new cases and over 31,000 deaths were reported in the European region.
He said that in comparison to this, the Southeast Asian region that includes India and 11 other countries, reported only 1.2 lakh cases in the last one week — only 3.1 per cent of the cases of the world. A decrease in cases is being reported in the Southeast Asian region.