Advertisement

The 287,000 people who live in Barbados are just the latest pawns in the sights of the Beijing regime as part of its unwavering policy of world domination…reports Asian Lite News
"Barbados this week became a republic. But more significantly, as well as losing a monarch, the West Indian island gained an emperor. For, in place of Elizabeth II, a new ruler is lurking behind the scenes: the Chinese strongman leader-for-life Xi Jinping," the report said.
Surely, too, it was not a coincidence that this week, in a highly unusual intervention, the head of MI6, Richard Moore, delivered a razor-edged warning about what he said are 'debt traps and data traps' that China is laying around the world.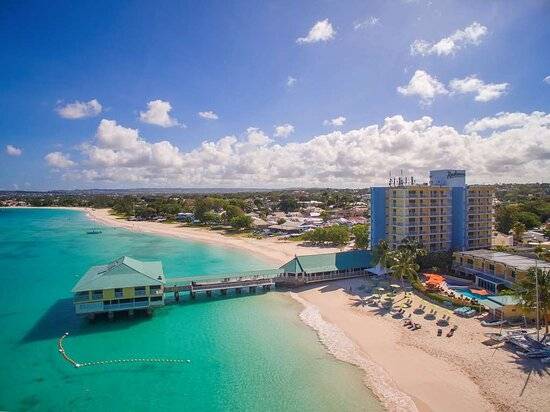 Yet the events in Barbados are a microcosm of China's ever-growing influence over a swathe of the planet — one in which British influence was once unparalleled, the Daily Mail reported.
For years, experts have warned of Beijing's creeping grip on poorer countries — and accused the Communist regime of locking these nations in the so-called 'debt trap'.
This is best exemplified by the Belt and Road Initiative, which has seen China funding large infrastructure projects across Asia, Africa and Central Europe on seemingly tempting but punitive terms. The lesson from Barbados is that the dragon's biggest target is the Commonwealth, the report said.
As Britain's global, political and economic influence dwindles, China, patient and wily, is filling the gap — and the cooperative body that unites most of our former empire is ripe for picking. That would have seemed unthinkable only a few years ago, the report said.
The Commonwealth countries have traditionally been loyal British allies — with the memory of imperial dominance balanced by deep ties of history and culture. In the aftermath of empire, children in Commonwealth schools studied Shakespeare, played cricket and sang 'God Save the Queen'.
But decades of neglect have taken their toll. Despite its name, the Foreign, Commonwealth and Development Office has consistently neglected our former empire. Dozens of embassies and missions in Africa, the Pacific and the Caribbean have closed as UK governments concentrated on promoting trade and investment in more promising climes, the report said.
And so China has been able to forge its new empire — not from old-style conquest, but through other tactics.
The Chinese imperialists' main weapon — ironically given their dogged adherence to the Communist creed — is money.
Most of the Commonwealth comprises medium-sized and small countries that are tired of second-class treatment. They want better infrastructure — ports, airports, power grids, roads, railways, water and sewage treatment plants.
The international economic system run by the West has not provided these investments. But China offers them, built rapidly and on seemingly advantageous terms. Beijing has spent £685 billion since 2005 wooing Commonwealth countries, according to an estimate from the Henry Jackson Society think-tank, the report said.
Even that huge sum is trivial for Beijing, with its boundless ambition, colossal military budget and high-tech weaponry.
In poor countries that get a raw deal from the rich world, China's cash brings clout. The spending includes £5 billion in five Commonwealth Caribbean nations: Barbados, Jamaica, the Bahamas, Antigua and Barbuda and Trinidad and Tobago, the report said.
The cash-strapped, crime-ridden island of Jamaica is the biggest target, benefiting from Chinese 'investment' to the tune of 2 billion pounds.
China's advance is underway across the Commonwealth, including in far larger member countries in Africa, Asia and the Pacific.
China has also assiduously wooed Nigeria, the third-largest country (population 213 million).
Technological conquest is underway, too. In 2019, Guyana — a neighbouring Commonwealth country — launched the Safe City System in its capital Georgetown, using equipment designed by the Beijing-sponsored telecoms giant Huawei. This includes facial recognition technology of the kind used to repress Uighurs and other Muslims in western China. Similar technology is being used in Dominica, also a Commonwealth country, the report said.
These sinister systems are the backbone of China's surveillance state at home. Used abroad, they enable the regime to harvest foreigners' data, the report added.
Military influence is growing, too. A newspaper in Fiji, another Commonwealth country, disclosed in April that China had trained Fiji's two most senior military officers.
China also established Namibia's military staff college and trains Sri Lankan soldiers. Other African Commonwealth countries receiving Chinese military training include Cameroon and Rwanda in Africa, as well as Guyana in South America. China trains Kenya's paramilitary National Youth Service and sponsors a 'politico-military school' in Uganda, the Daily Mail reported.
These 'debt and data traps', combined with China's military influence, amount to nothing less than a redrawing of the world map, the report added.
ALSO READ: US, EU concerned over China's 'problematic actions'
And all this diplomatic clout is, understandably, peeling away Commonwealth countries that once reliably sided with Britain.
In a recent UN vote on Hong Kong, China received backing from 53 states, including Papua New Guinea and Antigua and Barbuda — Commonwealth countries that still have the Queen as head of state.
Other Commonwealth members voting to back Beijing included Sierra Leone, Zambia, Lesotho, Cameroon and Mozambique — all Commonwealth nations that have benefited from Chinese aid and investment, the Daily Mail reported.