Advertisement

Playing in front of 60,000 fans despite the pandemic, Italy came back after conceding an early goal to tie the game 1-1 and then showed steely nerves in the penalties, reports Asian Lite News
Italy became the European football champions after a gap of 53 years by defeating hosts England in a dramatic penalty shootout in the Euro 2020 final at the historic Wembley stadium here.
Italy had won their first Euro title in 1968 and they won their second one when goalkeeper Donnarumma blocked a poor effort by 19-year-old Bukayo Saka of England, after Jorginho had missed the last Italian kick, to win the penalty shootout 3-2 after both teams were deadlocked 1-1 after 120 minutes of action.
Playing in front of 60,000 fans despite the pandemic, Italy came back after conceding an early goal to tie the game 1-1 and then showed steely nerves in the penalties.
England added to their list of miserable history in penalty shootouts as despite being put ahead of goalkeeper Jordan Pickford who saved a couple of penalties.
Earlier, England took early lead when defender Luke Shaw scored at one minute and 57th second — the fastest goal of a Euro final. Luke Shaw started the counter and rushed ahead to meet a long cross by Kieran Trippier near the six-yard spot and shot home off the left-hand post.
Italy equalised midway through the second half when defender Leonardo Bonucci, scored off a goal-line scramble in the 67th minute. Off a corner, goalkeeper Jordan Pickford forced Marco Verratti's header onto the left-hand post but the ball fell for Bonucci and he did not make any mistake to make it 1-1.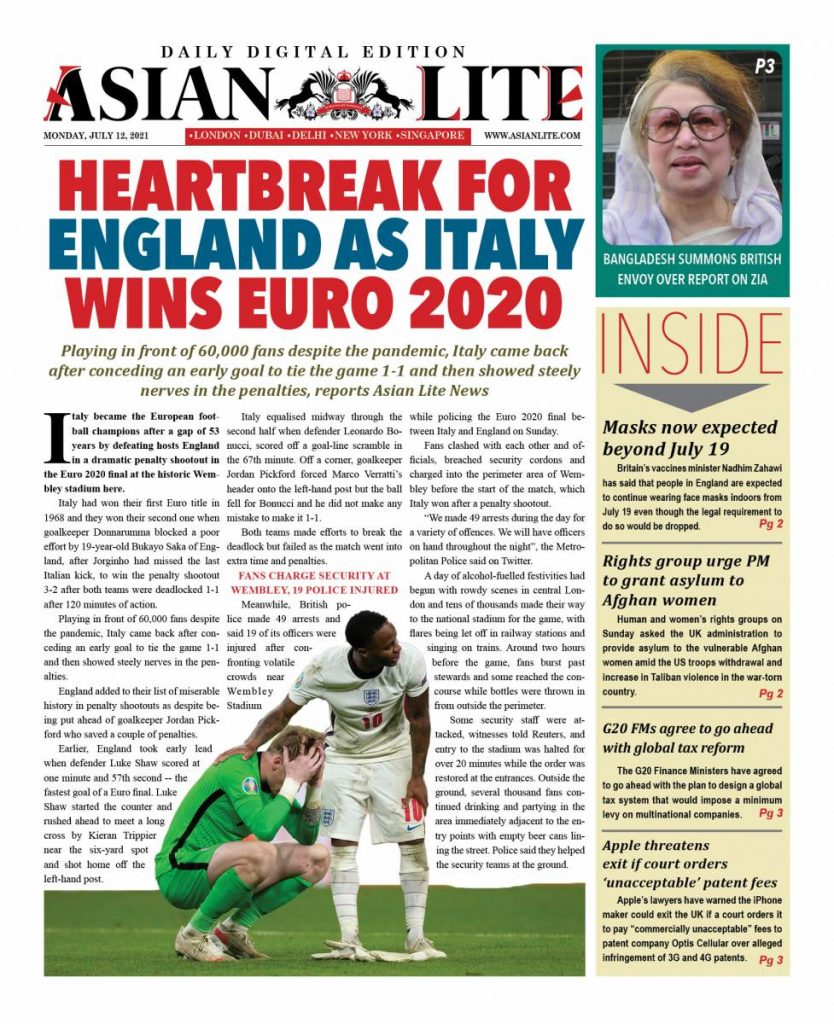 Both teams made efforts to break the deadlock but failed as the match went into extra time and penalties.
Fans charge security at Wembley, 19 police injured
Meanwhile, British police made 49 arrests and said 19 of its officers were injured after confronting volatile crowds near Wembley Stadium while policing the Euro 2020 final between Italy and England on Sunday.
Fans clashed with each other and officials, breached security cordons and charged into the perimeter area of Wembley before the start of the match, which Italy won after a penalty shootout.
"We made 49 arrests during the day for a variety of offences. We will have officers on hand throughout the night", the Metropolitan Police said on Twitter.
A day of alcohol-fuelled festivities had begun with rowdy scenes in central London and tens of thousands made their way to the national stadium for the game, with flares being let off in railway stations and singing on trains.
Around two hours before the game, fans burst past stewards and some reached the concourse while bottles were thrown in from outside the perimeter.
Some security staff were attacked, witnesses told Reuters, and entry to the stadium was halted for over 20 minutes while the order was restored at the entrances.
Outside the ground, several thousand fans continued drinking and partying in the area immediately adjacent to the entry points with empty beer cans lining the street.
Police said they helped the security teams at the ground.
ALSO READ-The ultimate Test in the 'cradle of cricket'
READ MORE-FIFA to test concussion substitutes at Club World Cup