Advertisement

Foreign Secretary Liz Truss, who is on a two-day trip to India, has met External Affairs Minister Dr S Jaishankar and said that partnership with India is absolutely crucial, reports Asian Lite Newsdesk
External Affairs Minister (EAM) S Jaishankar on Friday met British foreign secretary Liz Truss and did a comprehensive review of the bilateral relations, which included gauging the progress of Roadmap 2030.
Both Ministers undertook a detailed review of the Roadmap 2030 launched during the India-UK Virtual Summit held on 4 May, 2021, External Affairs Ministry (EAM) said in a statement.
India and UK Roadmap 2030 aimed to elevate the India-UK relationship to a Comprehensive Strategic Partnership (CSP) and this will also guide cooperation for the next 10 years covering all aspects of our multi-faceted relations.
After the meeting, the ministers appreciated the progress so far on the implementation of the Roadmap despite the constraints posed by the pandemic.
"There was detailed discussions focused on enhancing cooperation in the key priority areas of trade and investments, people-to-people relationship, health partnership, climate change, science & innovation and defence & security," said MEA.
Both Ministers welcomed the progress in delivering the Enhanced Trade Partnership announced at the Virtual Summit and underlined the need for launching FTA negotiations at the earliest, with a focus on negotiating an interim agreement that can deliver quick gains to businesses in both India and the UK.
Both Ministers also discussed the Migration and Mobility Partnership and the Global Innovation Partnership and committed to their early implementation.
They also acknowledged the establishment of new dialogue mechanisms for discussing consular issues and maritime security. Both sides also agreed on instituting the India-UK Strategic Futures Forum Track, a new 1.5 Dialogue mechanism to foster expert deliberations on long-term strategic links between the two countries.
During her stay in New Delhi, Truss also met the Minister of Finance, Nirmala Sitharaman and the Minister of Environment, Forests and Climate Change, Bhupender Yadav.
Truss and Sitharaman discussed "mutual areas of interest" including investments in green energy, infrastructure and National Monetization Pipeline.
In a series of tweets, the Ministry of Finance said, "Union Finance Minister Smt. @nsitharaman held a meeting with UK Foreign Secretary Ms @trussliz to discuss mutual areas of interest in New Delhi today."
"Finance Minister cited the close collaboration between the two countries, strengthened through the Comprehensive Strategy Partnership adopted by the Prime Ministers of India and UK in May 2021," said the ministry in another tweet.
"Finance Minister Smt. @nsitharaman and Ms @trussliz discussed investments in green energy, infrastructure, National Monetization Pipeline, FinTech and IFSCA as key areas for further collaboration between UK and India," stated the ministry.
After meeting EAM Jaishankar, the foreign secretary said that partnership with India is absolutely crucial.
"I am delighted to make this one of my early priorities as Foreign Secretary and indeed our second meeting together. It is because we see our partnership with India as absolutely crucial. You believe in free enterprise and you believe in freedom," said UK Foreign Secretary Elizabeth Truss.
Truss stressed that both countries should work together on the set plans for the future.
"I think it's very important that countries like ours act together on our shared plans for the future. We have a huge opportunity to deepen our relationship in a number of areas whether it's security and defence, or technology, or health," said Truss.
She also congratulated the nation on vaccinating 1 billion Indians in record time.
"Vaccination is a great area of collaboration between our two countries – the Oxford-AstraZeneca vaccine produced here at the Serum Institute. There's so much more we can do in areas like sharing our expertise on the environment ahead of COP26," added Truss.
She also said, "I am very much looking forward to positive discussions that will take our relationship forward."
'COP26 should be the COP of action, implementation'
Union Minister for Environment, Forest and Climate Change Bhupender Yadav has assured India's full support to the UK during their United Nations Climate Change Conference (COP) presidency and said that the upcoming Glasgow Climate Change Conference (COP 26) should be the COP of action and implementation.
As per the press note released by the Ministry of Environment, Forest and Climate Change, crucial matters like COP26, UK COP26 initiatives, India UK Roadmap-bilateral cooperation, Commonwealth Declaration on Climate Change, and other related issues were discussed.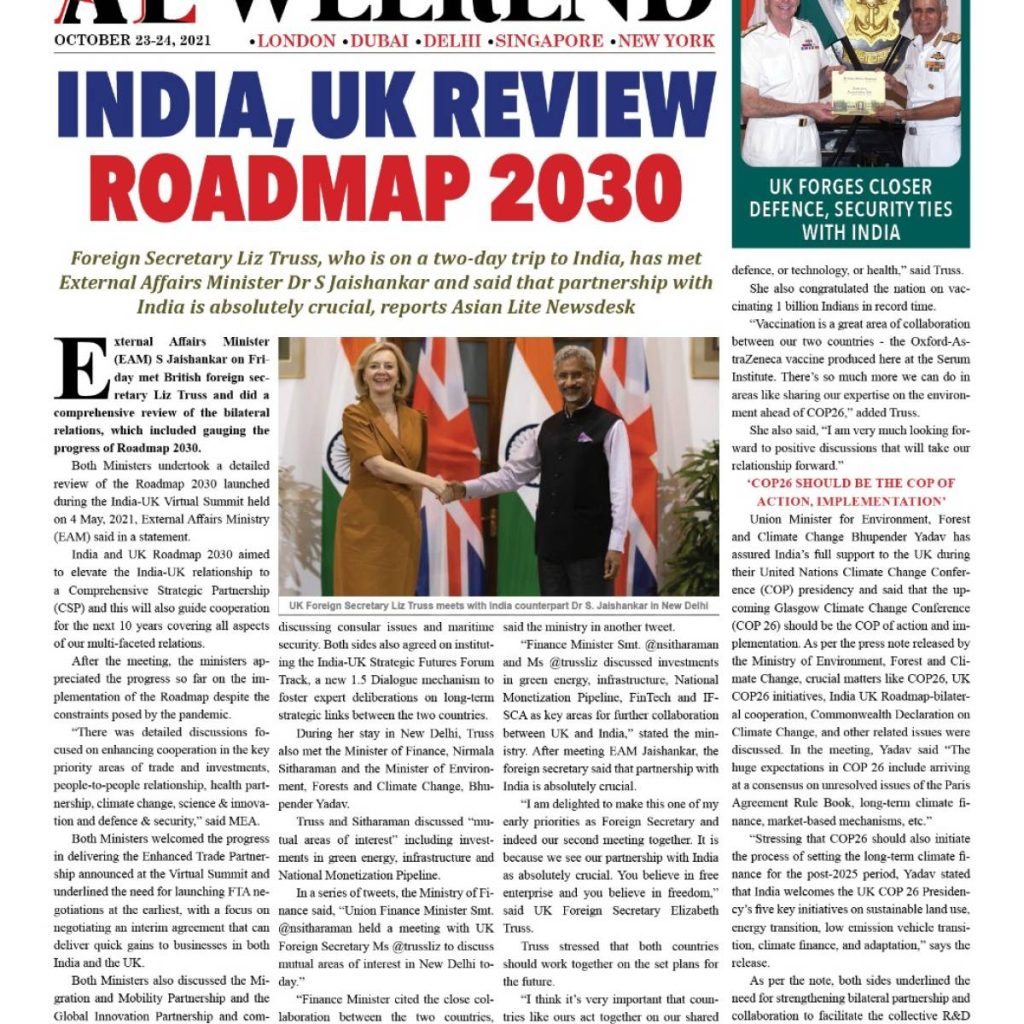 In the meeting, Yadav said "The huge expectations in COP 26 include arriving at a consensus on unresolved issues of the Paris Agreement Rule Book, long-term climate finance, market-based mechanisms, etc."
"Stressing that COP26 should also initiate the process of setting the long-term climate finance for the post-2025 period, Yadav stated that India welcomes the UK COP 26 Presidency's five key initiatives on sustainable land use, energy transition, low emission vehicle transition, climate finance, and adaptation," says the release.
As per the note, both sides underlined the need for strengthening bilateral partnership and collaboration to facilitate the collective R&D of cutting-edge technologies and the transfer of proven technologies to drive low carbon pathways. (ANI)
ALSO READ-COP26: UK, India team up for climate change adaptation'
READ MORE-India, UK joint wargames important, says top Royal Navy officer