Advertisement

Prominent members of the Asian community celebrate 50th Anniversary of India- Bangladesh Friendship in London… reports Kaliph Anaz
London witnessed the culmination of series of events organised across the world to celebrate the 50 the anniversary of Bangladesh's Independence. The High Commission of India and Bangladesh High Commission jointly organised a reception and a cultural programme to celebrate Maitri Diwas (Friendship Day) marking 50 Years of India-Bangladesh Diplomatic ties.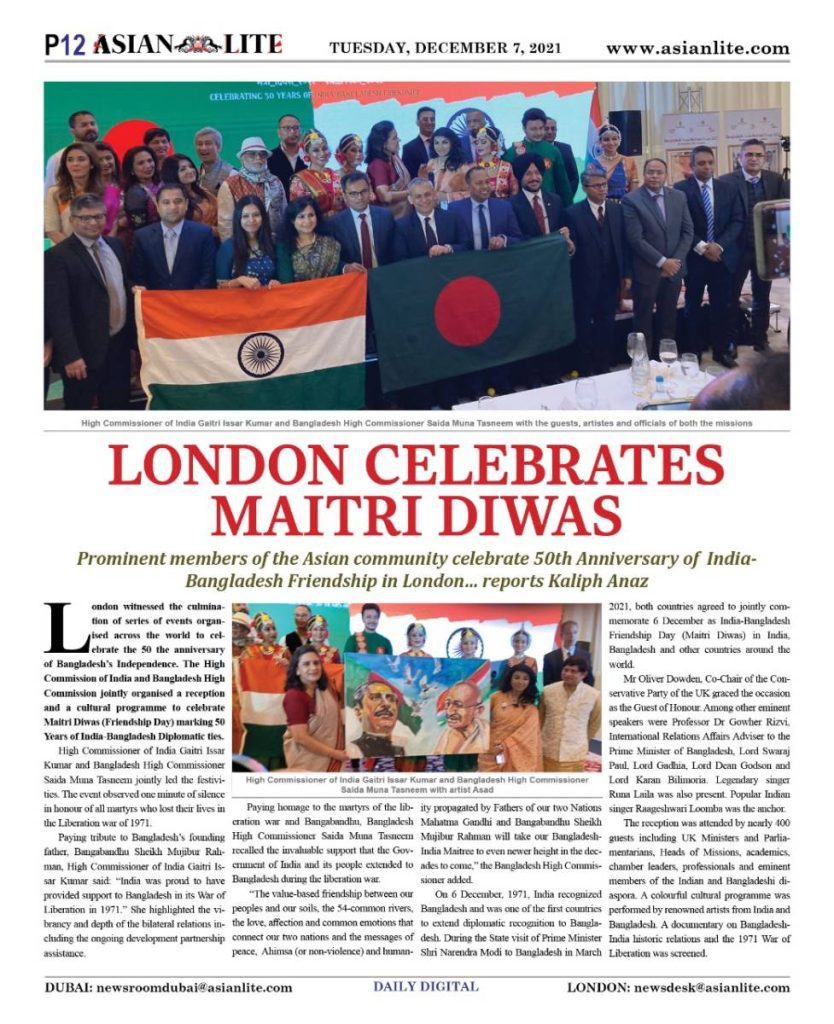 High Commissioner of India Gaitri Issar Kumar and Bangladesh High Commissioner Saida Muna Tasneem jointly led the festivities. The event observed one minute of silence in honour of all martyrs who lost their lives in the Liberation war of 1971.
Paying tribute to Bangladesh's founding father, Bangabandhu Sheikh Mujibur Rahman, High Commissioner of India Gaitri Issar Kumar said: "India was proud to have provided support to Bangladesh in its War of Liberation in 1971." She highlighted the vibrancy and depth of the bilateral relations including the ongoing development partnership assistance.
Paying homage to the martyrs of the liberation war and Bangabandhu, Bangladesh High Commissioner Saida Muna Tasneem recalled the invaluable support that the Government of India and its people extended to Bangladesh during the liberation war.
 "The value-based friendship between our peoples and our soils, the 54-common rivers, the love, affection and common emotions that connect our two nations and the messages of peace,  Ahimsa (or non-violence) and humanity propagated by Fathers of our two Nations Mahatma Gandhi and Bangabandhu Sheikh Mujibur Rahman will take our Bangladesh-India Maitree to even newer height in the decades to come," the Bangladesh High Commissioner added.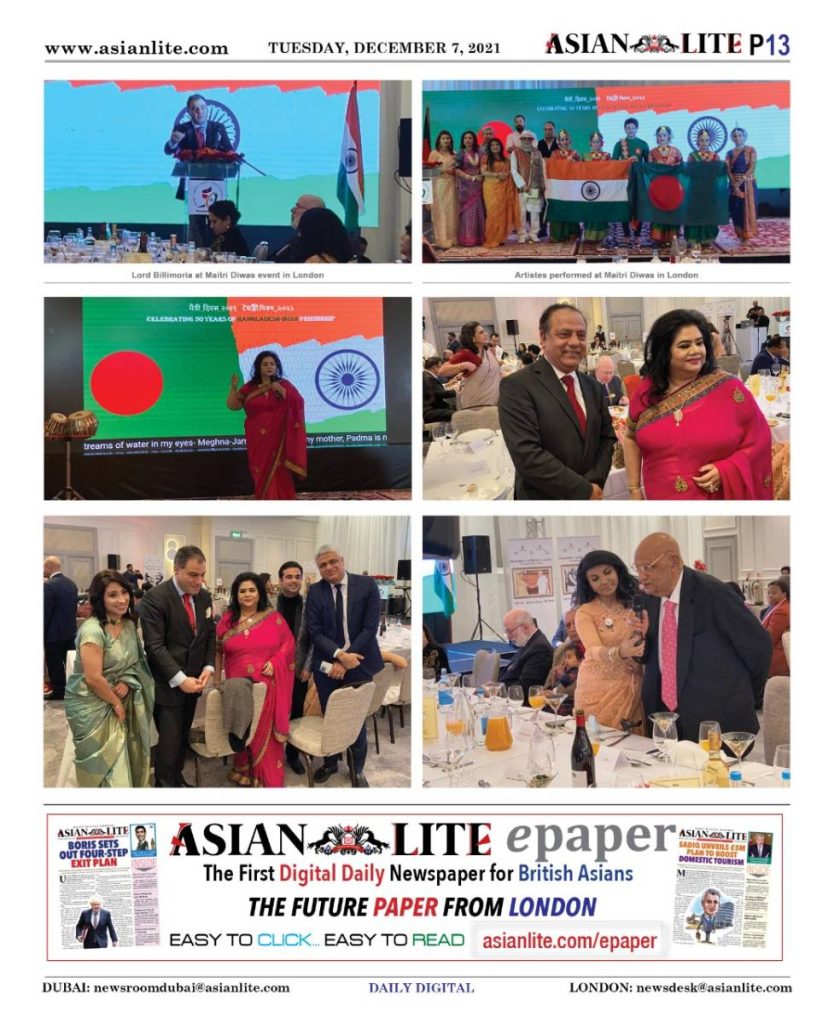 On 6 December, 1971, India recognized Bangladesh and was one of the first countries to extend diplomatic recognition to Bangladesh. During the State visit of Prime Minister Shri Narendra Modi to Bangladesh in March 2021, both countries agreed to jointly commemorate 6 December as India-Bangladesh Friendship Day (Maitri Diwas) in India, Bangladesh and other countries around the world.
Mr Oliver Dowden, Co-Chair of the Conservative Party of the UK graced the occasion as the Guest of Honour. Among other eminent speakers were Professor Dr Gowher Rizvi, International Relations Affairs Adviser to the Prime Minister of Bangladesh, Lord Swaraj Paul, Lord Gadhia, Lord Dean Godson and Lord Karan Bilimoria. Legendary singer Runa Laila was also present. Popular Indian singer Raageshwari Loomba was the anchor.
The reception was attended by nearly 400 guests including UK Ministers and Parliamentarians, Heads of Missions, academics, chamber leaders, professionals and eminent members of the Indian and Bangladeshi diaspora.
A colourful cultural programme was performed by renowned artists from India and Bangladesh. A documentary on Bangladesh-India historic relations and the 1971 War of Liberation was screened.