Advertisement

UK has denied that any warning shots were fired, saying its warship was conducting an "innocent passage through Ukrainian territorial waters in accordance with international law", reports Asian Lite Newsdesk
More than 20 Russian warplanes and coastguard ships have targeted a Royal Navy warship sailing near Crimea, it was reported.
Moscow on Wednesday said its warship fired warning shots after British Royal Navy destroyer, HMS Defender, violated Russia's maritime borders in the Black Sea.
"At 11:52 am on 23 June, the HMS Defender of the British Royal Navy, operating in the northwestern part of the Black Sea, violated the border and entered three kilometres into Russian territorial waters in the region of Cape Fiolent," the Russian Ministry of Defence said in a press statement.
According to the military, the British warship was warned that deadly force would be used if it violated Russia's borders. The ship was said to have ignored the warning, Sputnik reported.
"At 12:06 and 12:08, a border patrol vessel carried out warning shots. At 12:19 a Su-24M carried out a warning bombing run using 4 OFAB-250 [high-explosive fragmentation] bombs at the HMS Defender's path of movement," the statement added.
"At 12:23 the combined actions of the Black Sea Fleet and the Border Forces of the FSB forced the HMS Defender to leave the territorial waters of the Russian Federation," it further said.
Meanwhile, UK has denied that any warning shots were fired, saying its warship was conducting an "innocent passage through Ukrainian territorial waters in accordance with international law."
"We believe the Russians were undertaking a gunnery exercise in the Black Sea and provided the maritime community with prior warning of their activity. No shots were directed at HMS Defender and we do not recognize the claim that bombs were dropped in her path," the UK Defence Ministry said in a pair of tweets.
HMS Defender was sailing from Odessa in southern Ukraine to Georgia. To get there, it passed south of the Crimea peninsula, which Russia annexed from Ukraine in 2014 in a move that has not been recognised internationally.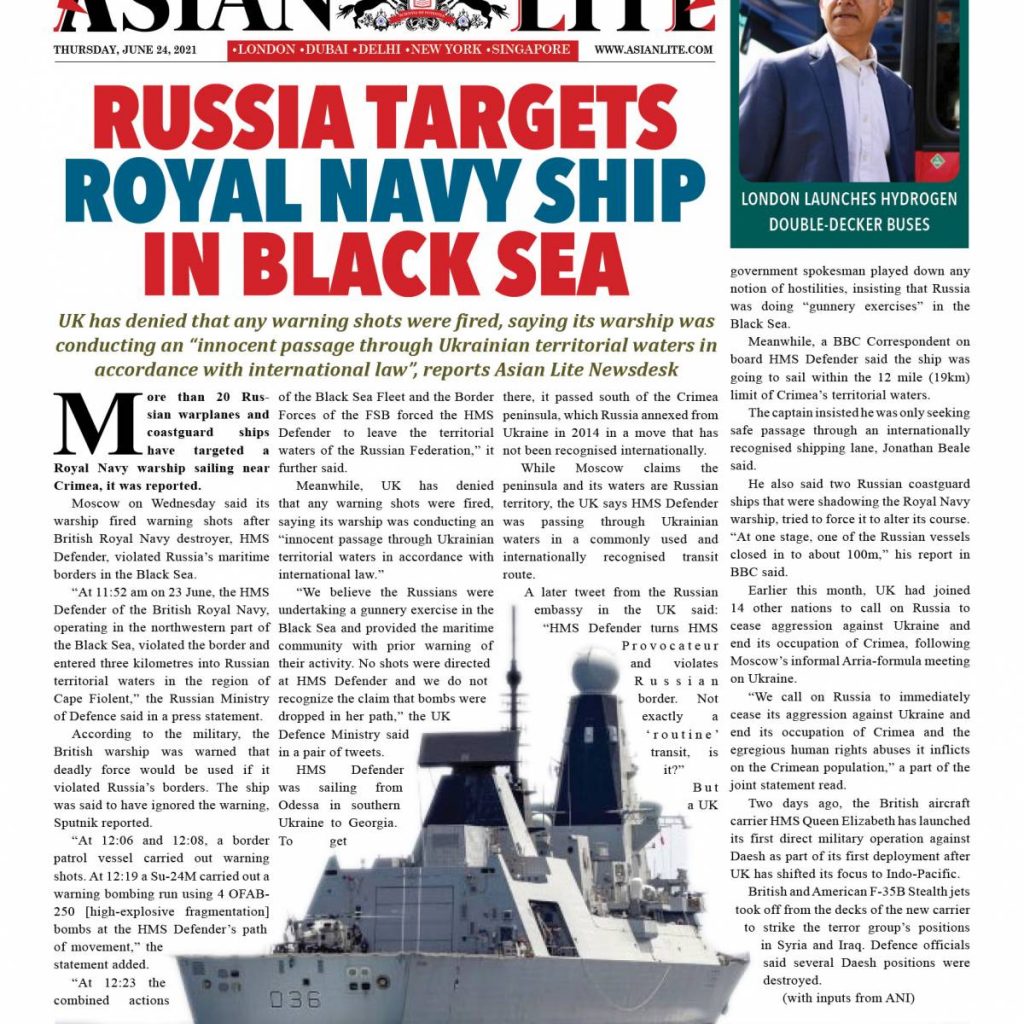 While Moscow claims the peninsula and its waters are Russian territory, the UK says HMS Defender was passing through Ukrainian waters in a commonly used and internationally recognised transit route.
A later tweet from the Russian embassy in the UK said: "HMS Defender turns HMS Provocateur and violates Russian border. Not exactly a 'routine' transit, is it?"
But a UK government spokesman played down any notion of hostilities, insisting that Russia was doing "gunnery exercises" in the Black Sea.
Meanwhile, a BBC Correspondent on board HMS Defender said the ship was going to sail within the 12 mile (19km) limit of Crimea's territorial waters.
The captain insisted he was only seeking safe passage through an internationally recognised shipping lane, Jonathan Beale said.
He also said two Russian coastguard ships that were shadowing the Royal Navy warship, tried to force it to alter its course. "At one stage, one of the Russian vessels closed in to about 100m," his report in BBC said.
Earlier this month, UK had joined 14 other nations to call on Russia to cease aggression against Ukraine and end its occupation of Crimea, following Moscow's informal Arria-formula meeting on Ukraine.
"We call on Russia to immediately cease its aggression against Ukraine and end its occupation of Crimea and the egregious human rights abuses it inflicts on the Crimean population," a part of the joint statement read.
Two days ago, the British aircraft carrier HMS Queen Elizabeth has launched its first direct military operation against Daesh as part of its first deployment after UK has shifted its focus to Indo-Pacific.
British and American F-35B Stealth jets took off from the decks of the new carrier to strike the terror group's positions in Syria and Iraq. Defence officials said several Daesh positions were destroyed. (with inputs from ANI)
ALSO READ-Royal Navy Honours Indian Businessman
READ MORE-Royal Navy uses AI for first time at sea