Advertisement

A special representative is meeting with senior Taliban representatives in Doha to underline the importance of safe passage out of Afghanistan for British nationals, and those Afghans who have worked with UK, reports Asian Lite Newsdesk
The UK government has begun talks with the Taliban to secure safe passage out of Afghanistan for a number of British nationals and Afghans who still remain in the war-torn country, media reported.
According to a BBC report, the talks, involving UK officials and "senior" Taliban members, are taking place in Doha, Qatar, No 10 said.
Defence Secretary Ben Wallace is understood to have told MPs that between 150-250 people eligible for relocation – plus their families – remain in the country, it was reported.
Commenting on the UK-Taliban negotiations, a No 10 spokesman said, as quoted by BBC: "The prime minister's special representative for Afghan transition, Simon Gass, has travelled to Doha and is meeting with senior Taliban representatives to underline the importance of safe passage out of Afghanistan for British nationals, and those Afghans who have worked with us over the past 20 years."
On Tuesday, Foreign Secretary Dominic Raab said more than 17,000 people had been evacuated by the UK from Afghanistan so far, including over 5,000 UK nationals.
Meanwhile, responding to UN Security Council resolution on Afghanistan, Raab said it is a strong signal of the determination within the international community to send a clear message to the Taliban and set clear expectations of the new Afghan government.
"The resolution calls for safe passage for all those who wish to leave, urgent humanitarian access and respect for human rights, and insists that Afghan territory must not be used to threaten or attack any other country or to shelter and train terrorists," Raab said in a statement.
Afghans who worked for UK can stay permanently
The government said a significant cross-government effort, dubbed 'Operation Warm Welcome', is underway to ensure Afghans arriving in the UK receive the vital support they need to rebuild their lives, find work, pursue education and integrate into their local communities.
As part of the New Plan for Immigration, the government announced that those coming to the UK through resettlement routes would receive immediate indefinite leave to remain.
Home Secretary Priti Patel is announcing on Wednesday that this will apply to Afghans who worked closely with the British military and UK Government in Afghanistan, and risked their lives in doing so, meaning they can now stay in the UK without any time restrictions.
People already relocated to the UK under the Afghanistan Relocations and Assistance Policy (ARAP) will be able to apply free of charge to convert their temporary leave into indefinite leave.
To give children and young adults the best start in life the government is making at least £12 million available to prioritise additional school places so children can be enrolled as soon as possible, and to provide school transport, specialist teachers and English language support to assist with learning.
In a statement, Prime Minister Boris Johnson said: "We owe an immense debt to those who worked with the Armed Forces in Afghanistan and I am determined that we give them and their families the support they need to rebuild their lives here in the UK."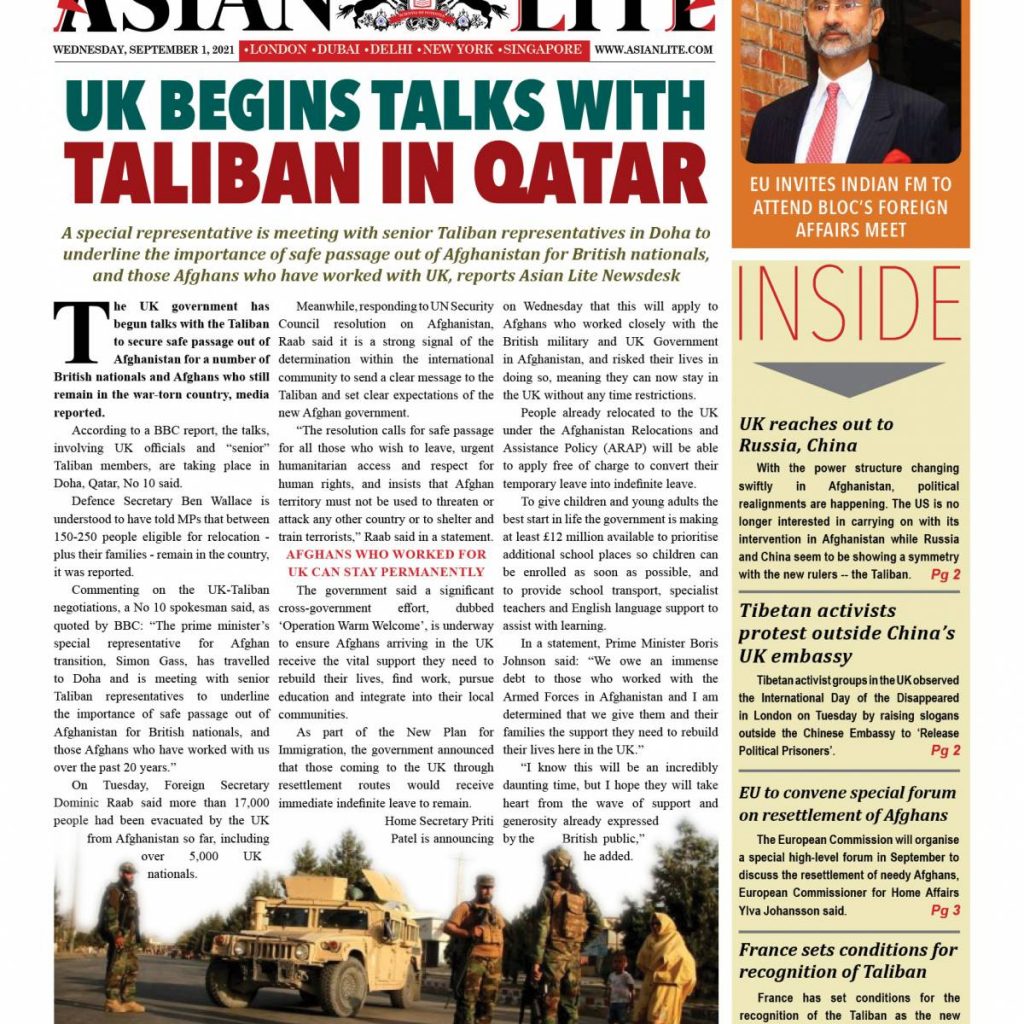 "I know this will be an incredibly daunting time, but I hope they will take heart from the wave of support and generosity already expressed by the British public," he added.
Further funding will be provided for up to 300 undergraduate and postgraduate scholarships for Afghans at UK universities and adults will also be able to access English language courses free of charge. While many will speak English through their work with the UK Government and British Forces, and as translators, language classes will ensure all their family members can fully integrate into their local communities.
Families who need support navigating the system will also have access to liaison officers who can work with local authorities to help them get set up with a GP, National Insurance number, school place, accommodation and more tailored support, as required.
ALSO READ-Taliban To Emulate Iran To Form Government
READ MORE-Taliban supreme leader concludes talks on govt formation