Advertisement

Data from the Central Pollution Control Board (CPCB) showed that the hourly air quality index (AQI) for New Delhi at 7am stood at 384, reports Asian Lite News
New Delhi's air quality improved marginally on Monday morning, inching up to the "very poor" category after the Capital experienced three consecutive days of "severe" air quality due to the double impact of firecrackers burst during Diwali and stubble burning in Haryana and Punjab.
Data from the Central Pollution Control Board (CPCB) showed that the hourly air quality index (AQI) for New Delhi at 7am stood at 384.
On Sunday, the average 24-hour AQI was 428, which was in the "severe" category. On Friday, the day after Diwali, blatant violation of a ban on firecrackers had resulted in the AQI shooting up to 462 – the worst post-Diwali air quality in New Delhi since 2016.
The CPCB classifies an AQI of zero to 50 as "good", 51-100 as "satisfactory", 101-200 as "moderate", 201-300 as "poor", 301-400 as "very poor" and above 401 as "severe".
While the AQI marginally improved on Saturday and climbed down to 437, the share of farm fires in New Delhi's PM2.5 pollution was at the season's highest so far at 48% on Sunday.
According to the data shared by the Delhi government on Sunday, 21,623 stubble burning incidents were recorded by Nasa's satellite in Punjab, Haryana and Uttar Pradesh between November 1 and November 6.
The CPCB will hold a meeting on Monday to review the air quality situation and discuss whether it's necessary to consider implementing Graded Response Action Plan (Grap) measures mandated under the "severe" category.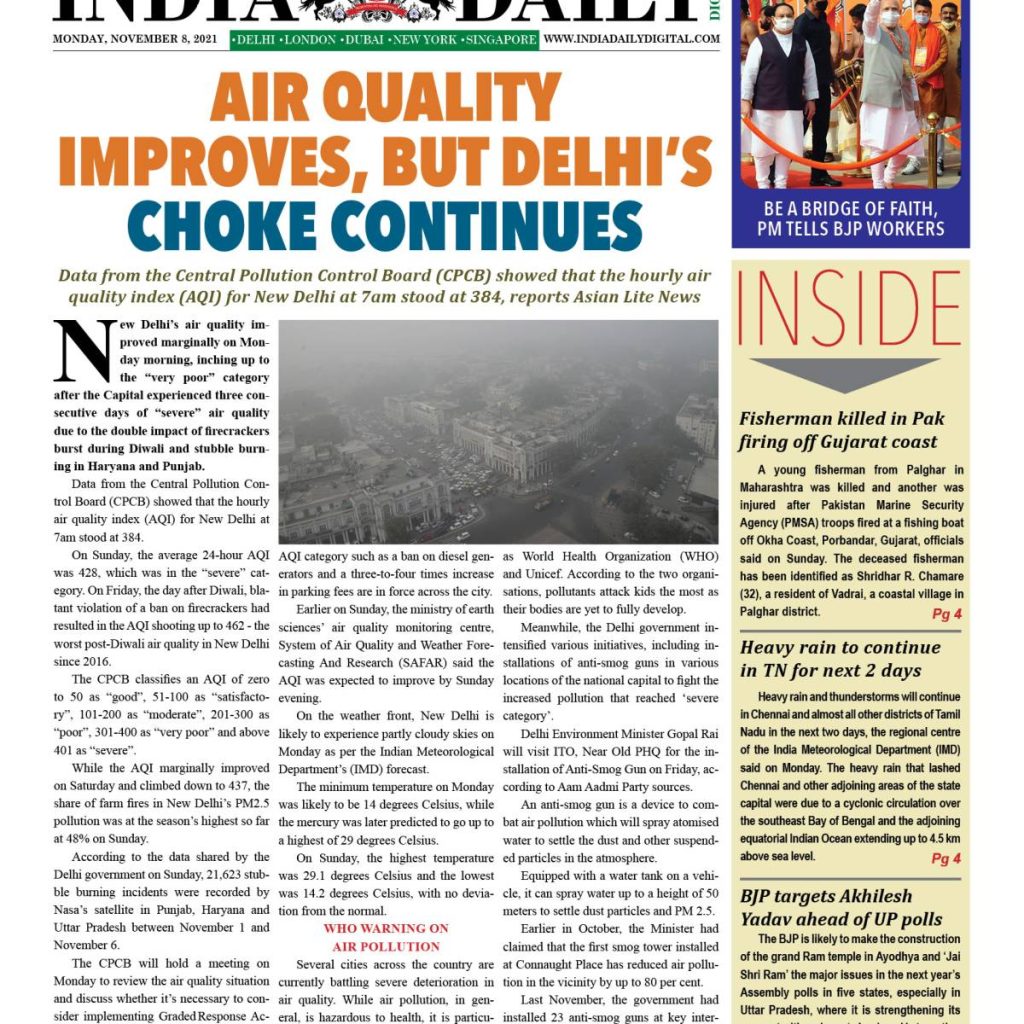 Currently, steps under the "very poor" AQI category such as a ban on diesel generators and a three-to-four times increase in parking fees are in force across the city.
Earlier on Sunday, the ministry of earth sciences' air quality monitoring centre, System of Air Quality and Weather Forecasting And Research (SAFAR) said the AQI was expected to improve by Sunday evening.
On the weather front, New Delhi is likely to experience partly cloudy skies on Monday as per the Indian Meteorological Department's (IMD) forecast.
The minimum temperature on Monday was likely to be 14 degrees Celsius, while the mercury was later predicted to go up to a highest of 29 degrees Celsius.
On Sunday, the highest temperature was 29.1 degrees Celsius and the lowest was 14.2 degrees Celsius, with no deviation from the normal.
WHO warning on air pollution
Several cities across the country are currently battling severe deterioration in air quality. While air pollution, in general, is hazardous to health, it is particularly harmful for children, Livehindustan, Hindustan Times' sister publication, has reported citing international bodies such as World Health Organization (WHO) and Unicef. According to the two organisations, pollutants attack kids the most as their bodies are yet to fully develop.
Meanwhile, the Delhi government intensified various initiatives, including installations of anti-smog guns in various locations of the national capital to fight the increased pollution that reached 'severe category'.
Delhi Environment Minister Gopal Rai will visit ITO, Near Old PHQ for the installation of Anti-Smog Gun on Friday, according to Aam Aadmi Party sources.
An anti-smog gun is a device to combat air pollution which will spray atomised water to settle the dust and other suspended particles in the atmosphere.
Equipped with a water tank on a vehicle, it can spray water up to a height of 50 meters to settle dust particles and PM 2.5.
Earlier in October, the Minister had claimed that the first smog tower installed at Connaught Place has reduced air pollution in the vicinity by up to 80 per cent.
Last November, the government had installed 23 anti-smog guns at key intersections and construction sites across the city, and assured that this number will be increased, if necessary.
Earlier, the government had made it mandatory for all construction sites of 20,000 square meters or above to use anti-smog guns and ensure minimum dust pollution.
To curb increasing pollution, the Delhi government had also banned the sale and use of all kinds of firecrackers in the city ahead of Diwali.'
ALSO READ-Air quality in Delhi-NCR still in 'severe' category