Advertisement

Nine soldiers were killed in action in Jammu and Kashmir's Poonch district in what has become the deadliest encounter for the security forces in J&K in recent years, reports India Daily Newsdesk
The army and police in Jammu and Kashmir are suspecting Pakistani military's hand in ongoing deadly fighting between terrorists and the security forces in Poonch district for at least eight days, media reported.
Sources said the ferocity of the fighting between security forces and the group of terrorists holed up in the jungles of Poonch district suggests the infiltrators were trained by Pakistani commandos, the NDTV reported.
With four more soldiers killed in the operation on Saturday, a total of nine soldiers including two Junior Commissioned Officers or JCOs were killed in action, fighting these terrorists since Monday, in what has become the deadliest encounter for India's military in Jammu and Kashmir in recent years.
It is also unclear if any of the terrorists have been killed since no bodies have been found yet. The fighting in the 8-9 km stretch of thick forest has continued despite a massive combing operation, a tight cordon and intense shelling, it was reported.
According to NDTV report, sources in the army and the local police suggest that the fact that this group of terrorists have been able to inflict such heavy casualties while managing to evade thousands of security forces for eight days suggests they were trained by elite commandos of the Pakistani military.
The military is also suspecting that the group of terrorists may include Pakistani commandos, but yet to confirm "once they are shot down."
In the first brush with these terrorists, five soldiers, including a JCO, were killed on the night of October 10 in the Dera Wali Gali area of Poonch, which is close to the Line of Control.

Lt Colonel Devender Anand, defence ministry spokesman said on Saturday, "Subedar Ajay Singh and Naik Harendra Singh of Indian Army were killed in action during search operations being conducted by the Indian Army along with Jammu and Kashmir Police in densely forested area of Nar Khas forest in Mendhar district of Poonch.

"Subedar Ajay Singh and Naik Harendra Singh were part of search operations launched by the security forces to flush out terrorists hiding in the forested area."

"On 14 October 2021 after a fierce firefight with terrorists, the communication with Subedar Ajay Singh and Naik Harendra Singh was disrupted."

"Relentless operations continued to neutralize the terrorists and to re-establish communication with the soldiers. Subedar Ajay Singh and Naik Harendra Singh were killed in action in the fierce fight and their bodies have been recovered in the evening today," an army statement said.
Top LeT commander eliminated
Top LeT commander responsible for the killing of two policemen has been eliminated in an encounter between terrorists and security forces at Drangbal area of Pampore in South Kashmir's Pulwama district on Saturday, according to officials.

"LeT terrorist Umar Mustaq Khandey who martyred our 2 colleagues SgCT Mohammad Yousf and Ct Suhail Ah in Baghat, Srinagar while they were having tea, neutralised in Drangbal, Pampore. Amongst various other crimes of the terrorists, this stands out as most unforgivable," police said.

"We are committed to hunt down these terrorists who try to create fear among masses and spread mischief and tumult in the valley. Such elements and their name should be excised from society."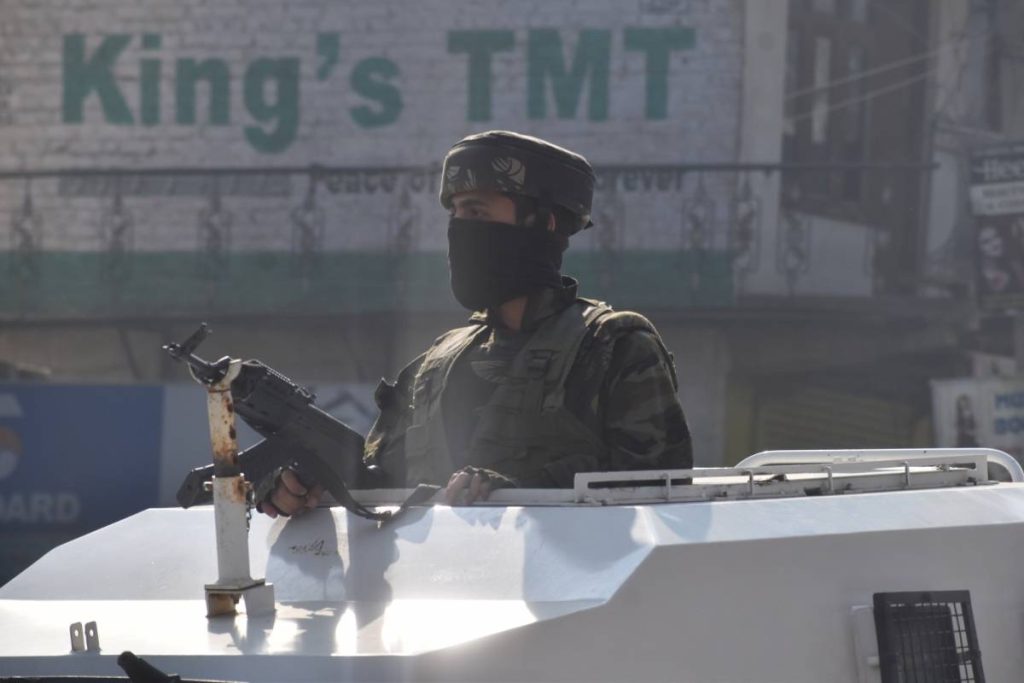 One more terrorist was also killed in the same encounter between terrorists and security forces at Drangbal area of Pampore in South Kashmir's Pulwama district on Saturday.

The fire-fight between terrorists and security forces took place after a joint team of the police and the army cordoned off the area and launched a search operation on the basis of specific information about presence of terrorists.

As the security forces zeroed in on the spot where terrorists were hiding they came under a heavy volume of fire that triggered the encounter.
ALSO READ-Intelligence warns of Pak commandos in Kutch
READ MORE-Indian commandos cross LoC, kill three Pak soldiers