Advertisement

General Rawat, leading from the front, had declared that the ambitious task of forming theatre commands in three years. Consequently, he emerged as an icon for jointness in the armed forces, and a one-man army that firmly rejected the prevailing culture of working in silos … Atul Aneja and Ateet Sharma report
The passing away of Gen. Bipin Rawat in a helicopter crash on Wednesday is a massive blow to the transition of India's military into a fighting force that can fight win battles on many fronts simultaneously.
Symbolically, Gen. Rawat was part of a red-team led by Prime Minister Narendra Modi, which is anchoring the rise of a secure and self-confident India.
Gen. Rawat, India's first Chief of Defence Staff (CDS), had been handpicked by the Modi administration to drive the formation of theatre commands. These were to be formed by pooling in the assets of the army, the Indian Air Force (IAF) and the Navy to deliver a joint tri-service punch to destroy or degrade designated targets.
General Rawat, leading from the front, had declared that the ambitious task of forming theatre commands in three years. Consequently, he emerged as an icon for jointness in the armed forces, and a one-man army that firmly rejected the prevailing culture of working in silos.
The General was also the assertive symbol of a new India. He steered the cross-border strike in Myanmar against rebels—an event that triggered the use of surgical strikes as a potent deterrent following the Uri attack. No armchair thinker, Gen. Rawat was the Chief of Army staff when the Indian armed forces stared down a belligerent China in Doklam in 2017, after a 73-day standoff. He was also known for asserting that India was prepared for a fighting two-and-a-half front war, taking on both China and Pakistan, without foregoing a reserve capacity to tackle an uprising in Kashmir, in an unlikely but extreme scenario.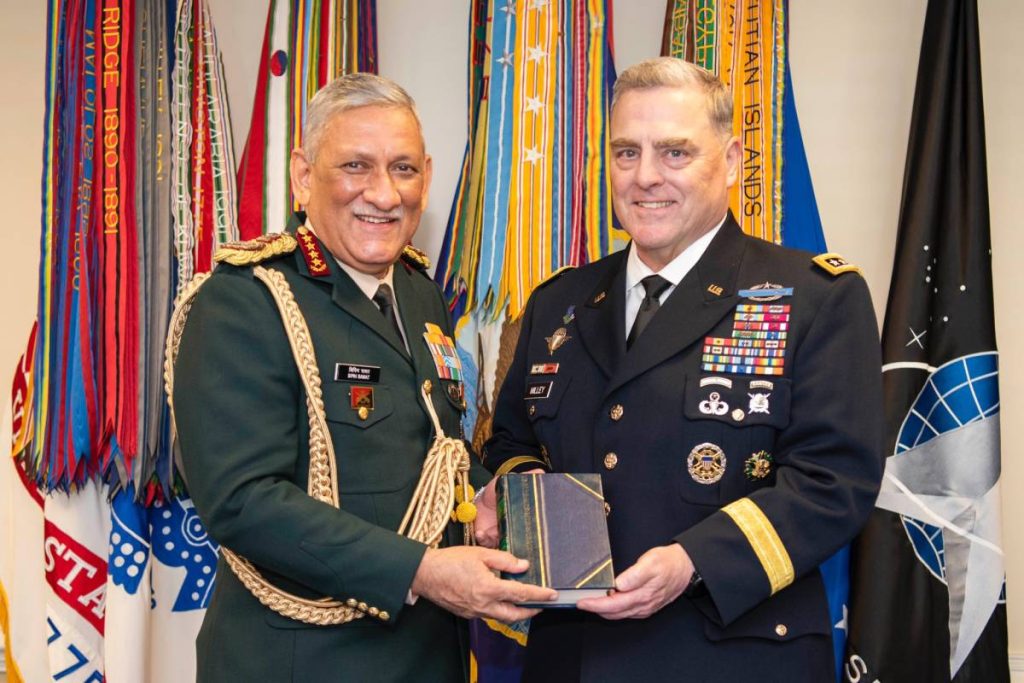 Last month Gen. Rawat warned that China has become India's biggest security threat and said troops along the Line of Actual Control (LAC) will be there for now.
At an event organised by a media house, General Rawat said, "India is prepared for any misadventure along the border and in the sea".
Gen. Rawat's assessment about China was not pulled out of thin air. The May 2020 transgressions in Eastern Ladakh show that PLA wanted to impose a Maoist-era 1959 line to define the LAC. China also continues to eye Tawang in Arunachal Pradesh. Since the 2008 Beijing Olympics, China has been upgrading its military infrastructure in Tibet and Xinjiang, posing a direct threat to India.
A strong advocate of indigenisation, Gen. Rawat was engaged in steering the Atmanirbhar Bharat drive in the defence industry, by steering the Defence Acquisition Council.
In his media interactions, Rawat had declared that The Air Defence Command, with hubs in Mumbai, Guwahati and Port Blair, combining aviation hardware drawn from the three services—Army, Navy and the Air Force–would be first to kick off as part of the formation of the theatre command systems.
Two theatre commands—the Northern Theatre Command and the Eastern Theatre Command – were expected to be formed facing China. Another two tri-service commands, including the western theatre command, could be deployed along the border with Pakistan. Analysts say that the chances of a two-front war with China and Pakistan are remote, but Indian military planners are looking at all possible contingencies.
Gen. Rawat was an advocate of the formation of a Peninsula Command, which would be formed to counter threats along the maritime borders. The Navy would have a larger role to cover the broader Indian Ocean Region (IOR) domain, starting from East Africa, the Malacca Straits and Australia.
The tri-service Andaman and Nicobar Command has already been in place since 2001, with primary focus on the IOR. The Strategic Forces Command, another tri-service institution, is in operational command of nuclear weapons.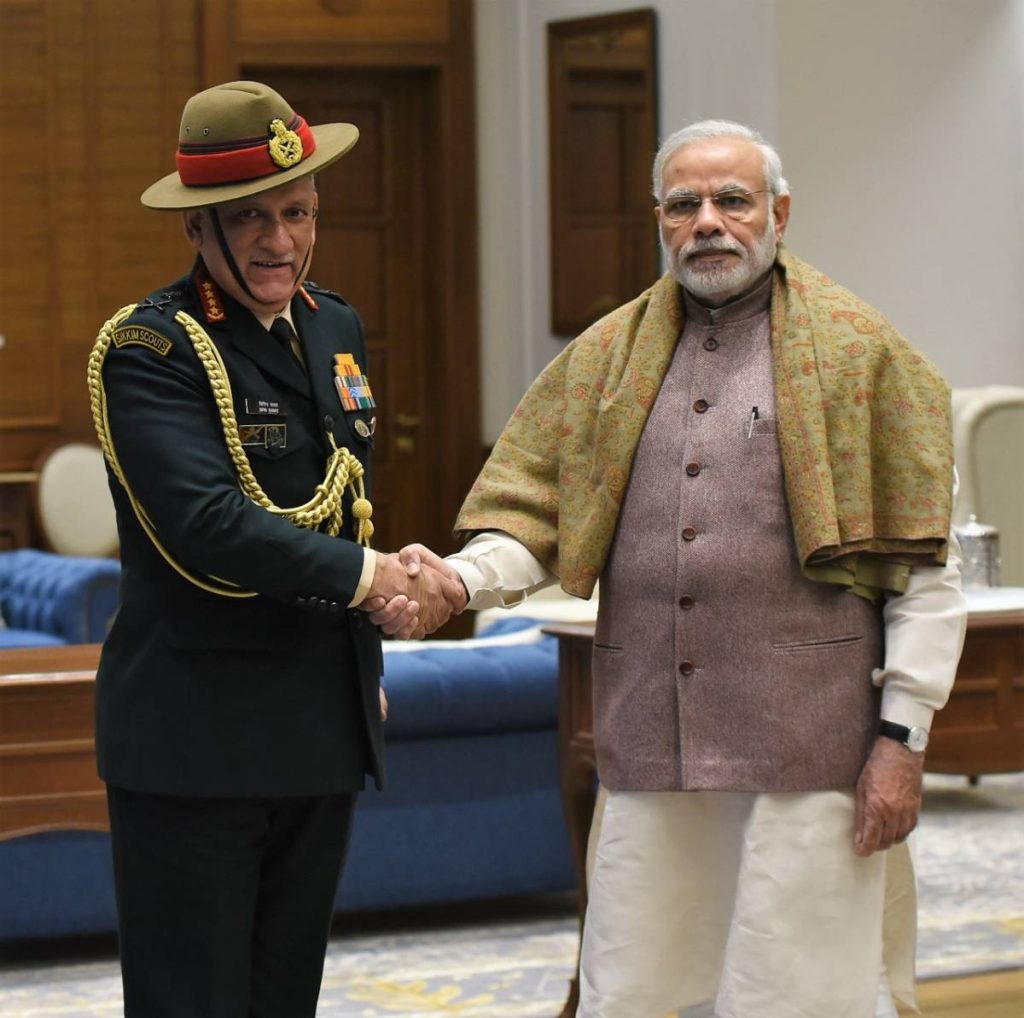 The General who batted for New India
A former Chief of the Army Staff, General Bipin Rawat became India's first Chief of Defence Staff (CDS) on January 1, 2020. As the CDS, his main role was to be the Principal Military Advisor to Defence Minister Rajnath Singh on all Tri-Services matters.
He also headed the Department of Military Affairs (DMA), playing a key role in ensuring optimum utilisation of allocated budget and also ushering in more synergy in procurement, training and operations of the Services through joint planning and integration. Facilitating indigenisation of weapons and equipment to the maximum extent possible, he formulated the overall defence acquisition plan for the three Services.
Just after assuming charge, General Rawat had vowed to work to create more synergy among the three Services.
"The CDS is mandated to facilitate integration, ensure best economical use of resources allocated to the Armed Forces and bring uniformity in the procurement procedure. I want to assure you that the Army, Navy and Air Force will work as a team and the CDS will ensure integration among these," he said on his first day as the CDS.
An alumnus of Shimla's Saint Edward School, the National Defence Academy, Defence Services Staff College, Wellington; Higher Command, National Defence College, General Rawat also attended the Command and General Staff Course at Fort Leavenworth in Kansas, United States.
It was in December 1978 when General Rawat was commissioned in the Fifth Battalion of the Eleven Gorkha Rifles from Indian Military Academy, Dehradun, where he was awarded the 'Sword of Honour' – the most coveted recognition that a Gentleman Cadet (GC) aspires to possess.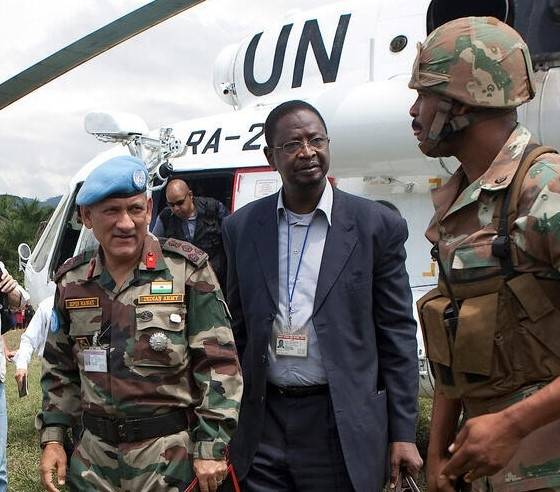 The CDS had a vast experience in high altitude warfare and counter insurgency operations. During his distinguished career in the Army, General Rawat commanded an Infantry battalion along the Line of Actual Control (LAC) in the Eastern Sector; a Rashtriya Rifles Sector and an Infantry Division in the Kashmir Valley, a Corps in the Eastern theatre and the Southern Command. He has tenanted instructional appointments at Indian Military Academy, Dehradun and at Army War College, Mhow.
General Rawat also held important staff appointments at Directorate General of Military Operations and Military Secretary's Branch at Army HQ besides being a Major General General Staff (MGGS) at HQ Eastern Command.

The CDS commanded a Multinational Brigade, in a Chapter VII mission in the Democratic Republic of Congo (MONUC) and, whilst serving with the United Nations, was twice awarded the Force Commander's Commendation.

As an Army Commander, he commanded a theatre of operations along the Western Front and was appointed the Vice Chief of the Army Staff (VCOAS).
On 31st December 2016, General Dalbir Singh handed over the baton to General Bipin Rawat who took over as the 27th Chief of the Army Staff.

In a span of over four decades in the Army, General Rawat had been awarded several gallantry and distinguished service awards, including the UYSM, AVSM, YSM, SM, VSM, COAS Commendation on two occasions and the Army Commander's Commendation.

Academically inclined, he continued to author numerous articles on national security and leadership and was also awarded an M.Phil in Defence Studies from Madras University. He had a diploma in management and another diploma in computer studies. General Bipin Rawat also completed his research on military media strategic studies and was awarded Doctorate of Philosophy (Ph.D) from Chaudhary Charan Singh University, Meerut in 2011.

On October 31, while delivering All India Radio's prestigious Sardar Patel Memorial Lecture, CDS Rawat had dwelled on 'The Role of Indian Armed Forces in Nation Building'.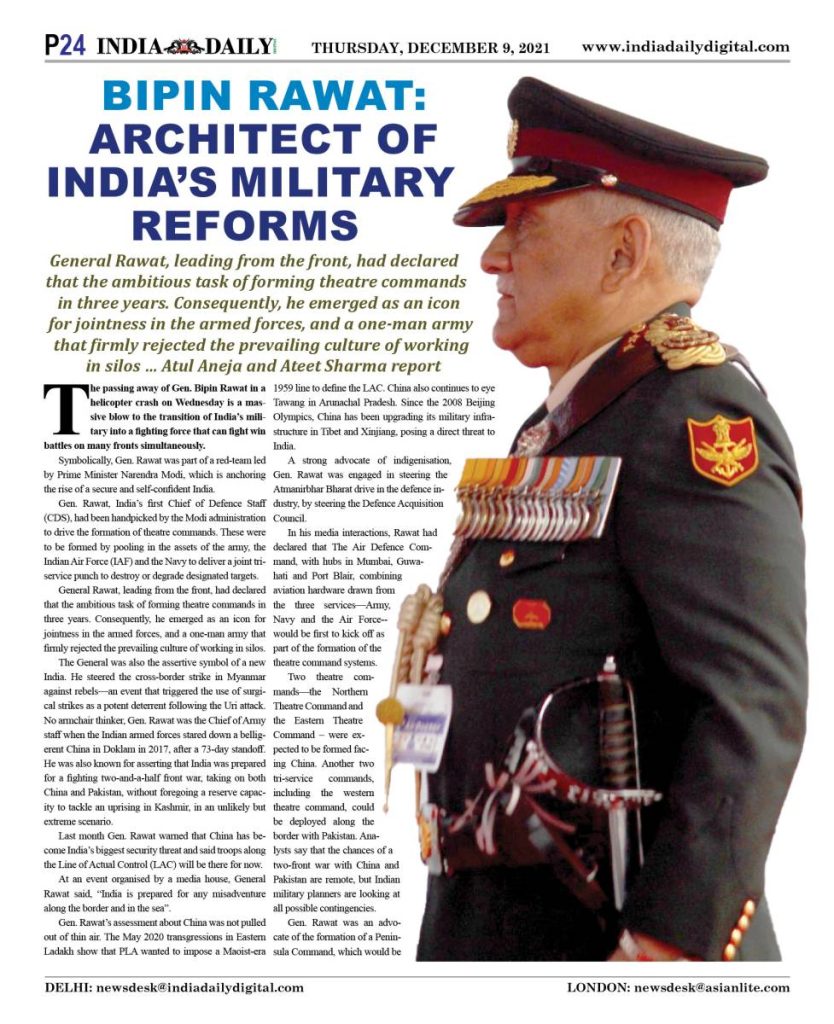 The Chief of Defence Staff asserted that India's unity in diversity shall remain intact due to the virtues of sacrifice, loyalty and discipline of the Indian Armed Forces.

He highlighted that, in consonance with the Bhagwad Gita which says, "Considering your own duty, you should not waiver", all cadets of IMA, before conclusion of their training, pledge allegiance to the oath that emphasises that the safety, honour and welfare of the nation is sacrosanct, followed by the honour, welfare and comfort of the men under command whereas individual ease, comfort and safety comes last, always and every time at the moment of reckoning.
On another occasion a few years ago, while interacting with the youth of Assam and Arunachal Pradesh as an Army chief, General Rawat had urged every Indian to rise above the "idea of microscopic identities".
"You want to feel the oneness, join the Army, and see how we people, from different backgrounds, live together as Indians. Remember first, we are all Indians. We are proud of that, and the nation must come first. Then we can learn to live together," General Rawat had said in 2018.
 (The content is being carried under an arrangement with indianarrative.com)