Advertisement

Modi stressed on the need to be proactive to monitor the new threat and "intensive containment and active surveillance should continue in clusters reporting higher cases," reports Asian Lite News
India will review its plan to ease international travel restrictions after a new variant of Sars-CoV-2 triggered a global alarm. Prime Minister Narendra Modi directed top officials at a meeting lasting over two hours on Saturday to be "proactive in light of the new threat".
The World Health Organization on Friday designated a new variant of concern, classifying it as Omicron after early analysis of case trends and labs tests in South Africa threw up strong signals that it could be a more serious threat than the Delta variant, which has triggered devastating waves in several countries.
"The PM highlighted the need for monitoring all international arrivals, their testing as per guidelines, with a specific focus on countries identified 'at risk'. The PM also asked officials to review plans for easing of international travel restrictions in light of the emerging new evidence," the government said in a statement.
Modi stressed on the need to be proactive to monitor the new threat and "intensive containment and active surveillance should continue in clusters reporting higher cases," the statement said.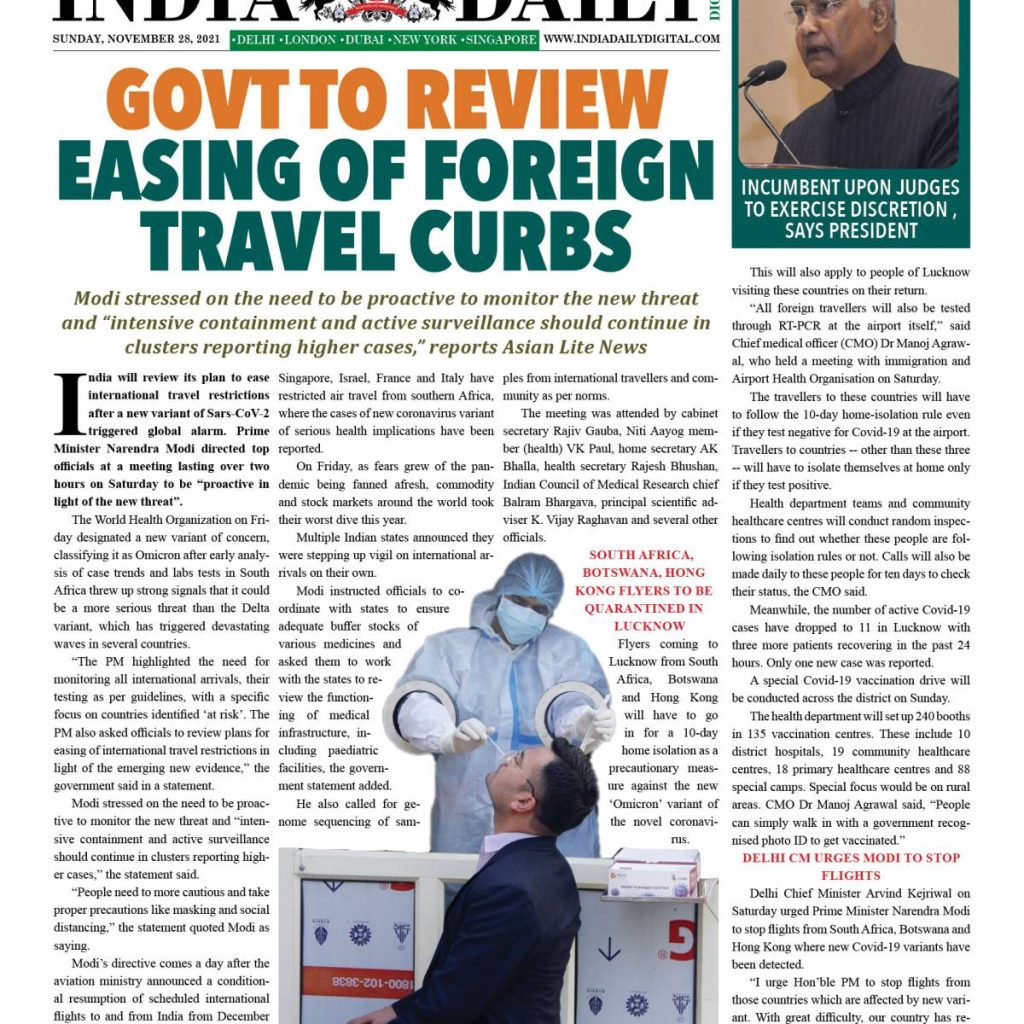 "People need to more cautious and take proper precautions like masking and social distancing," the statement quoted Modi as saying.
Modi's directive comes a day after the aviation ministry announced a conditional resumption of scheduled international flights to and from India from December 15, after 20 months of a coronavirus-induced suspension.
Countries such as the UK, Germany, Singapore, Israel, France and Italy have restricted air travel from southern Africa, where the cases of new coronavirus variant of serious health implications have been reported.
On Friday, as fears grew of the pandemic being fanned afresh, commodity and stock markets around the world took their worst dive this year.
Multiple Indian states announced they were stepping up vigil on international arrivals on their own.
Modi instructed officials to coordinate with states to ensure adequate buffer stocks of various medicines and asked them to work with the states to review the functioning of medical infrastructure, including paediatric facilities, the government statement added.
He also called for genome sequencing of samples from international travellers and communities as per norms.
The meeting was attended by cabinet secretary Rajiv Gauba, Niti Aayog member (health) VK Paul, home secretary AK Bhalla, health secretary Rajesh Bhushan, Indian Council of Medical Research chief Balram Bhargava, principal scientific adviser K. Vijay Raghavan and several other officials.
South Africa, Botswana, Hong Kong flyers to be quarantined in Lucknow
Flyers coming to Lucknow from South Africa, Botswana and Hong Kong will have to go in for 10-day home isolation as a precautionary measure against the new 'Omicron' variant of the novel coronavirus.
This will also apply to the people of Lucknow visiting these countries on their return.
"All foreign travellers will also be tested through RT-PCR at the airport itself," said Chief medical officer (CMO) Dr Manoj Agrawal, who held a meeting with immigration and Airport Health Organisation on Saturday.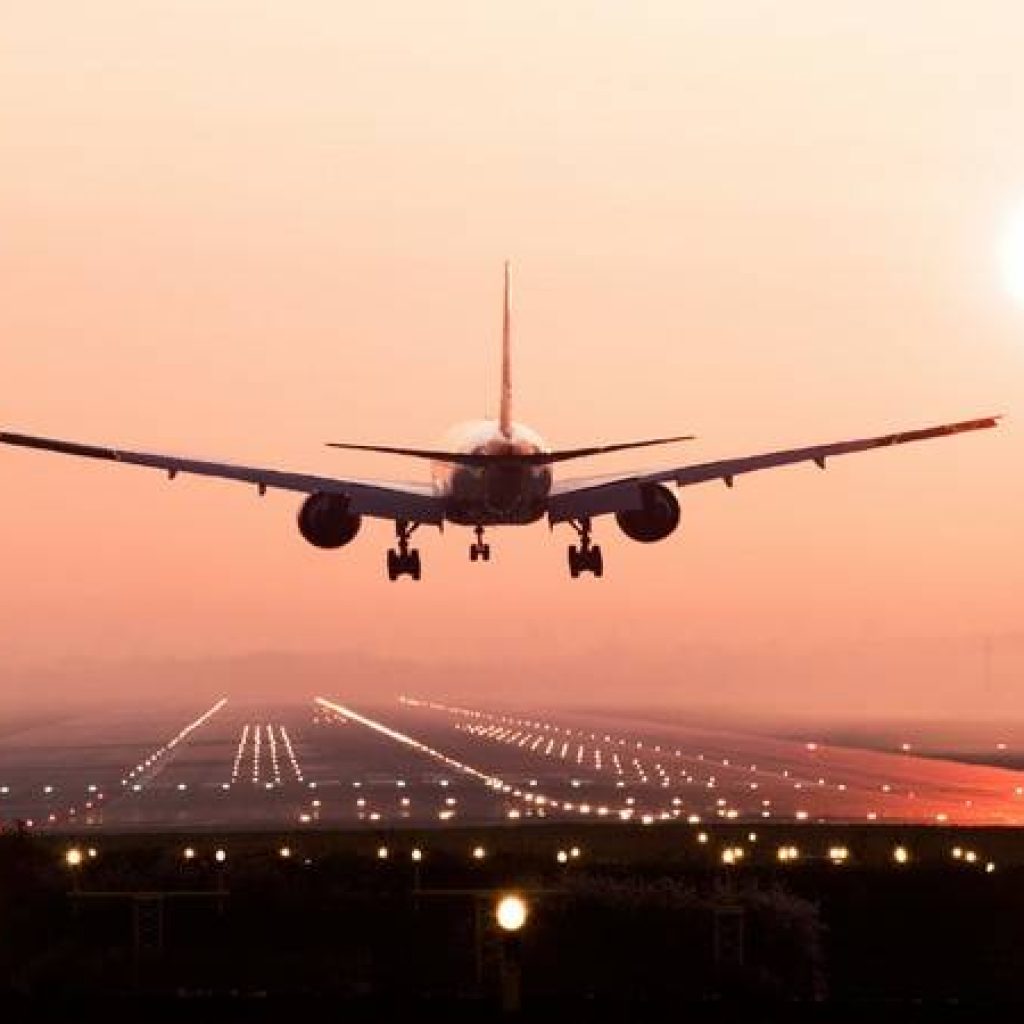 The travellers to these countries will have to follow the 10-day home-isolation rule even if they test negative for Covid-19 at the airport. Travellers to countries — other than these three — will have to isolate themselves at home only if they test positive.
Health department teams and community healthcare centres will conduct random inspections to find out whether these people are following isolation rules or not. Calls will also be made daily to these people for ten days to check their status, the CMO said.
Meanwhile, the number of active Covid-19 cases have dropped to 11 in Lucknow with three more patients recovering in the past 24 hours. Only one new case was reported.
A special Covid-19 vaccination drive will be conducted across the district on Sunday.
The health department will set up 240 booths in 135 vaccination centres. These include 10 district hospitals, 19 community healthcare centres, 18 primary healthcare centres and 88 special camps. Special focus would be on rural areas.
CMO Dr Manoj Agrawal said, "People can simply walk in with a government recognised photo ID to get vaccinated."
Delhi CM urges Modi to stop flights
Delhi Chief Minister Arvind Kejriwal on Saturday urged Prime Minister Narendra Modi to stop flights from South Africa, Botswana and Hong Kong where new Covid-19 variants have been detected.
"I urge Hon'ble PM to stop flights from those countries which are affected by new variant. With great difficulty, our country has recovered from Corona. We should do everything possible to prevent this new variant from entering India," Kejriwal tweeted this morning.
His tweet came in the light of a meeting that will be chaired by the Prime Minister on the Covid-19 situation and vaccination, today.
With the news of a new Covid-19 variant –Omicron, being detected in South Africa, scientists and health experts in India have said that new waves of infection are anticipated and unless we act quickly and efficiently, the country will possibly see repeat waves.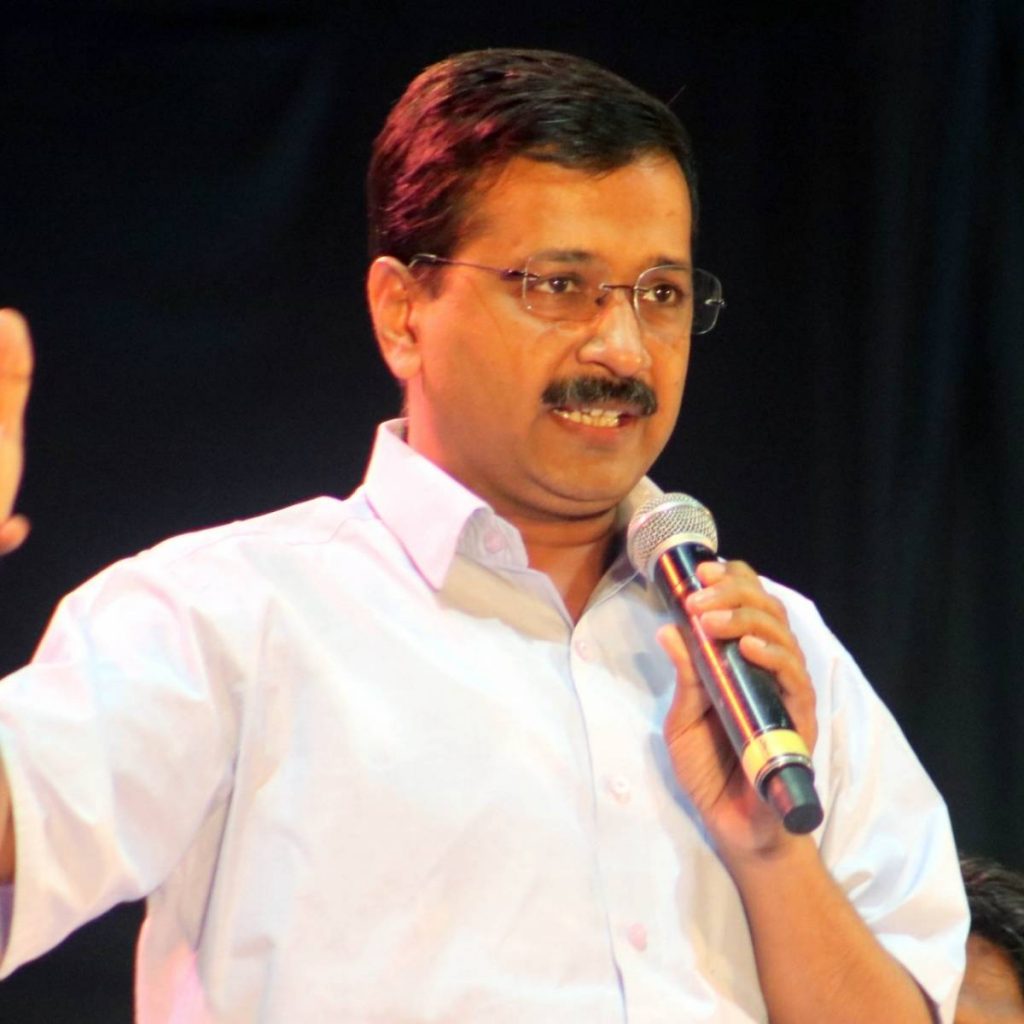 In a communication to all states and Union Territories, Health Secretary Rajesh Bhushan said India's National Centre for Disease Control (NCDC) has informed the government that "multiple cases of a Covid-19 variant B.1.1529 have been reported in Botswana (3 cases), South Africa (6 cases) and Hong Kong (1 case)".
"This variant is reported to have a significantly high number of mutations, and thus, has serious public health implications for the country, in view of recently relaxed visa restrictions and opening up of international travel," Bhushan said.
"lt is, therefore, imperative that ALL international travellers travelling from and transiting through these countries, (they are part of the "at-risk" Country Category of international travellers coming to lndia) are subjected to rigorous screening and testing", the communication said.
"The contacts of these international travellers must also be closely tracked and tested as per MoHFW guidelines."
ALSO READ-Twitter getting ready for 'Reactions'