Advertisement

The total cases till now are 1,76,36,307 and recoveries are 1,45,56,209 while death toll has gone up to 1,97,894, reports Asian Lite News.
With as many as a dozen countries pitching in to help India fight the second wave of the pandemic, the country reported more than 3 lakh Covid cases for the sixth day in a row.
The country logged a total of 3,23,144 Covid cases and 2,771 deaths in the last 24 hours, a decline trend from the Monday figure, according to the health ministry's data released on Tuesday.
The total cases till now are 1,76,36,307 and recoveries are 1,45,56,209 while death toll has gone up to 1,97,894.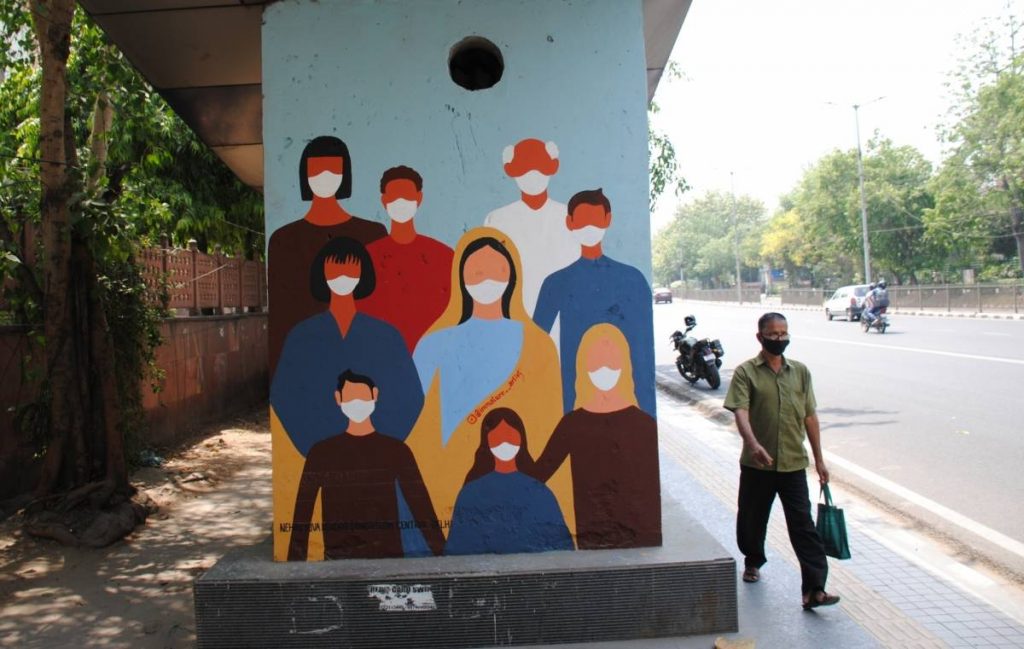 The total vaccination across the country has crossed more than 14.5 cr mark till Monday. Also, the country administered more than 31 lakh vaccine doses on a single day on Monday. with this, the cumulative number of Covid-19 vaccine doses administered so far in the country stands at 14,50,85,911 as per the 8 p.m. provisional report by the health ministry.
These include 93,23,439 Healthcare Workers (HCWs) who have taken the 1st dose and 60,59,065 HCWs who have taken the 2nd dose, 1,21,00,254 Frontline Workers (FLWs) (1st dose), 64,11,024 FLWs (2nd dose), 4,92,77,949 for over 45 years old to 60 years old (1st Dose), 26,78,151 for over 45 years old to 60 years old (2nd dose), 5,05,37,922 for above 60 years (1st Dose) and 86,98,107 for above 60 years (2nd Dose).
The top five states which have contributed to India's total daily tally include Maharashtra, Uttar Pradesh, Karnataka, Kerala and Delhi.
Meanwhile, State Department Spokesperson Ned Prince has said that the US help to India to meet the Covid-19 surge was unconditional and does not expect political favours in return.
"We have a Global Comprehensive Strategic Partnership with India. But the Secretary (of State Anthony Blinken) has been clear: This is not about shots in arms in return for political favours, in return for any sort of transactionalism. This is about America's humanitarian leadership, the commitment that this administration has, to help those most in need," Price said asked at his briefing about prioritising Covid-19 help to India.
He said that as long as the virus is circulating "unfettered anywhere," it is a threat to the American people.
A senior US official has said that the government was diverting its own supply of Covid-19 vaccine-manufacturing materials to India "as the most effective and rapid step" to help it.
The official said that since President Joe Biden's administration did not have the power to force US companies to fill the order from the Serum Institute of India, it was instead sending to India what had been contracted to it.
Govt imports 20 cryogenic tankers of 10 & 20 MT
To address shortage of oxygen tankers in the country, the union government has imported 20 cryogenic tankers of 10 MT and 20 MT capacity and allocated them to the states.
Madhya Pradesh, Uttar Pradesh, Delhi and Gujarat will get two 20 MT cryogenic tankers each. Uttar Pradesh (three), Rajasthan (four), Delhi (three) and Gujarat (two) will get 10 MT cryogenic tankers.
"The mapping of liquid medical oxygen (LMO) from the manufacturing plant to different States being a dynamic process and transportation of medical oxygen through cryogenic tankers becoming a bottleneck in making available LMO from the eastern part of the country to other parts, twenty cryogenic ISO containers of capacity 20 MT and 10 MT have been imported to augment the transportation of Oxygen," the Union Health Ministry stated.
"The Ministry of Road Transport and Highways (MoRTH) in consultation with Department for Promotion of Industry and Internal Trade (DPIIT) under the overall guidance of the Empowered Group-II (EG-II) have mapped the allocation of these containers to suppliers of Uttar Pradesh and Madhya Pradesh, Rajasthan, Delhi and Gujarat.
Also Read-Armed forces recall retired medics to join Covid fight