Advertisement

In the Twitter's porn drainage, a number of accounts share child porn regularly, DisinfoLab said in a report. This not only violates the latest IT Rules in India, but it is also in violation of Twitter's 'zero-tolerance' policy….reports Asian Lite News
Twitter is not only violating its own policies, but also breaking the law of land in India.

Various categories of pornography or explicit content that Twitter prohibits on its platforms such as child sexual exploitation and bondage porn exist after the implementation of its new policies, DisinfoLab said in a report.

In the Twitter's porn drainage, a number of accounts share child porn regularly. This not only violates the latest IT Rules in India, but it is also in violation of Twitter's 'zero-tolerance' policy.
On February 25, 2021, the Ministry of Electronics and Information Technology (MeitY) released the latest Information Technology (Intermediary Guidelines and Digital Media Ethics Code) Rules. Among other things, the latest IT Rules stipulate that government would make necessary guidelines to put an end to child pornography, rape, and gang-rape imageries, videos and sites in content hosting platforms and other applications. The Rules also called for the accountability of social media platforms about the presence of pornography and spreading of fake news.
However, despite specific and clear instructions, and unlike other social media platforms such as FB, IG & YT; Twitter doesn't seem to have even attempted to address these concerns, in particular, about hosting and dissemination of pornographic content.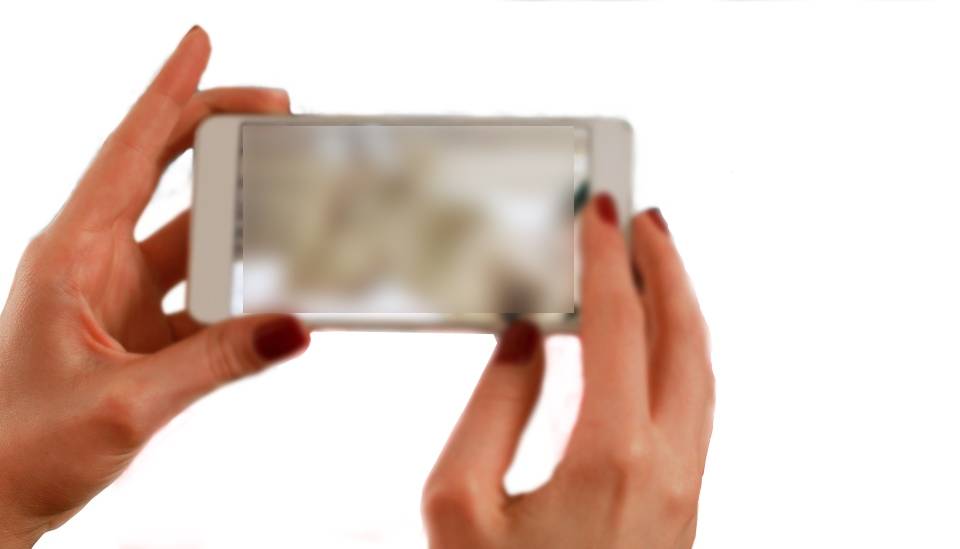 The videos are otherwise also in violation of Twitter's 'gory' category of 'permissible porn', and given the explicit nature of such content, could be very easily identified through any worthwhile filtering mechanism. Worse, the child porn on Twitter is accessible to any user, even to young users of Twitter – or to a casual user on the internet, who doesn't have a Twitter account, the report said.

The policy on non-consensual nudity is rendered ambiguous considering the conditions laid down for posting consensual adult content and pornography. Sharing of non-consensual adult videos/images of people, especially women and children, are commonplace on Twitter. Deep-Fake and Morphed pics of actresses and public figures are widely circulated and misused on the platform without the knowledge of the featured individual/individuals, the report said.
While Twitter does have a mechanism for users to 'report' such violations, its implementation is opaque and arbitrary, it said.

On similar content, it may choose to block one account while similar others continue to operate. Surprisingly, Twitter has offered no tech solutions to identify and filter such content, as other social media platforms have, the report said.

Unless reported by the users, such content can easily be shared under the heading of sensitive content, it added.

This policy comes under the Ads Help Center of Twitter that prohibits paid promotion of adult sexual content such as pornography, escort services, nudity, sex toys, and other activities involving sexual arousal etc., the report said.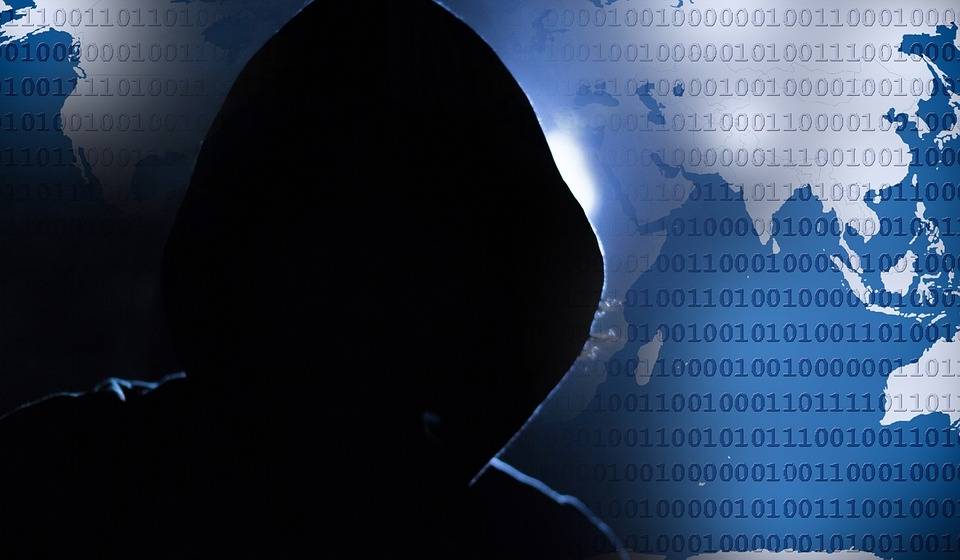 While Twitter does adhere to this part of bargain, now accepting paid promotions, it nonetheless allows for the promotion of such products and services organically, i.e., through regular posts, it said.

It means while Twitter may not officially promote the content, it would let it be promoted by third parties. This is in league with the ambiguity Twitter follows regarding the NSFW content in general, the report said.

Several 'Bluetick' (verified) accounts and porn stars freely share explicit videos and pictures with no censorship from Twitter, Disinfo Lab said.

Twitter allows such accounts on its platforms, which, while does not violate their policies, breaks the law of land as these handles are accessible by the Indian users.

It is important to mention that Twitter, like the other social media platforms, does possess technical capabilities to restrict the access of some of its content/ handle to specific geographical locations. Therefore, it does not seem to be an issue of technical limitation.

Twitter doesn't only allow the presence of such content, but also helps in its spread. The Twitter algorithm governing 'suggestions' would guide you to multiple accounts of same niche (porn content) if you happen to search or look at one of the handles. It essentially amplifies the availability of such explicit content to the users, the report said.
Adding to that, since Twitter's target demography age range starts from youngsters to generate more users, the age requirement to operate a Twitter handle is rather low. The minimum age prescribed by Twitter to be eligible for making an account is 13 years. However, despite having a low age bar for user base, Twitter does not have a policy specific to preventing the underage users from viewing such explicit content.
Any user who allows the option of "display media that may contain sensitive content" can view such contents marked as sensitive, which includes content depicting pornographic media. No age screening or verification is conducted, and no warning message appears, the report said.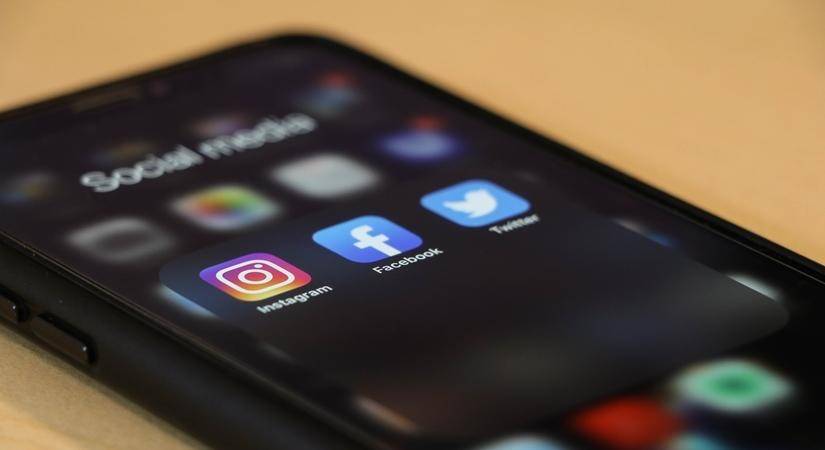 'Sensitive Media Policy' – how sensitive?
Twitter's latest sensitive media policy released in November 2019 states that "You may not post media that is excessively gory or share violent or adult content within live video or in profile header, or List banner images. Media depicting sexual violence and/or assault is also not permitted".
It implies that any graphic content that involves physical fights, physical child abuse, violent crimes, and bondage content (full or partial nudity) such as simulated sexual acts, sexual intercourse (human, animation or depictions of animals with human-like features) and violent sexual conduct (rapes or unconsented sexual acts and even sexualized crimes) is not allowed. However, the platform does allow graphics with the following exceptions: artistic, medical, health, or educational content.
The adult entertainment industry has been operating on the US-based social media platform without any impediment. In fact, ever since Facebook and Instagram put a ban on nudity and sexual content, it has created an outcry in the adult content industry, which heavily depends on such platforms for its sustenance. Twitter therefore became a useful tool, according to the report.
While it is not clear whether Twitter is wilfully ignoring the law of the land, i.e., Indian prohibition on public sharing of porn content, or it has been oblivious; it continues to be the hub of vulgar and pornographic content available online. Surprisingly, such content is openly available on Twitter, including explicit porn prohibited by law.

In a nutshell, Twitter, while allowing a teenager to open an account, doesn't restrict their access to the explicit content. Moreover, Twitter also doesn't restrict the spread of porn content to India, where it is prohibited by law.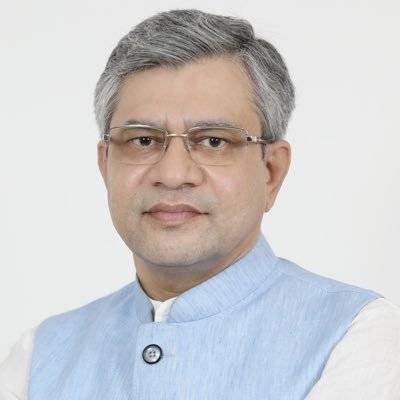 Twitter claims to have a 'zero tolerance' policy towards child pornography – and yet seems to make zero efforts to counter this menace. It's important to remember that this content is available to even under age users, as Twitter doesn't filter 'sensitive content' to even young users, the report said.

Equally shocking is freely available 'rape videos' on Twitter, which is prohibited even under Twitter's policy of 'gory content'. Even those video posts, which have words that could trigger filter mechanism are freely available, including the gang-rape video of a young girl, the report said.
Twitter has a full-fledged porn industry — from live web cam to other 'off-line services'. Numerous NSFW content selling websites openly advertise themselves on Twitter, including those who show their registration in India, it added.

These activities are not run in hiding but in broad day light, advertising with hashtags! Live porn is openly sold on Twitter using the #IndianCamGirl hashtag involving a nexus of 'service providers', it said.

The fact that the hashtag started in 2017, involves several Influencers, and is used regularly is a testament to Twitter's unwillingness to address these concerns.

In the garb of such 'services', personal data of the users are being mined, to be used for criminal activities from 'sextortion' to rape, to sexual exploitation of minors, leading to grave consequences, including suicides.

Anti-social/anti-India elements are taking advantage of this 'free porn' environment of Twitter, weaponising the content. An elaborate psy-war is being waged to damage India's communal harmony, particularly between Hindus and Muslims, the report said.

"Hundreds of fake handles are running coordinated campaigns, dehumanising the women of both religions. These handles pretend to be Hindus (#hstuds) when demeaning Muslim girls (#mslut); and Muslim (#mstud), while demeaning Hindu girls (#hslut)," it added.

The behavioural pattern of these handles – creation date, activity, location and hashtag – clearly establishes an organised campaign designed to harm social harmony. Surprisingly, despite obvious Coordinated Inauthentic Behaviour (CIB), Twitter doesn't seem to take any actions, the report said.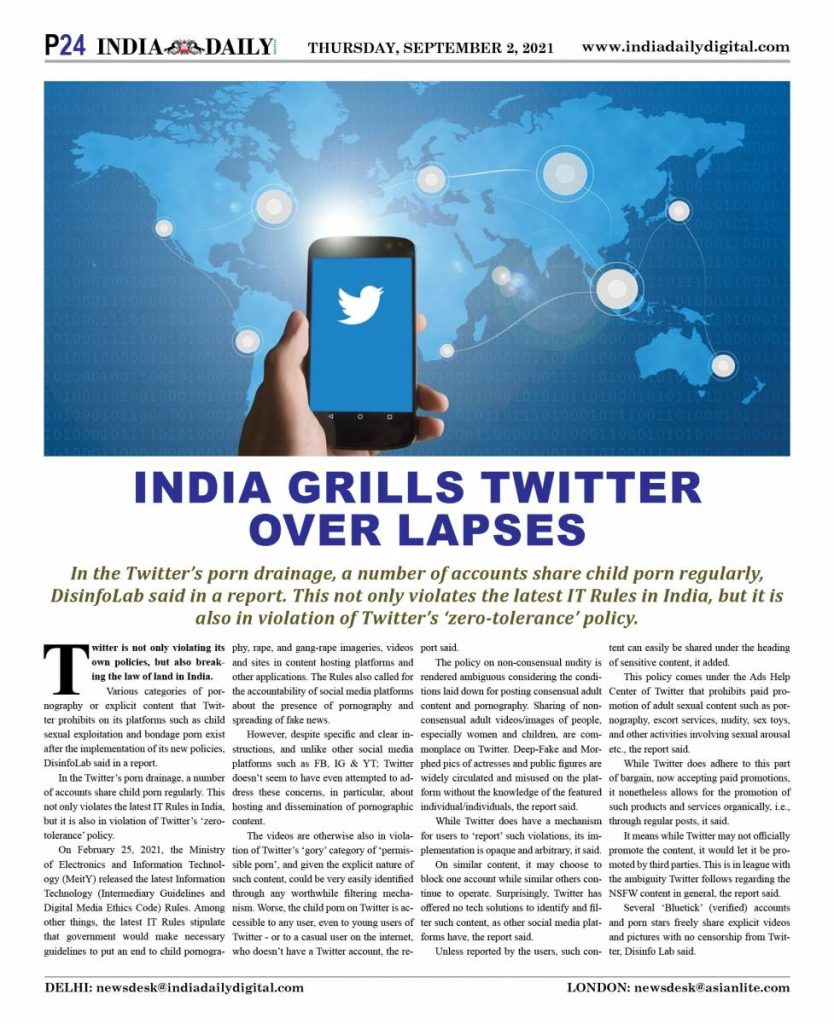 What does Twitter do and What could Twitter do?
Worth noting that these syndicate accounts, the service providers, and likely consumers exhibit a pattern in their behaviour. Scores of accounts that we saw had unvarying message format. Worth also noting that pattern identification is one of the useful tools which Twitter deploys to identify suspected behaviour – from bot to organized campaigns, and usually suspends handles.
The 'verification' syndicate creates definite patterns if Twitter was looking for. These handles also use hashtags to amplify their content and reach (e.g. #IndianCamGirl), and these hashtags are rather popular ones. The accounts of these service providers (web-cam accounts) using this hashtag, mention a set of handles in their tweets as verification authorities.
Finding patterned behaviour from hashtag is one of the easiest things identify, and should there be need, to deal with it.
That Twitter has allowed this syndicate to flourish could not merely be the question of capability but also of intent, as these users are likely to be most loyal users, and in good numbers. Thanks to this blissful ignorance of Twitter, a full-blown porn economy operates right under the shadow of Twitter – selling and promoting porn through 'live webcam', the report said.
Twitter has a base of 17 million users (as of June 2021) in the country. Within such a high demographic usage, it becomes even more crucial to keep in check the fake news, morphed pictures, photos of child abuse, rape clips, sex abuse videos, and similar other content that are shared rampantly on the platform.
However, this seems to be merely another PR exercise with neither competence nor intent is shown to be doing tackling this menace. In June 2021, the National Commission for Women (NCW) called out Twitter for sharing pornographic content and demanded the removal of such content via a press notice. Yet in complete disregard to NCW as well as to India's IT laws, Twitter not only continues to keep its eyes shut but has also been seem to be enabling such content, which is increasing despite all the laws and policies in place, the report said.