Advertisement

India's concerns in Afghanistan are not merely its investments in the development of the war-torn country, but that Afghanistan could potentially develop into a safe sanctuary for anti-India terrorists as well, reports Asian Lite News
Minister for External Affairs S Jaishankar, has said that India and America's interests may not be perfectly aligned over the volatile situation currently prevailing in Afghanistan. In February 2020, the United States and the Taliban signed a peace agreement in Doha in Qatar, with the US expected to vacate its troops from Afghanistan by September 11 this year, after intervened militarily in the country two decades ago.
India has backed the intra-Afghan negotiations, though has expressed concern over the violence involving the Taliban in its capture of one provincial capital after another. Taliban's inroads have prompted a seemingly besieged Afghan government in Kabul to offer a power-sharing arrangement to the Taliban, but it remains to be seen if the Taliban negotiates from what many perceive to be a position of strength.
"We clearly have much more overlaps of interest with the United States east of India which is why the Indo-Pacific allows for a platform like the QUAD," Jaishankar said at the 'Freedom Summit on Independence Day.'
"But, when it comes to Afghanistan, I think we have watched a lot of these decisions with a great deal of concern. Unfortunately, all that we've been seeing for the last few days have realized many of those fears."
Last month, Jaishankar met the Afghan Foreign Minister Mohammed Haneef Atmar in Dushanbe, Tajikistan, during the Shanghai Cooperation Organization Council of Foreign Ministers and SCO Contact Group on Afghanistan meetings. Earlier this month, India was not a participant in a meeting convened by Russia, also involving the United States, Pakistan, and China, on the evolving situation in Afghanistan. When asked about this, Jaishankar said, "It is not my case that we are perfectly aligned with Russia on Afghanistan and how to handle those set of issues. There are areas where they have their perspectives and their assessments and we have ours. I should say at the same time that we are not perfectly aligned with the Americans either. That will happen. And that is what makes foreign policy today such a hard-headed exercise."
India's concerns in Afghanistan are not merely its investments in the development of the war-torn country, but that Afghanistan could potentially develop into a safe sanctuary for anti-India terrorists as well. Pakistan was among the first countries to recognize the Taliban regime when it came to power in the 1990s, and has been widely seen to be supportive of their surge in Afghanistan now.
Kabul airspace closed, AI flights can't operate
No flights can operate from Kabul airport now as the airspace has been closed, officials said. That means no aircraft can also land there. An Air India aircraft tasked to fly to Afghanistan to bring out people will no longer be able to go there too, sources have said. A NOTAM or notice to airmen has been issued to say Kabul airspace has been closed.
"The airspace is closed. How any airline can operate? As of now we are not able to operate our 12:30 pm flight to Kabul," a source in Air India said.
Air India flights coming from the US are likely to be re-routed since the Afghan airspace has been closed, sources said. Flights AI-126 (Chicago-New Delhi) and AI-174 (San Francisco-New Delhi) will have to re-routed to a Gulf nation to refuel, they said, adding Air India is also working on new routes for flights that will depart later from India to the US.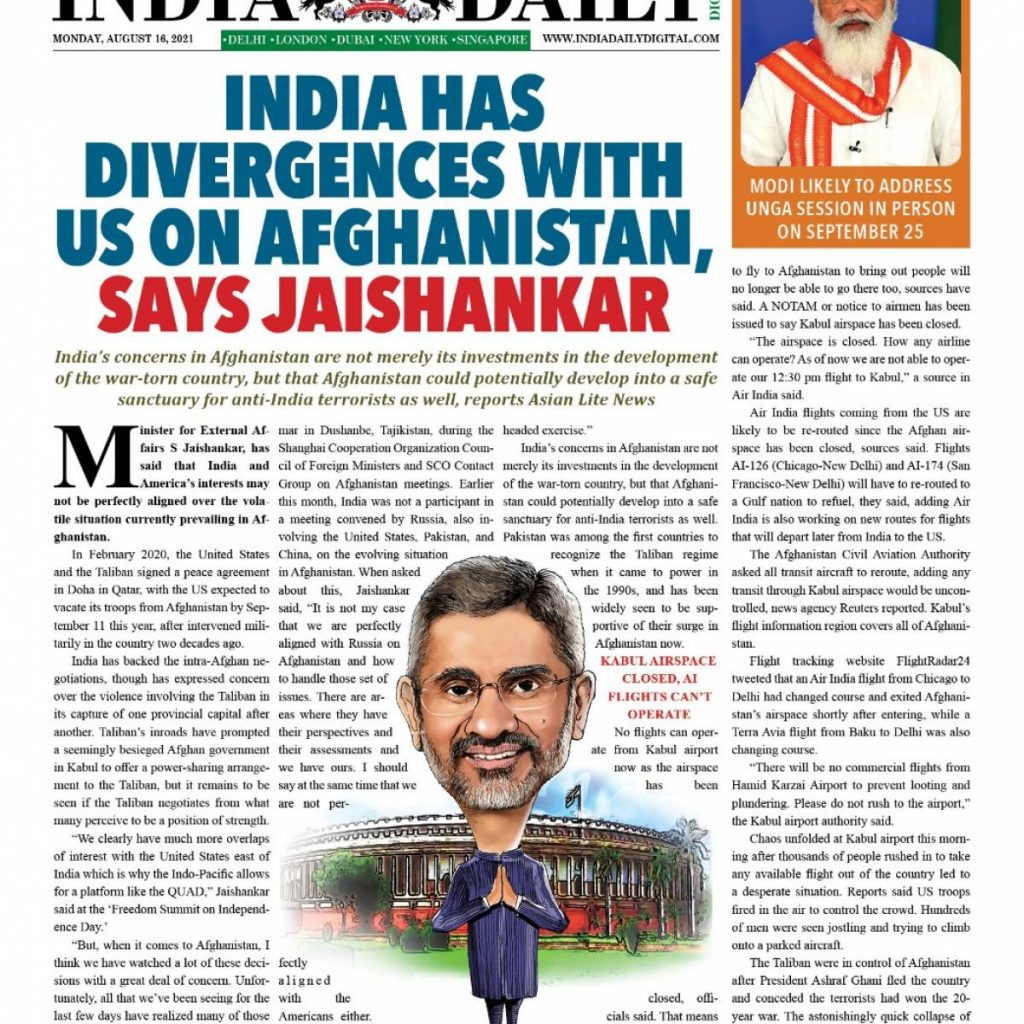 The Afghanistan Civil Aviation Authority asked all transit aircraft to reroute, adding any transit through Kabul airspace would be uncontrolled, news agency Reuters reported. Kabul's flight information region covers all of Afghanistan.
Flight tracking website FlightRadar24 tweeted that an Air India flight from Chicago to Delhi had changed course and exited Afghanistan's airspace shortly after entering, while a Terra Avia flight from Baku to Delhi was also changing course.
"There will be no commercial flights from Hamid Karzai Airport to prevent looting and plundering. Please do not rush to the airport," the Kabul airport authority said.
Chaos unfolded at Kabul airport this morning after thousands of people rushed in to take any available flight out of the country led to a desperate situation. Reports said US troops fired in the air to control the crowd. Hundreds of men were seen jostling and trying to climb onto a parked aircraft.
The Taliban were in control of Afghanistan after President Ashraf Ghani fled the country and conceded the terrorists had won the 20-year war. The astonishingly quick collapse of the government, with terrorists taking over the presidential palace on Sunday night, triggered fear and panic in the capital Kabul.
ALSO READ-Our victory was unexpectedly swift: Taliban
READ MORE-'No One Wants Afghanistan To Be Breeding Ground For Terrorism'