Advertisement

The list of 55 Indians from the diaspora were recognised and felicitated when the unique Indian Influencers in Manchester list was drawn up by a dedicated 8 member jury on 26th January 2021. Post receiving an overwhelming 100+ nominations from among the Indian diaspora, a diverse jury panel selected the final list of the unsung heroes. The names were called out during the virtual programme held on 26th January 2021. Full list of all the Influencers is available on www.indianinfluencers.co.uk
The programme was graced by Chief Guest, Dr. Shashank Vikram, and IFS – Consul General of India, CGI OFFICE, Birmingham and Guest speaker Shruti Chandra, Senior Asst Vice President from Invest India. Pianist Sanket Jadhav played iconic Vande Maatram, Mahatma Gandhi bhajans and the India's National Anthem to celebrate the occasion.
The entire project was conceptualised and executed by Rahul Laud, Associate Editor, Asian Lite News. The diverse panel of jury consisted of Esme Ward, Beth Hewitt, Lakshmi i Kaul, Reshma Ruia, Dr. Rajan Madhok ,Ghanshyam Nabar, Manish Tiwari, Anasuddhin Azeez. Selection was based on concrete contribution in one or many fields, which included creating jobs, innovation, and research, service to society through arts, culture, sports, over the last ten years; and apolitical unbiased service during on-going Covid. On zero to ten scale , Jury scored the nominees. All those bagged a total of 50 and above were adjudged Influencers.
The project has been thoroughly supported by various institutions and organisations throughout the world with ICICI Bank joining in as a collaborator, and Future Bricks, Rivington Solicitors and So Naey as the key sponsors; The Invest India, CII, Manchester Museum, TiE UK, Greater Manchester Chamber of Commerce , Swaraj IT Services, Here and Now 365 , SAJDA Festival all offered partnership and professional support with Zee TV , Asian Lite International and Global Indian Stories as media partners.
According to Pratap Singh , Head of Retail Banking ICICI Bank UK, '"The ICICI Bank that has emerged as a full service commercial bank servicing Retail, and with a vibrant digital channels of mobile banking and internet banking congratulates all the influencers and the efforts of the organising team. .'' Pratap added , " Since we are an Indian Bank, Indian Diaspora in the UK is close to our heart, we support them locally for their banking needs in India in terms of NR Accounts and Home Loans without needing to visit India. Thus our collaboration with the project that drew up the Indian Influencers List in Greater Manchester is a testimony to the fact that we hold very close connection with the Indian diaspora in the UK."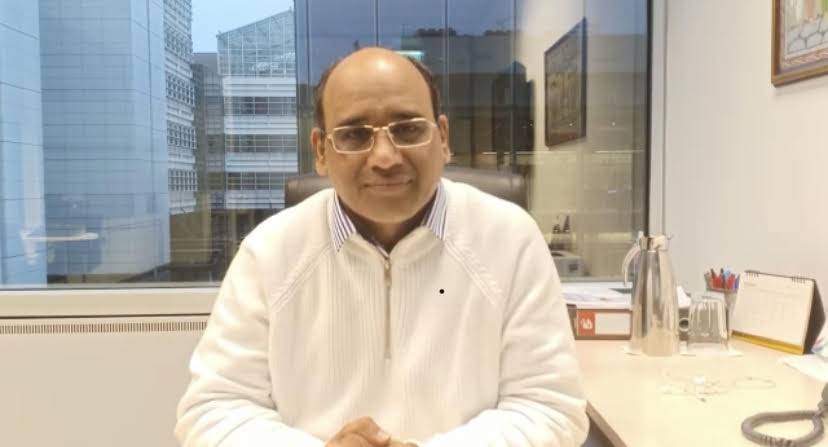 Juror Dr Rajan Madhok comments, "It has been inspiring to see the breadth of work being done to promote the Indian heritage for betterment of both societies in India and Manchester, and humbling- who am I to sit in on judgement? It was an honour to serve as a jury member and I applaud Rahul on starting this wonderful initiative – let us not forget the man behind the scene as we celebrate the Influencers."
Head of CII in UK and Europe , Jury member Lakshmi Kaul stated, "It is important to celebrate the contributions of the unsung heroes to encourage others to be inspired. The influencers list does just that and more. It is a matter of pride to see the stellar contribution of the Indian diaspora in one of the most vibrant regions of UK, Greater Manchester. At CII we believe firmly that the living bridge of opportunities is first and foremost built by the people and then by the businesses. My heartfelt congratulations to Rahul and team for this great initiative."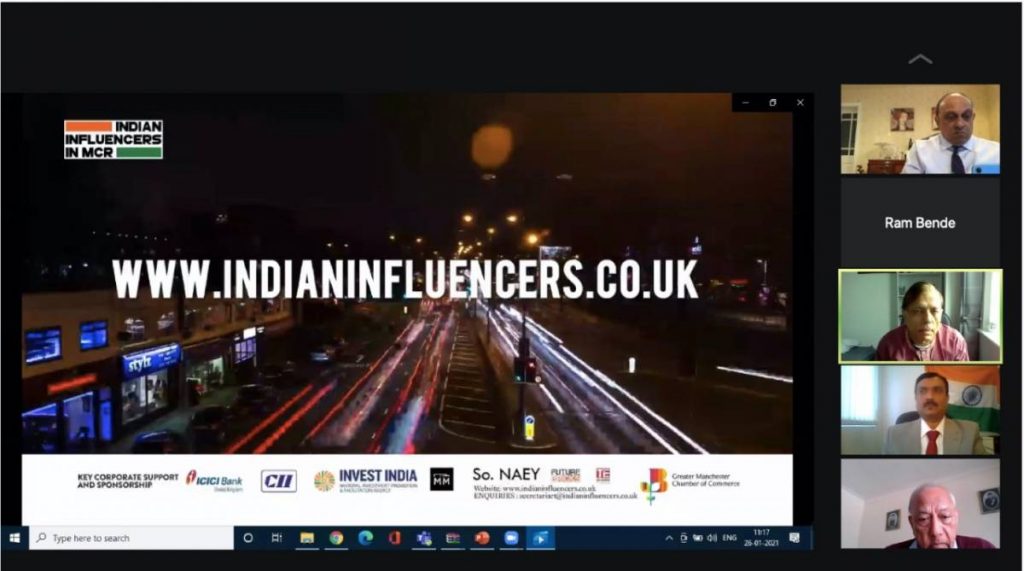 Manish Tiwari , MD at Here and Now 365 another Jury member observed , "Manchester Indian Influencer" was a community project to bring the vast pool of Indian talent and leadership working in Greater Manchester Area. The project did bring a sense of achievement within the community as a whole because very often Indian community and its heroes go unsung in places such as Manchester and the enormous contribution they make is overshadowed by a London bias as well as lack of opportunities in terms of recognition. I look forward to working with Rahul Laud to further enhance this project where it helps the community with recognition and empowerment for its hard work and laudable value system of contributing to both British and Indian nation.
Celebrated author and poet , Jury member , Reshma Ruia, said, ''71 years after India became a Republic, the Indian diaspora in Britain, particularly in Manchester has truly come of age in its contribution to our socio-economic and cultural life. It was a privilege and an honour to select the 'unsung' heroes ' of the Indian diaspora who are enhancing the Indo-British identity. As a writer, I was particularly impressed by the numerous creative artists in the region who are bringing their own Indian heritage and stories to the forefront.''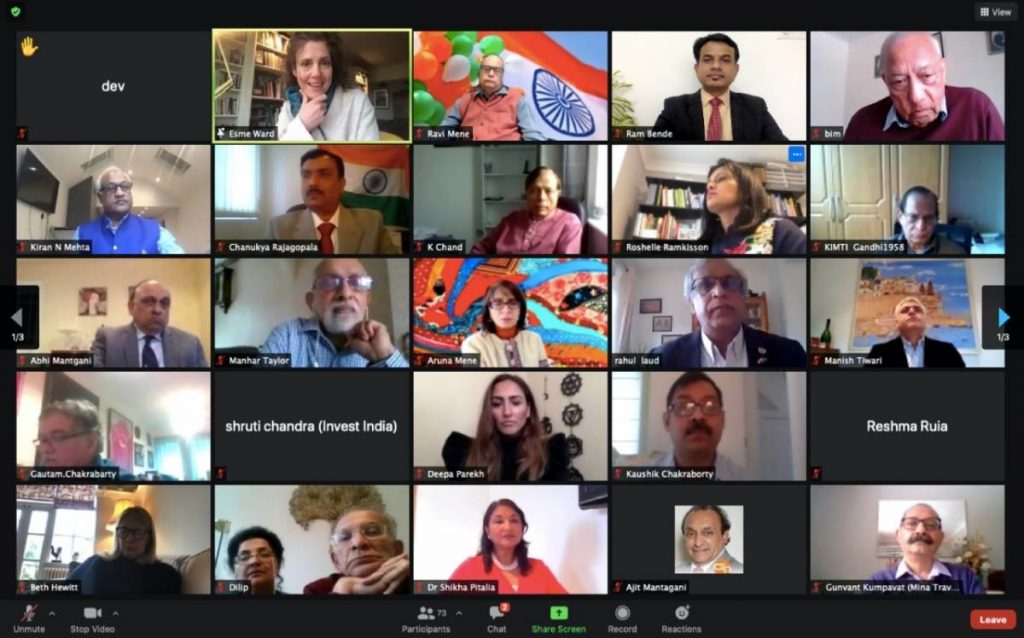 Beth Hewitt , Creative Director (Media City Directorate) and Director, Nations and Regions: Media Futures , School of Arts & Media, University of Salford also a member of the eminent Jury Panel stated, ''It was a privilege to be involved with the Indian Influencers inaugural Awards. The calibre of the nominations was extremely high, covering a wide breadth of subject areas of huge importance and significance, from the sciences and medicine to culture and technology. I very much hope that the Indian Influencers Awards will progress, from strength to strength and that the Greater Manchester community continues to recognise the value of them.''
Adding to the sentiment of other Jury members Director of Manchester Museum, Esme Ward said, 'It's been so inspiring to hear about the extraordinary impact of Indian Influencers across Greater Manchester. I know from our work building a South Asia Gallery at Manchester Museum just how much widespread creativity and talent exists in the region and it's been a privilege to acknowledge and celebrate the unsung heroes that enrich our lives in the city and beyond.
Ghansyham Nabar who is currently Director at the West Midlands India Partnership and who works extensively in the India UK corridor , as a Juror said, ''The Indian Community in Greater Manchester has immensely contributed to the city region from economic, social and academic perspective.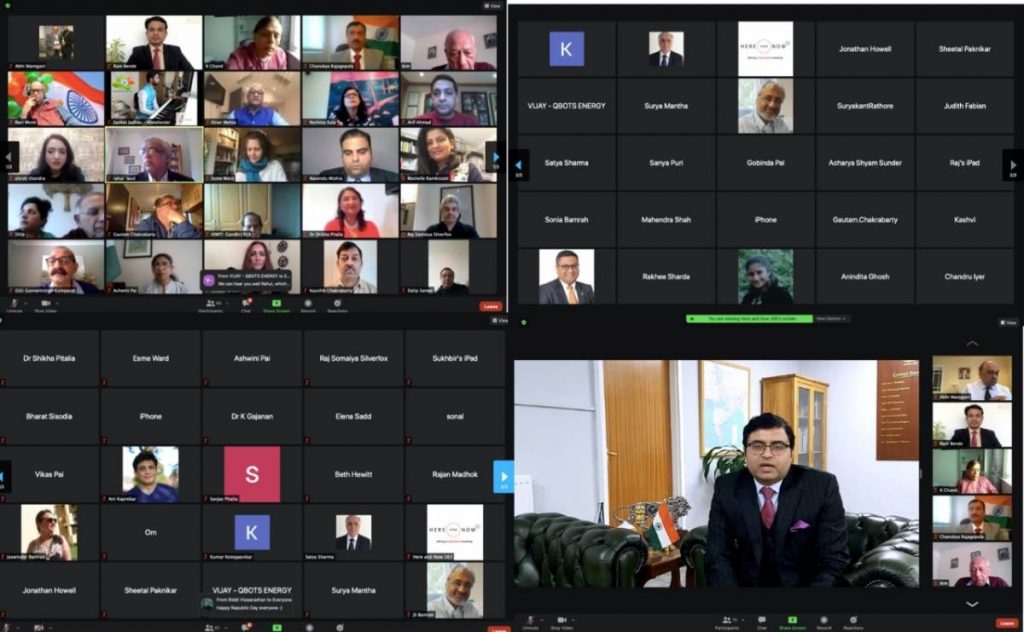 It was a challenge to identify influencers amongst such a strong talent pool of individuals, all of whom are real ambassadors and heroes in their area of operation.
I congratulate all of the applicants on this initiative and thank the organising team on putting up such a great show.''
Explaining the rationale behind the activity, Rahul Laud says, "It is extremely important that we recognise and felicitate the unsung heroes of Manchester. These champions contribute immensely to the social, political growth of not only in Manchester but also leave an impact on the UK. These champions will strengthen the existing Indo-UK business and trade relations. It is also important that the UK signs a free trade agreement like it has done with Japan. And to achieve this Indian diaspora in the UK need to impress upon the UK government and the whole world about the huge contribution that India offers to the United Kingdom. The Indian diaspora, Indian champions, the Indian unsung heroes need this recognition. And this is exactly what the influencer's list will attempt to do."
A professional secretariat – volunteering team comprised of content specialist Subhadrika Sen, an alumnus of Salford University, Aditi Jain, alumnus of LSE for client management and Ram Bende who is a Coach and Mentor, Roshni Sarkar , choreographer and dancer and Aditi Yallatikar accounts professional supported the mega event..