Advertisement

During the Summit, both sides will review the status of ASEAN-India Strategic Partnership and take stock of progress made in key areas including Covid-19 and health, trade and commerce, connectivity, education and culture, reports Asian Lite News
Prime Minister Narendra Modi will attend 18th ASEAN-India Summit to be held virtually on October 28, 2021 at the invitation of the Sultan of Brunei.
During the Summit, both sides will review the status of ASEAN-India Strategic Partnership and take stock of progress made in key areas including Covid-19 and Health, Trade and Commerce, Connectivity, and Education and Culture.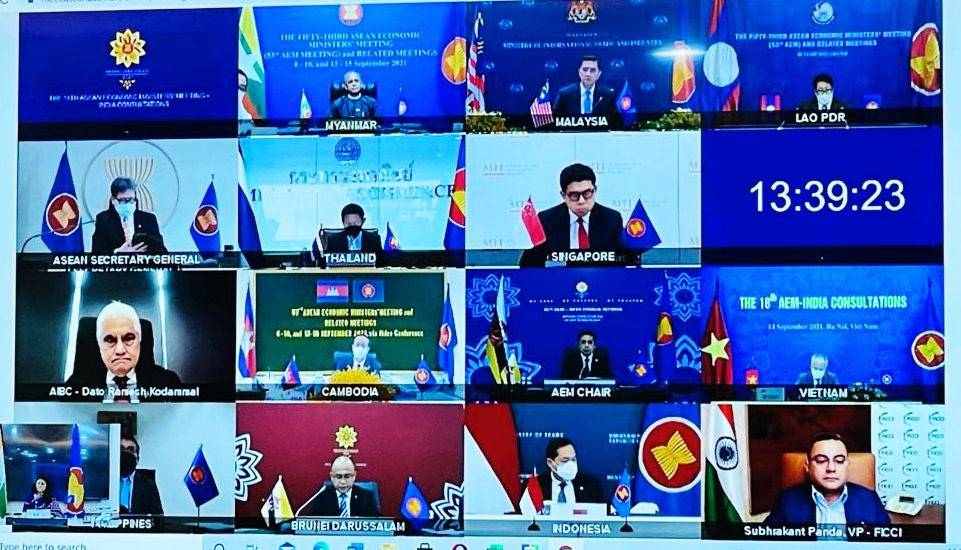 Important regional and international developments including post pandemic economic recovery will also be discussed.
ASEAN-India Summits are held annually and provide opportunities for India and ASEAN to engage at the highest level. Prime Minister Modi attended the 17th ASEAN-India Summit held virtually in November last year.
The 18th ASEAN-India Summit will be the ninth ASEAN-India Summit to be attended by him.
The ASEAN-India Strategic Partnership stands on a strong foundation of shared geographical, historical and civilizational ties.
ASEAN is central to our Act East Policy and our wider vision of the Indo-Pacific. The year 2022 will mark 30 years of ASEAN-India relations.
India and ASEAN have several dialogue mechanisms which meet regularly, including a Summit, Ministerial meetings and Senior Officials' meetings.
External Affairs Minister, Dr S. Jaishankar attended the ASEAN-India Foreign Ministers' Meeting and EAS Foreign Ministers' Meeting in August 2021 virtually.
Minister of State for Commerce and Industry, Anupriya Patel attended the ASEAN Economic Ministers + India Consultations held virtually in September 2021 where the Ministers reaffirmed their commitment to strengthen economic cooperation.
The Prime Minister will also attend the 16th East Asia Summit to be held on October 27, 2021 virtually.
The East Asia Summit is the premier Leaders-led forum in the Indo-Pacific. Since its inception in 2005, it has played a significant role in the strategic and geopolitical evolution of East Asia.
Apart from the 10 ASEAN Member states, East Asia Summit includes India, China, Japan, Republic of Korea, Australia, New Zealand, United States and Russia.
India, being a founding member of the East Asia Summit, is committed to strengthening the East Asia Summit and making it more effective for dealing with contemporary challenges.
It is also an important platform for furthering practical cooperation in the Indo-Pacific by building upon the convergence between ASEAN Outlook on Indo-Pacific (AOIP) and Indo-Pacific Ocean's Initiative (IPOI).
At the 16th East Asia Summit, Leaders will discuss matters of regional and international interest and concern including maritime security, terrorism and Covid-19 cooperation.
Leaders are also expected to accept declarations on Mental Health, Economic recovery through tourism and green recovery, which are being co-sponsored by India.
Bid to ease trade barriers
Last month, Commerce and Industry Minister Piyush Goyal had said that there was a need to re-negotiate the existing trade relationship and relook at the free trade agreement with 10-member bloc with an aim to eliminate barriers and misuse of the FTA.
The two-way trade between India and ASEAN is about $80 billion and removal of non-trade barriers and other impediments would help take this figure to $200 billion in the coming years, he said.
"It is unfortunate that in the recent past, we had to deal with several restrictive barriers on our exports in the ASEAN region particularly in the agri and the auto sector. I think these only result in reciprocal action from other countries including from India and will hurt the long-term desire of our leaders to expand trade between the countries. Therefore, I think there is a need for re-negotiating the existing trade relationship, trade barriers, relooking at our FTA with ASEAN and focusing on new rules to eliminate the misuse of the FTA, eliminating non-tariff barriers, and that can ultimately lead to building confidence on both the sides to reduce tariffs for inter-Asean and India trade," Goyal said.
The minister urged his ASEAN counterparts to support the effort for early conclusion of scoping exercise and commencement of the trade pact review.
To make trade successful, he said it needs to be fair, equitable, transparent, reciprocal and inclusive.
"Let me also underscore that if we were to review the ASEAN India Trade in Goods Agreement, it can truly promote trade on both sides, support industry and manufacturing on both sides and help us support each other truly to become modern progressive economies," he added.
The minister said that India has currently been witnessing exponential growth in imports from the ASEAN region while exports have been impeded by non-reciprocity in FTA concessions, non-tariff barriers, import regulations, quotas and export taxes from ASEAN countries.
"Such a review will enable alignment with contemporary trade practices, procedures and regulatory harmonisation, curbing the misuse of FTAs, often by third parties outside the ASEAN region. This will help us to build vibrant supply chains through deeper trade and investment relations," he added.
The ASEAN-India Trade in Goods Agreement was signed on August 13, 2009. It came into force on January 1, 2010.
Members of the Association of Southeast Asian Nations (ASEAN) are: Indonesia, Thailand, Singapore, Malaysia, the Philippines, Vietnam, Myanmar, Cambodia, Brunei and Laos.
Further the minister said India has a big role to play to mitigate global health risks in future as 70 per cent of global vaccines are now produced here.
"We assure ASEAN full cooperation in generic drug manufacturing. There is an opportunity for collaboration in pharma production including vaccines and capacity-building between India and the ASEAN," he said, adding one of the critical challenges to be tackled is the underdeveloped infra and connectivity in this region.
He added that nine of 10 ASEAN nations touch the sea, therefore this region has potential to become a major hub of port logistics.
ALSO READ-India invites ASEAN countries to invest in health, pharmaceuticals
READ MORE-UK becomes ASEAN dialogue partner in Indo-Pacific push