Advertisement

On Afghanistan, the Quad leaders agreed to deepen their counter-terrorism and humanitarian cooperation in the months ahead in accordance with UNSCR 2593, reports Asian Lite News
In a rare gesture, at the first Quad leaders' in-person summit in Washington DC on Friday, Prime Minister Narendra Modi was not only accorded due seniority, but also his comments and suggestions on various topics were repeatedly referred to by US President Joe Biden during the meeting.

"During the Quad, President Biden repeatedly referred to comments and suggestions made by Prime Minister Modi on various topics, and amplified them. PM Modi was accorded due seniority, and he was asked to be the last to arrive and the first to leave," persons familiar with this development told India News Network.

As per sources, Prime Minister Modi was the lead speaker on the theme of tech and cyber security, and made important suggestions on taking forward cooperation. A document on Quad Principles on critical and emerging technologies was adopted.

The Quad leaders' summit was structured around four themes: Afghanistan and Regional Security; Covid-19 response; Tech and cyber security; and Climate.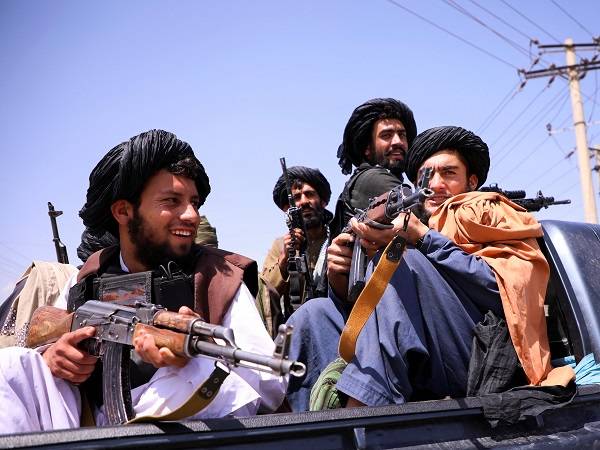 On Afghanistan, the Quad leaders agreed to deepen their counter-terrorism and humanitarian cooperation in the months ahead in accordance with UNSCR 2593.

While reiterating the importance of combating terrorism in Afghanistan, the Quad leaders reaffirmed that the land locked territory should not be used to threaten or attack any country or to shelter or train terrorists, or to plan or to finance terrorist acts.

They denounced the use of terrorist proxies and emphasized the importance of denying any logistical, financial or military support to terrorist groups which could be used to launch or plan terror attacks, including cross-border attacks.

"We stand together in support of Afghan nationals, and call on the Taliban to provide safe passage to any person wishing to leave Afghanistan, and to ensure that the human rights of all Afghans, including women, children, and minorities are respected," Joint Statement issued by the Quad leaders said.

On regional security, the Quad leaders agreed to redouble their efforts to ensure that the Quad is a force for regional peace, stability, security and prosperity.

Towards that end, they agreed to continue championing adherence to international law, particularly as reflected in the UN Convention on the Law of the Sea (UNCLOS), to meet challenges to the maritime rules-based order, including in the East and South China Seas.

They affirmed their support to small island states, especially those in the Pacific, to enhance their economic and environmental resilience.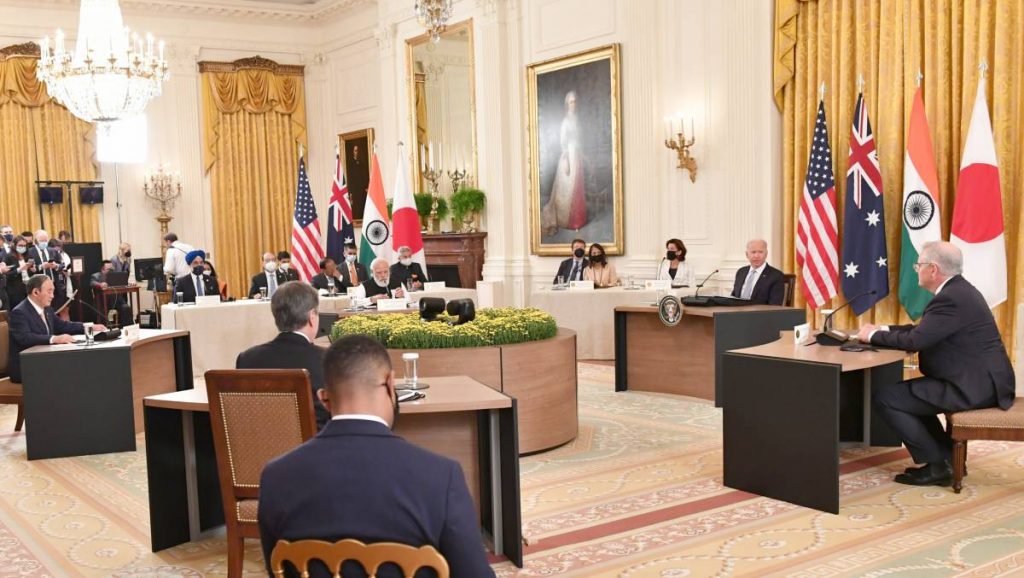 "We will continue our assistance with Pacific Island countries on responses to the health and economic impacts of COVID-19 and on quality, sustainable infrastructure, as well as partner to mitigate and adapt to the impacts of climate change, which poses especially serious challenges for the Pacific," read the joint statement.

The Quad leaders also reaffirmed their commitment to the complete denuclearization of North Korea in accordance with United Nations Security Council resolutions, and also confirm the necessity of immediate resolution of the issue of Japanese abductees.

"We urge North Korea to abide by its UN obligations, refrain from provocations. We also call on North Korea to engage in substantive dialogue," Quad leaders said in their joint statement.

Reiterating their commitment to building democratic resilience in the Indo-Pacific and beyond, the Quad leaders called for an end to violence in Myanmar.

They called for the release of all political detainees, including foreigners, engagement in constructive dialogue, and for the early restoration of democracy in the country.

"We further call for the urgent implementation of the ASEAN Five Point Consensus. We will deepen our cooperation in multilateral institutions, including at the United Nations, where reinforcing our shared priorities enhances the resilience of the multilateral system itself. Individually and together, we will respond to the challenges of our time, ensuring that the region remains inclusive, open, and governed by universal rules and norms," maintained the joint statement.
On Technology and Cyber Security, the Quad leaders agreed for the deployment of secure, open, and transparent 5G and beyond-5G networks, and working with a range of partners to foster innovation and promote trustworthy vendors and approaches such as Open-RAN.

While acknowledging the role of governments in fostering an enabling environment for 5G diversification, they pledged to work together to facilitate public-private cooperation and demonstrate in 2022 the scalability and cyber security of open, standards-based technology.

Stating that they are mapping the supply chain of critical technologies and materials, including semiconductors, they affirmed their positive commitment to resilient, diverse, and secure supply chains of critical technologies, recognizing the importance of government support measures and policies that are transparent and market-oriented.

"We are monitoring trends in the critical and emerging technologies of the future, beginning with biotechnology, and identifying related opportunities for cooperation. We are also launching Quad Principles on Technology Design, Development, Governance, and Use that we hope will guide not only the region but the world towards responsible, open, high-standards innovation," read the joint statement.

On Climate, Quad countries pledged to work together to keep the Paris-aligned temperature limits within reach and will pursue efforts to limit it to 1.5°C above pre-industrial levels. To this end, Quad countries intend to update or communicate ambitious NDCs by COP26 and welcome those who have already done so. Quad countries will also coordinate their diplomacy to raise global ambition, including reaching out to key stakeholders in the Indo-Pacific region.

"Our work is organized across three thematic areas: climate ambition, clean-energy innovation and deployment, and climate adaptation, resilience and preparedness, with the intent to pursue enhanced actions during the 2020s, contributing to the aim of achieving global net-zero emissions preferably by 2050, and taking into account national circumstances," the joint statement maintained.

While reiterating their call for pursuing nationally appropriate sectoral decarbonization efforts, including those aimed at decarbonizing shipping and port operations and the deployment of clean-hydrogen technology, they said they will cooperate to establish responsible and resilient clean-energy supply chains, and will strengthen the Coalition for Disaster Resilient Infrastructure and climate information systems.

"Quad countries will work together for successful outcomes at the COP26 and G20 that uphold the level of climate ambition and innovation that this moment requires," Quad leaders' joint statement maintained. (India News Network)