Advertisement

After a gap of 10 years, the DMK with Stalin at the helm comes back to power for a sixth time in its history by winning the 2021 Assembly elections securing a comfortable majority on its own, reports Asian Lite News
Dravida Munnetra Kazhagam (DMK) President Muthuvel Karunanidhi Stalin was sworn in as the Chief Minister of Tamil Nadu by Governor Banwarilal Purohit at Raj Bhawan on Friday.
After a gap of 10 years, the DMK with Stalin at the helm comes back to power for a sixth time in its history by winning the 2021 Assembly elections securing a comfortable majority on its own.
The 68-year-old Stalin wearing white shirt and dhoti came to Raj Bhavan at about 9 a.m. Purohit administered Stalin the Oath of Office and Secrecy.
The Governor also administered the oath to 33 other lawmakers as the Ministers.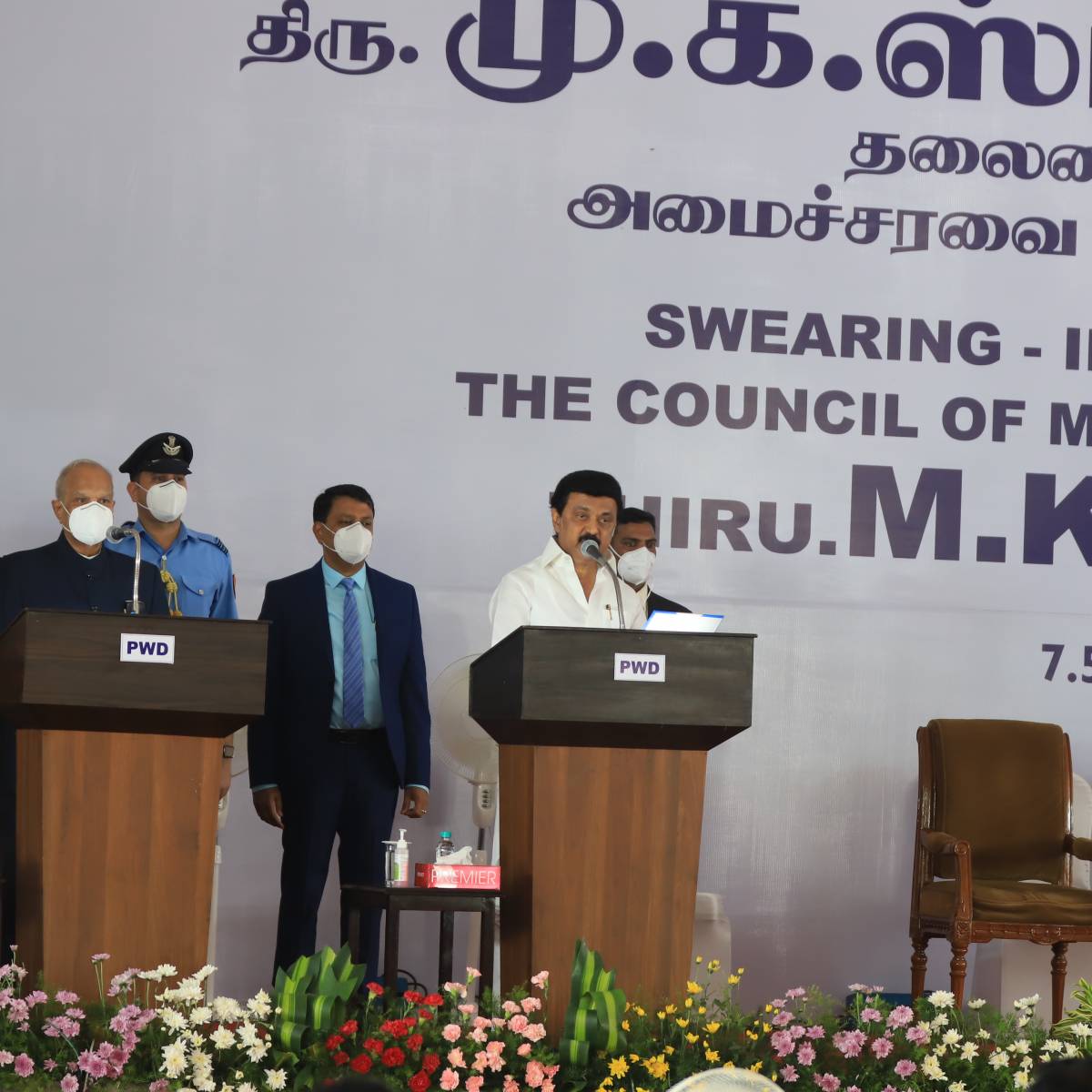 On Thursday, Purohit released the list of lawmakers who will be appointed as ministers and their portfolios.
Stalin's Cabinet has two women Ministers. Stalin's wife Durga, son Udhayanidhi and other family members, former Deputy Chief Minister and AIADMK Coordinator O.Panneerselvam, leaders of Congress and other parties attended the swearing in ceremony.
AIADMK top leader O Panneerselvam, leaders from alliance parties including Congress's P Chidambaram, MDMK chief Vaiko and top state officials took part in the ceremony.
DMK had fought the elections with its allies and got an absolute majority on its own by bagging 133 seats in the 234-member assembly.
Stalin will hold several portfolios including Home, General Administration, Special Initiatives, Special Programme Implementation and Welfare of Differently -Abled Persons.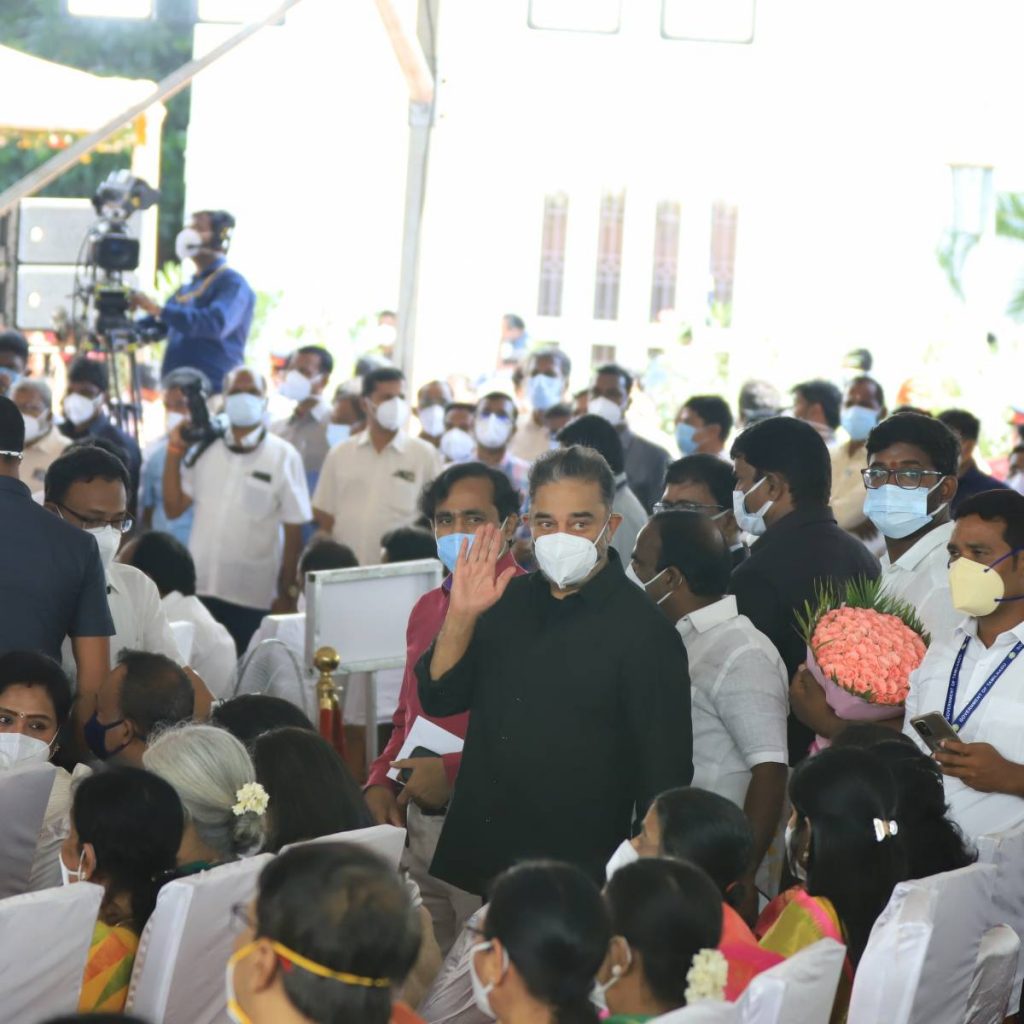 Udhayanidhi doesn't make it to Stalin cabinet
Stalin did not include his son Udhayanidhi Stalin in the cabinet. Udhayanidhi, a film star-turned-politician had won with a margin of 60,000 votes from Chepauk seat and was tipped to be in the cabinet — speculations of him being the Deputy Chief Minister have been doing rounds.
There are 15 new faces in the cabinet — the first timers. It is learnt that the Chief Minister will not be moving for a major bureaucratic reshuffle immediately.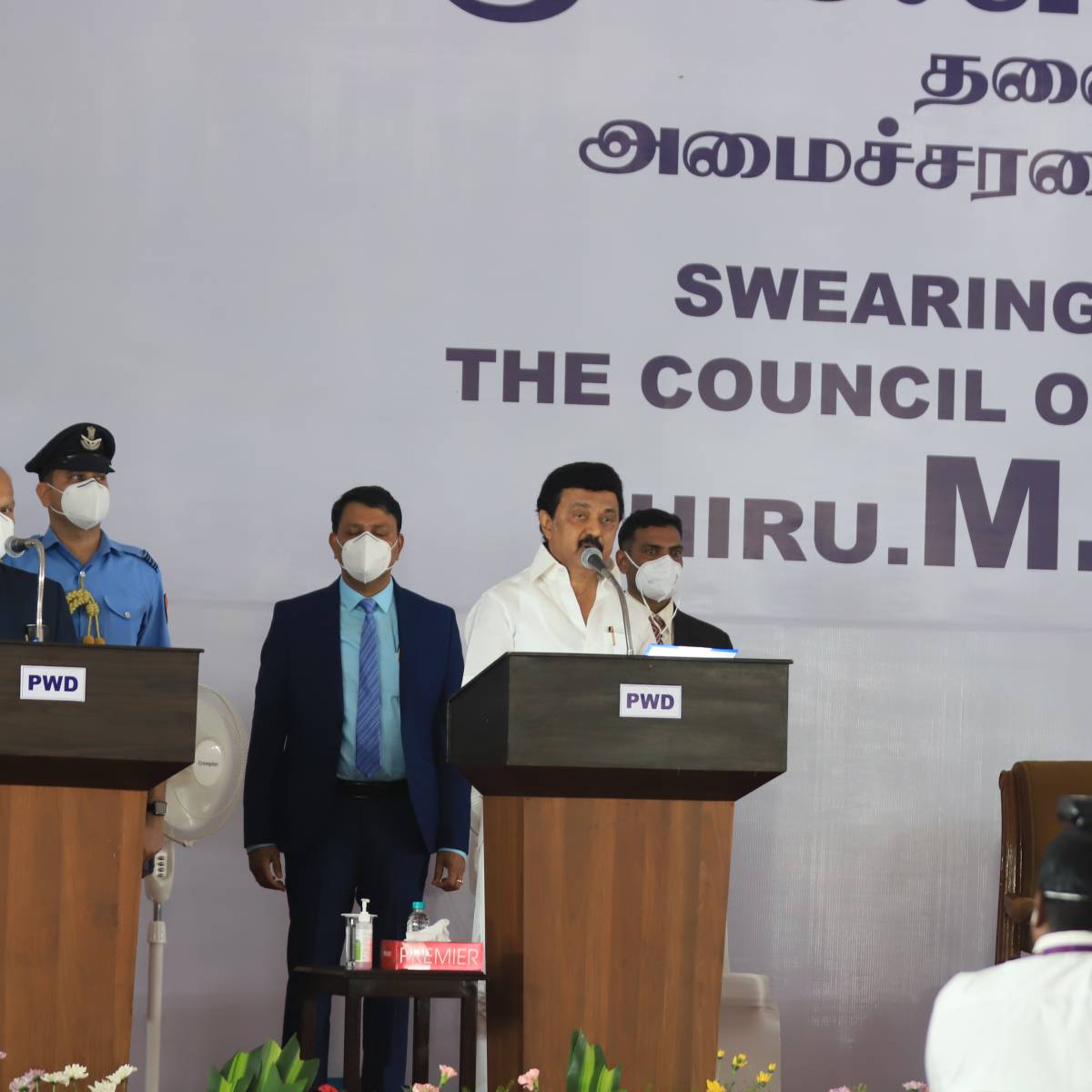 Stalin gets emotional before Karunanidhi's photo
Tamil Nadu Chief Minister M.K.Stalin turned emotional on Friday while paying his respects before his late father and former Chief Minister M.Karunanidhi's portrait at the latter's residence in Gopalapuram on Friday.
Stalin drove to Karunanidhi's residence at Gopalapuram from Raj Bhavan after taking oath of office and secrecy as Chief Minister.
Paying his floral tributes to Karunanidhi's photograph, Stalin with a small hand gesture conveyed that his father was not there to see him become the Chief Minister of the state.
Stalin's sister Selvi quickly consoled him.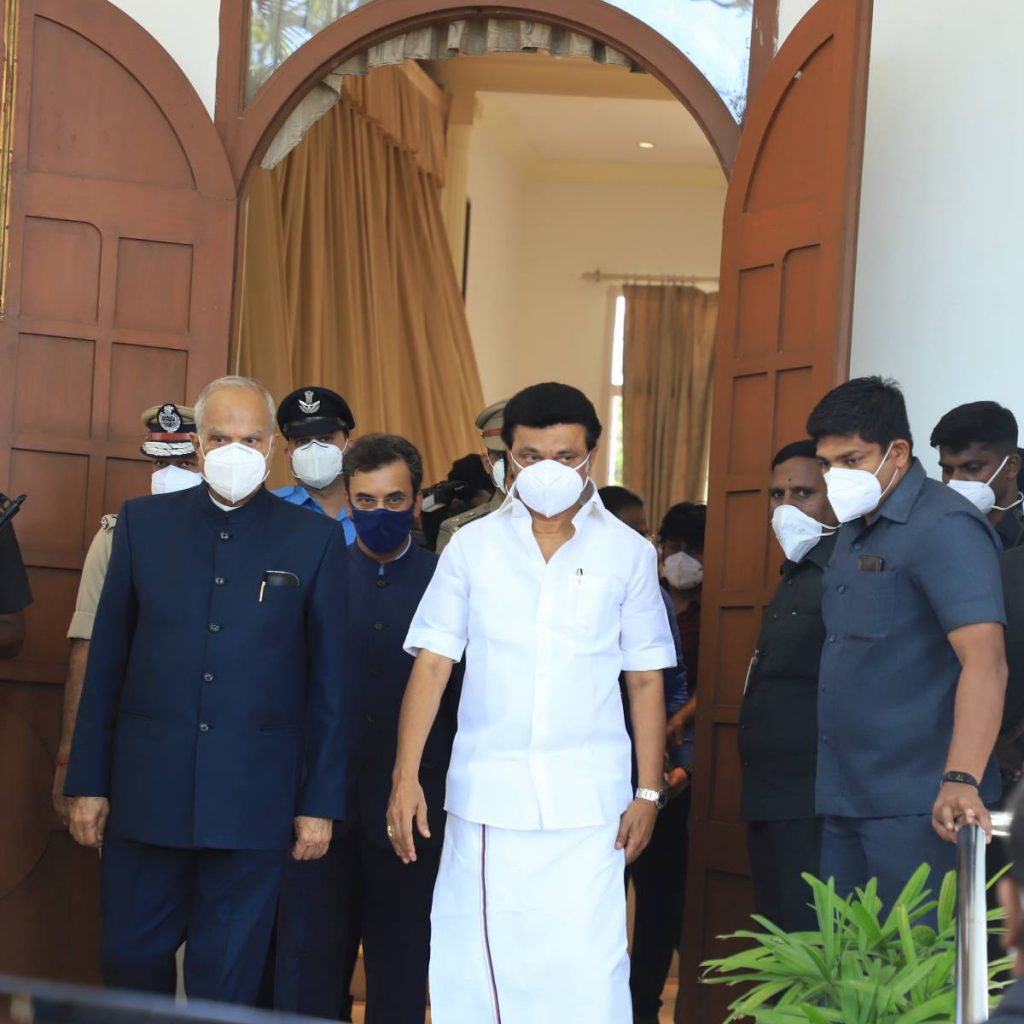 Earlier on entering Karunanidhi's residence where his mother resides now, some party cadres burst crackers as a mark of celebration to which Stalin immediately showed his displeasure.
Stalin came to Karunanidhi's residence to seek his mother's blessings.
At Raj Bhavan, Stalin's wife Durga turned emotional on hearing her husband saying `"I Muthuvel Karunanidhi", while being administered Oath of Office and Oath of Secrecy.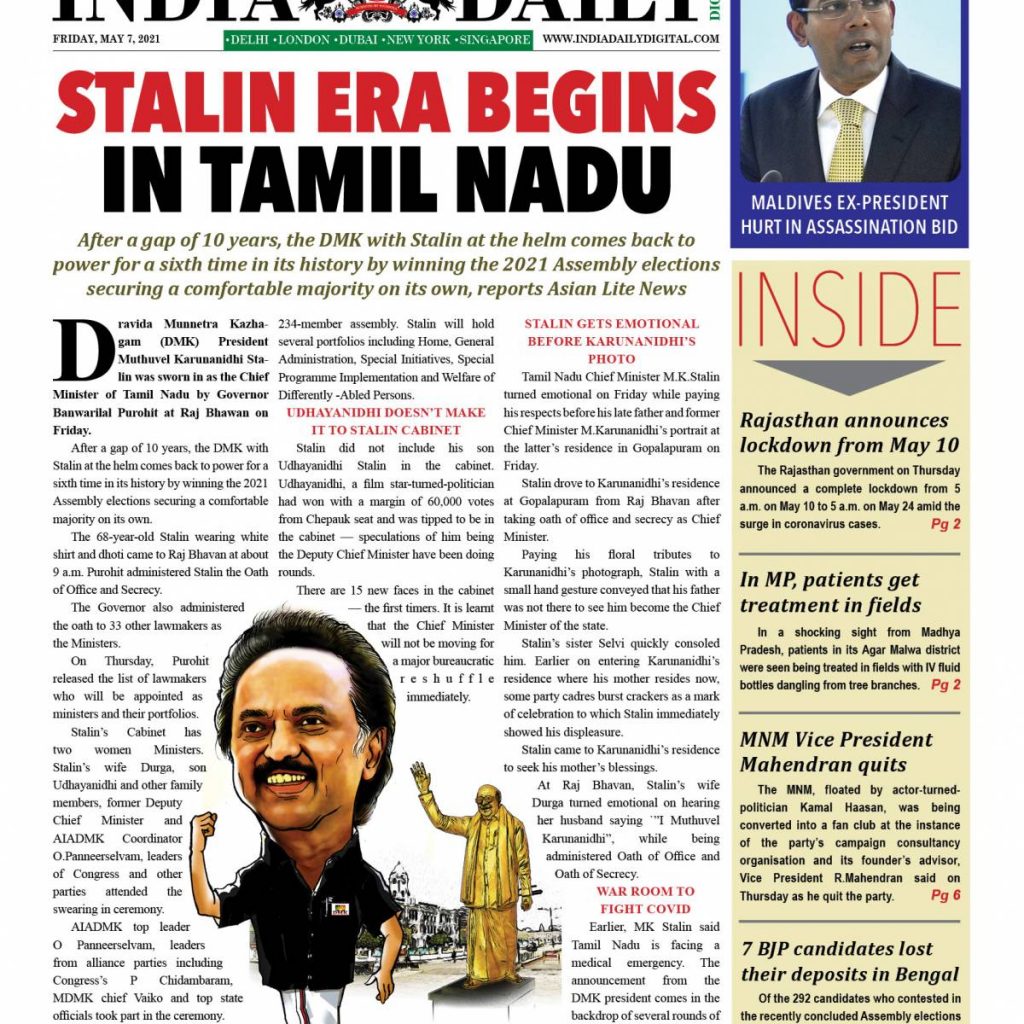 War room to flight Covid
Earlier, MK Stalin said Tamil Nadu is facing a medical emergency. The announcement from the DMK president comes in the backdrop of several rounds of meetings with health experts and other officials over the past three days.
In a statement on Wednesday, Stalin said he has instructed the chief secretary to set up a 'war room' which will act as a central unit to monitor the medical oxygen stocks and vaccine, the requirement of beds, etc. He said the contribution of frontline workers during the pandemic is a great service to the people.
" The pandemic scenario has now changed into a 'medical emergency' and I appeal to private hospitals to fully commit themselves to save people who fear for their lives," the DMK chief said in a statement. As part of Covid-19 containment measures, he asked the hospitals, which are now allotting 50 per cent of the total beds to Covid-19 patients, to provide additional beds. He urged them to also provide consession in billing to the maximum possible extent for services availed by coronavirus infected people. "This is a difficult period, but it is not something we cannot overcome," he added.
Also read:TN Election Updates: DMK takes lead