Advertisement

During May this year, the Pakistan government decided to close all of its borders with Afghanistan for pedestrian movement to in an effort to stop Covid-19 transmission….reports Hamza Ameer
The Pakistan-Afghanistan border crossing at Torkham, which was only allowed to open for trade activities, has now opened its gates, permitting the entry of desperate Afghan men and women into Pakistan.

As per a notification issued by the Pakistan government, pedestrian entry has been allowed for Afghans after at least five months of suspension.

"As many as 240 Afghan nationals entered into Pakistan utilising the online visa facility at the border crossing while at least 108 Pakistanis also availed the opportunity to come back to their country," said an official at Torkham.

"The pedestrian entry was opened after instructions from the Ministry of Interior in Islamabad, following an approval by the federal cabinet," he added.

During May this year, the Pakistan government decided to close all of its borders with Afghanistan for pedestrian movement to in an effort to stop Covid-19 transmission.

The restrictions also included Islamabad's decision to now allow inflow of refugees, who may want to enter into Pakistan amid Taliban takeover and the security situation in Afghanistan.

Officials posted at Torkham revealed that they are expecting about 10,000 to 12,000 Afghan nationals to cross the border and travel between Pakistan and Afghanistan on a daily basis, many of who do daily border-crossing movement for work.

The previous ban on cross-border movement had severe affects on the locals living on both sides of the border as nearly 8,000 daily wagers and porters lost their jobs.

These wagers had been protesting against the border closure and had established a protest camp also, demanding the authorities to lift what they called unjustified ban.

Officials also revealed that they received a batch of at least 570 Afghan students, who were studying in different educational institutions in Pakistan.

"These students sent ahead to their respective institutions after a mandatory 10-day quarantine," the officials stated.

The Torkham border was also used to evacuate hundreds of Afghan and foreign nationals, after they were granted special permission after the Taliban takeover.

It is expected that there will be an inflow of Afghan refugees into Pakistan in the coming days as cross-border movement through the Torkham border will increase in number with every passing day.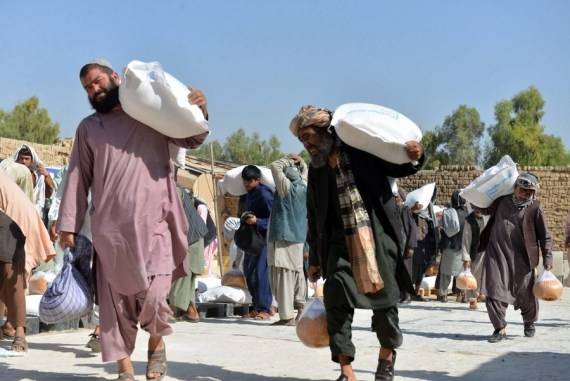 Thousands rush to Pak border
Thousands of Afghans made a beeline for Torkham border crossing early on Friday morning when the news about resumption of cross-border pedestrian movement spread in most parts of the neighbouring country, Dawn reported.

The number of aspiring Afghans was so high that Pakistani authorities had to deploy additional security personnel to prevent crowding and panic at the border crossing.

It was also learnt that the Afghan Taliban made repeated announcements on loudspeakers to its "unruly" nationals to avoid congestion at the border crossing and let only those, who needed the most, cross over to Pakistan, the report said.

However, the announcements fell on deaf ears as the Afghans made desperate bids to get online visaS for Pakistan.

Bilal, a 28-year-old resident of Laghman province in Afghanistan, told Dawn that he got an online visa on Friday morning after spending a sleepless night near the border crossing.

He said the number of people, including women, children and the elderly, was so high on the Afghan side of the border that it was literally impossible for both the Afghan and Pakistani authorities to entertain everyone's request for visa.

Abdullah, a resident of Nangarhar province, also said he reached Pakistan after getting visa online.

He said though majority of Afghans welcomed the resumption of pedestrian movement via Torkham border, it would take the authorities weeks and months on both sides of the border to clear the "waiting lot" as Afghans had started reaching Torkham in large numbers after learning about the border reopening for ordinary people.

Pakistani officials also confirmed crowding on the border and said security clearance was meticulous and painstakingly slow.