Advertisement

Pakistan's trade with Afghanistan continues to shrink despite big claims by the PTP government. It's trade with Afghanistan fell by 22 percent to reach $1.18 billion during 2019-2020. This is in contrast to the claims of reaching five billion over the next three years …. Writes Dr Sakariya Kareem
Helping Afghanistan prosper economically and supplying essentials to the landlocked Afghanistan was reiterated by Pakistan at the recent Heart of Asia Conference in Dushanbe. However, facts of its trade performance tell a different story of a shrinking trade.
Also Read – Pakistan Struggles to Stem Covid Surge
Pakistan's trade with Afghanistan fell by 22 percent to reach $1.18 billion during 2019-2020. This is in contrast to the claims of reaching five billion over the next three years. Official sources in Islamabad as well as Kabul admit that the target is rather ambitious and does not take into account the ground reality, especially, of Pakistan's own capacity to deliver.
Notably, Pakistan's exports to Afghanistan declined 13.6 percent to $629.3 million from $728.3 million. A few years ago, Afghanistan was the second largest export destination after the US.
Trade Ministry sources in Islamabad explain that low trade performance has much to do with the unsettled conditions on both sides of the border and the Covid-19 pandemic. But the fact is that Pakistan has for long lost the Afghan market to its rivals – China, India and some of the Central Asian countries. The Trade Development Authority of Pakistan (TDAP) explains that the loss of the Afghan market is because Iran, India and China offer value-added products, relatively attractive transit tariffs, and better consignment handling facilities. China, being the supplier of value-added goods is becoming the leading competitor and taking over the lion's share in Afghan market. Similarly, Iran offers competitive rates, better consignment handling facilities and cost-effective transportation. In Pakistan, costs for all these facilities have increased substantially over the years.
Meanwhile, the data of State Bank of Pakistan (SBP) indicates that Pakistan's trade deficit with the other regional countries narrowed only slightly during the period as imports from these countries also decreased. That, again, points to low capacity and poor performance.
A conflict-hit Afghanistan has, actually, performed better. Pakistan's imports from Afghanistan have surged, especially of essential kitchen items like tomatoes, potatoes, onions and fresh and dried fruits, as per SBP data.
Also Read – India calls for peace 'within and around' Afghanistan
As for land-based trade, Afghan trade transit resumed after Pakistani authorities decided to open up Torkham border on a 24/7 basis. However, every time there is a skirmish along the border due to movement of militant that Pakistan is pursuing, the border post gets closed to trade. As bilateral relations suffer, goods lie stranded and get pilfered. Perishable goods like fruit and vegetables get destroyed.
Afghanistan is compelled to explore other trade routes. Chabahar has come to its aid. Behrouz Aqaei, the Director General of Ports and Maritime Department of Iran's Sistan-Baluchestan Province explained that Chabahar is believed to be the best and economical transit route into Afghanistan and Central Asian countries.
Also Read – Biden in Limbo as Taliban Flex Muscles
India has stepped in to help Afghanistan by sending goods via Iran's Chabahar, or Shahid Behesti, port. In mid-April 2020, a 75,000-metric-ton consignment of Indian wheat heading for Afghanistan arrived at Chabahar to be delivered to the destination country through land borders. According to Aqaei, the Indian government sent the mentioned cargo aiming to support its trade partner during the coronavirus pandemic. The consignment consisted of 203 20-metric-feet containers that had been shipped from Kandla Port in eastern India.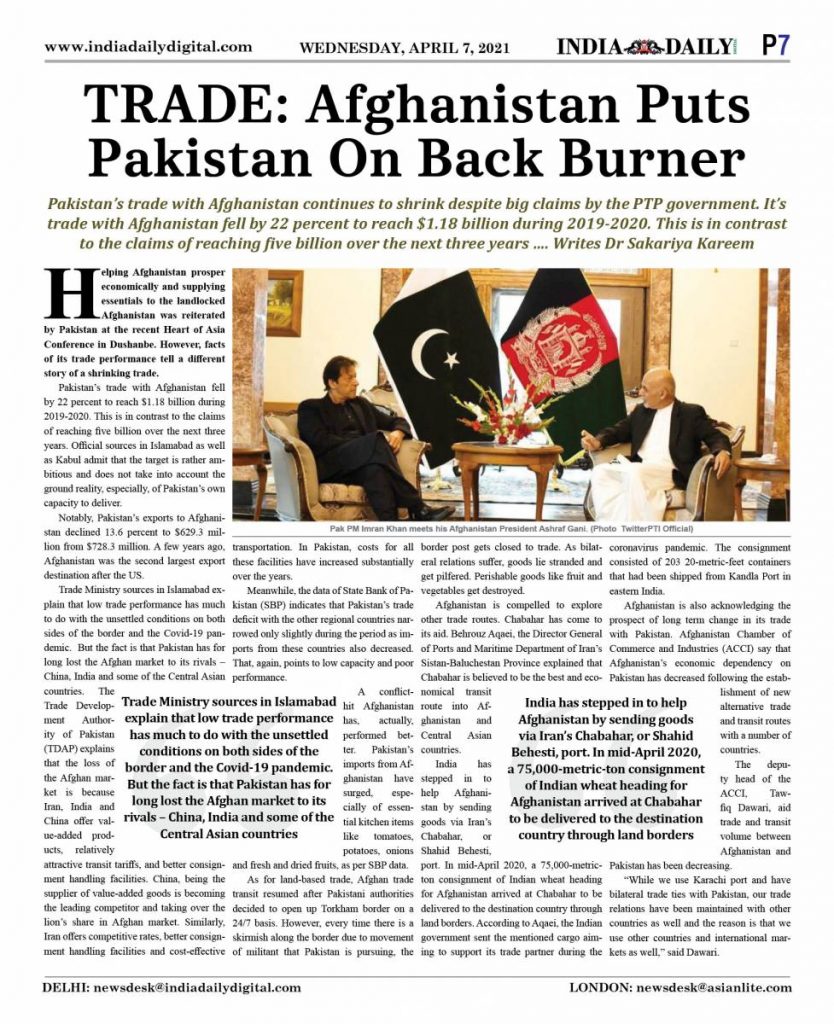 Afghanistan is also acknowledging the prospect of long term change in its trade with Pakistan. Afghanistan Chamber of Commerce and Industries (ACCI) say that Afghanistan's economic dependency on Pakistan has decreased following the establishment of new alternative trade and transit routes with a number of countries.
The deputy head of the ACCI, Tawfiq Dawari, aid trade and transit volume between Afghanistan and Pakistan has been decreasing. "While we use Karachi port and have bilateral trade ties with Pakistan, our trade relations have been maintained with other countries as well and the reason is that we use other countries and international markets as well," said Dawari.
Also Read – Targeted killings soar in Afghanistan