Advertisement

A two-week evaluation on 6,175 Covid-19 patients in Abu Dhabi revealed that a 100% prevention of death among recipients and 99% prevention of admission to ICUs, reports Asian Lite News
High-risk patients including adults, pregnant women and children 12 years old and above with mild to moderate COVID-19 infections – and who were at risk having their symptoms progress to severe ones – were saved from possible death by having the anti-viral medicine Sotrovimab.
A two-week evaluation, wherein 6,175 Covid-19 patients in Abu Dhabi received Sotrovimab, showed that a 100 percent prevention of death among recipients and and 99 percent prevention of admission to intensive care units, UAE health officials said in a report from state news agency WAM.
They also noted that 97 percent of the patients fully recovered within 14 days.
About 52 per cent of the patients were aged 50 or above, and almost all recipients had multiple comorbidities including obesity, cancer, cardiovascular disease and diabetes.
Sotrovimab, a monoclonal antibody treatment delivered through intravenous therapy, is being produced by global biopharmaceutical company GlaxoSmithKline.
The Ministry of Health and Prevention (MoHAP) has approved the use of Sotrovimab after conducting local evaluation. It has also been approved for emergency use by the US Food and Drug Administration.
The UAE was one of the first countries in the world to receive a shipment of Sotrovimab in mid-June.
Meanwhile, additional 1,565 new Covid-19 infections and four deaths were reported overnight, bringing the UAE's caseload to 659,449 cases including 1,896 fatalities.
MoHAP also reported that 1,508 individuals had fully recovered from the coronavirus disease, for a total number of recoveries of 637,267.
The total number of administered Covid-19 vaccine doses is now at 16,341,613, for a rate of vaccine distribution of 165.23 doses per 100 people, after 78,028 jabs were done during past 24 hours.
Meanwhile, Abu Dhabi Health Services Company (SEHA), the UAE's largest healthcare network, announced the opening of a new COVID-19 drive-through services centre in the Rabdan area in Abu Dhabi.
The new centre is composed of 6 tracks; 2 for vaccination and 4 for nasal swabs and DPI laser-based testing with a capacity of 200 vaccinations and 1,000 nasal swabs and laser tests per day.
The centre welcomes clients from Saturday to Thursday from 8 AM to 8 PM and on Friday from 10 AM to 8 PM. The centre was built utilizing shipping containers, similar to the centres recently opened in Al Sarouj in Al Ain and Al Manhal in Abu Dhabi. The shipping containers are more durable and adaptable and provide a very high level of heat and cold resistance. They are also easier to move, reuse, and maintain.
This brings the total number of Covid-19 drive-through services centres managed by SEHA to 7 in the city of Abu Dhabi; Al Madina, Al Manhal, Zayed Sports City, Al Bahia, Al Shamkha, Al Wathba, and the new centre in Rabdan; and a total of 22 across the nation. Those wanting to receive the vaccine or undergo covid screening can book an appointment through SEHA's app.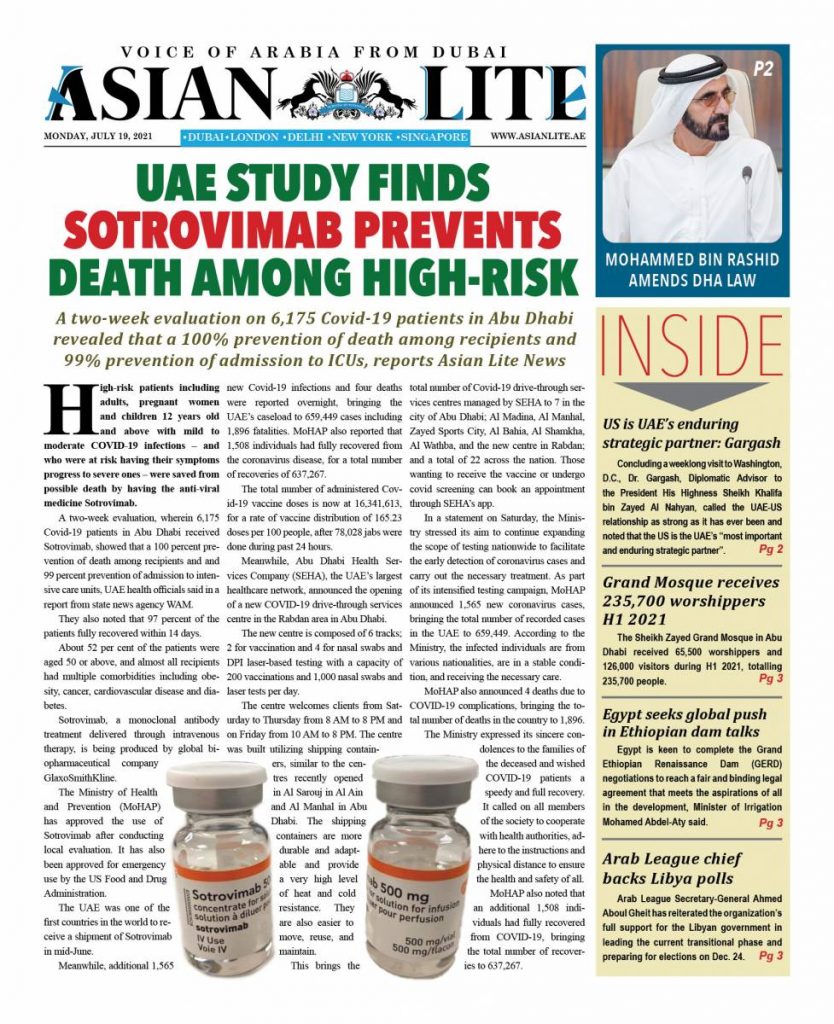 In a statement on Saturday, the Ministry stressed its aim to continue expanding the scope of testing nationwide to facilitate the early detection of coronavirus cases and carry out the necessary treatment. As part of its intensified testing campaign, MoHAP announced 1,565 new coronavirus cases, bringing the total number of recorded cases in the UAE to 659,449.
According to the Ministry, the infected individuals are from various nationalities, are in a stable condition, and receiving the necessary care.
MoHAP also announced 4 deaths due to COVID-19 complications, bringing the total number of deaths in the country to 1,896.
The Ministry expressed its sincere condolences to the families of the deceased and wished COVID-19 patients a speedy and full recovery. It called on all members of the society to cooperate with health authorities, adhere to the instructions and physical distance to ensure the health and safety of all.
MoHAP also noted that an additional 1,508 individuals had fully recovered from COVID-19, bringing the total number of recoveries to 637,267.