Advertisement

The National Health Service said that its vaccination programme will now invite eligible people, who had their second COVID jab at least six months ago, for a top up, reports Asian Lite News
The United Kingdom has begun to administer third coronavirus vaccine doses to medical and social care workers as part of their vaccination campaign, which will fully launch next week, the National Health Service said on Thursday.
The vaccination agencies are currently identifying those eligible for third doses.
"The NHS vaccination programme will now invite eligible people, who had their second COVID jab at least six months ago, for a top up," the authority said in a statement.
The priority groups also include nursing home residents, adult house-contacts of "immunosuppressed individuals," vulnerable people aged 16-49, and adults aged 50 and older, according to the statement.
Patients will be invited to vaccination without appointments once they become eligible, the service said, adding that around 4.5 million people from priority groups will receive shots in the coming weeks.
Earlier this week, the government allowed minors aged 12 to 15 to be offered one dose of the Pfizer/BioNTech vaccine starting next week.
To date, 48.5 million people in the UK were vaccinated at least once, and 44.2 million people have received two doses.
Meanwhile, another 26,911 people in the UK have tested positive for Covid-19, bringing the total number of coronavirus cases in the country to 7,339,009, according to official figures released on Thursday.

The country also recorded another 158 coronavirus-related deaths.

The total number of coronavirus-related deaths in Britain now stands at 134,805. These figures only include the deaths of people who died within 28 days of their first positive test.

The latest data came as modelling prepared for the Scientific Advisory Group for Emergencies (SAGE), a British government advisory body, showed that there is still "the potential for another large wave of hospitalisations" after the return of schools and more people going back to their workplaces.

"While the relationship between cases and hospitalisations has changed due to vaccination, increasing cases remain the earliest warning sign that hospital admissions are likely to rise," the Scientific Pandemic Influenza Group on Modelling Operational sub-group (Spi-M-O) said.

University modelling provided to Spi-M-O showed that the hospital admissions in the next few months could skyrocket to more than 7000 per day.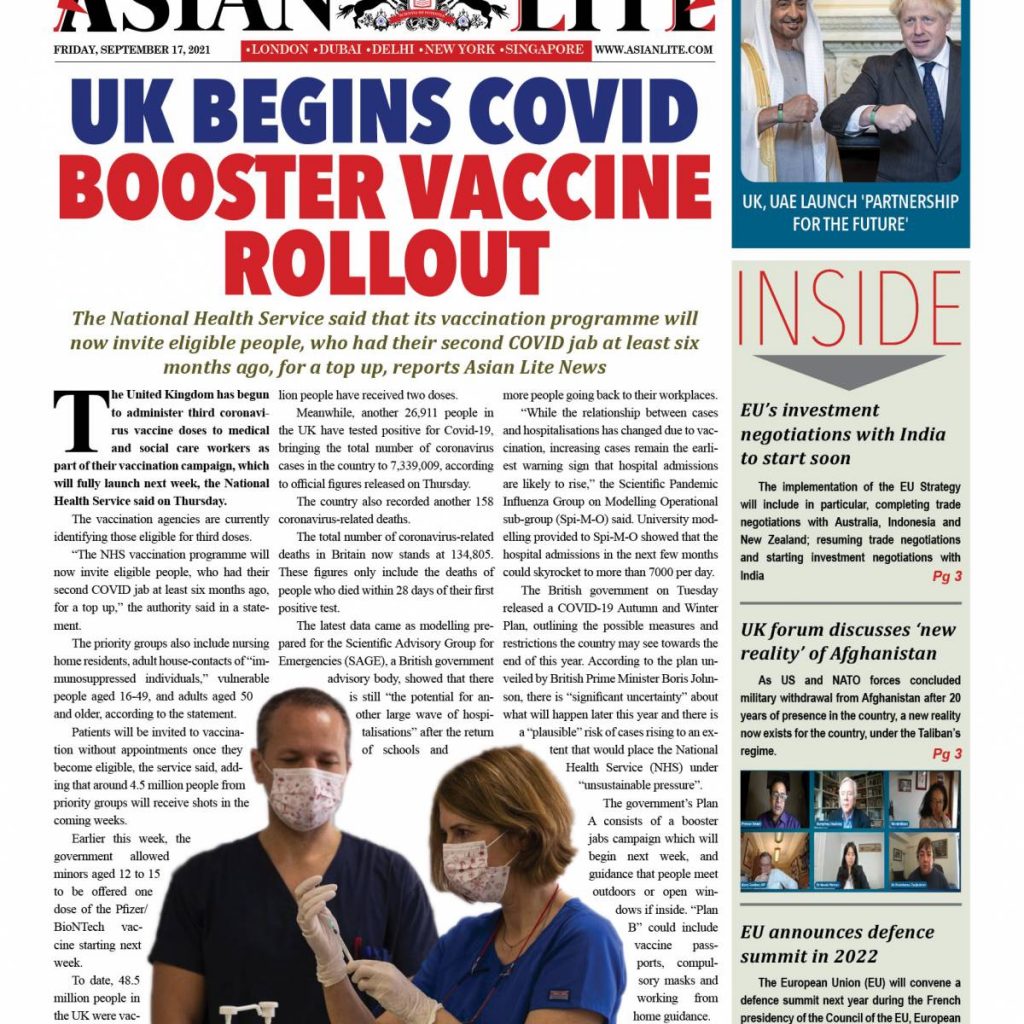 The British government on Tuesday released a COVID-19 Autumn and Winter Plan, outlining the possible measures and restrictions the country may see towards the end of this year.

According to the plan unveiled by British Prime Minister Boris Johnson, there is "significant uncertainty" about what will happen later this year and there is a "plausible" risk of cases rising to an extent that would place the National Health Service (NHS) under "unsustainable pressure".

The government's Plan A consists of a booster jabs campaign which will begin next week, and guidance that people meet outdoors or open windows if inside. "Plan B" could include vaccine passports, compulsory masks and working from home guidance.
Johnson said "Plan B" would aim to prevent the NHS being overwhelmed.

The total number of people in hospital with coronavirus in the country currently stands at 8,340. It has been over 8,000 for eight of the past nine days.

More than 89 percent of people aged 16 and over in Britain have had their first dose of vaccine and more than 81 percent have received both doses, the latest figures showed.
Meanwhile, in its latest weekly COVID-19 vaccine surveillance report, the Public Health England (PHE) has announced that 230,800 hospitalisations prevented by COVID-19 vaccines in those over 45.
The latest report included hospitalisations averted in those aged 45 to 64 years for the first time. Around 51,900 hospitalisations have been prevented in this age group, which includes healthy individuals and at-risk groups, the latter prioritised earlier in the campaign. (with inputs from ANI/Sputnik)
ALSO READ-UK, UAE Launch 'Partnership for the Future'
READ MORE-Emirates to create 3,500 more jobs