Advertisement

CPTPP is one of the largest free trade areas in the world, made up of 11 countries, to which UK's exports are set to increase by 65 per cent up to 37 billion pounds by 2030, according to Department of International Trade, reports Asian Lite Newsdesk
UK has formally launched negotiations to join the Comprehensive and Progressive Agreement for Trans-Pacific Partnership (CPTPP), made up of 11 countries belonging to an almost £9 trillion free trade area, as part of its post-Brexit foreign policy focus on the Indo-Pacific region.
CPTPP is one of the largest free trade areas in the world, made up of 11 countries – Australia, Brunei, Canada, Chile, Japan, Malaysia, Mexico, New Zealand, Peru, Singapore and Vietnam. Also, Philippines, Thailand, Taiwan and the Republic of Korea have plans to join the bloc.
The bloc is accounting for 13% of global GDP in 2019. This would rise to 16% with the UK's accession, adding substantial value to this huge free trade area, according to the Department for International Trade (DIT).
International Trade Secretary Liz Truss on Tuesday spoke with Minister for TPP Yasutoshi Nishimura from Japan, this year's chair of CPTPP, to formally begin negotiations on the UK's accession to the trade bloc.
"CPTPP already has significant global presence, and our accession would send a powerful signal to the rest of the world that the UK, as an independent trading nation, will continue to champion free and fair trade, fight protectionism and slash tariffs at every opportunity," Truss said.
"It will mean stronger trading links with the Indo-Pacific, which is vital to our goals for trade, investment, supply chains as well as supporting green growth, women's economic empowerment and high standards for British workers," she added.
According to the DIT, the UK's exports to CPTPP countries are set to increase by 65 per cent up to 37 billion pounds by 2030 and membership is expected to lower tariffs on key British exports like cars and whisky and should mean tariff-free trade for 99.9 per cent of exports.
Prime Minister Boris Johnson saidmembership of the CPTPP free-trade partnership would open up unparalleled opportunities for British businesses and consumers in the fast-growing Indo-Pacific.
"It's an exciting opportunity to build on this country's entrepreneurial spirit and free- trading history to bring economic benefits across the whole of the UK," Johnson said.
According to DIT, combined GDP amongst CPTPP members would also increase GDP from almost £9 trillion to £11 trillion with the UK's accession and would send a powerful signal about the importance of free and fair trade helping to reinforce the rules-based international system at a critical time in our history.
Ahead of the talks, the department said the UK was looking forward to working with Japan, as chair of CPTPP, alongside the wider membership who have all welcomed the UK's application and supported our accession ambitions.
Trade between the UK and Canada was already worth £22.2 billion in 2019. UK accession to CPTPP will complement its trade deal with Canada and help go further in the future modernised bilateral trade agreement, it said.
It said the UK will be able to work together on "our shared priorities, such as protecting the environment, tackling climate change and supporting free and fair trade."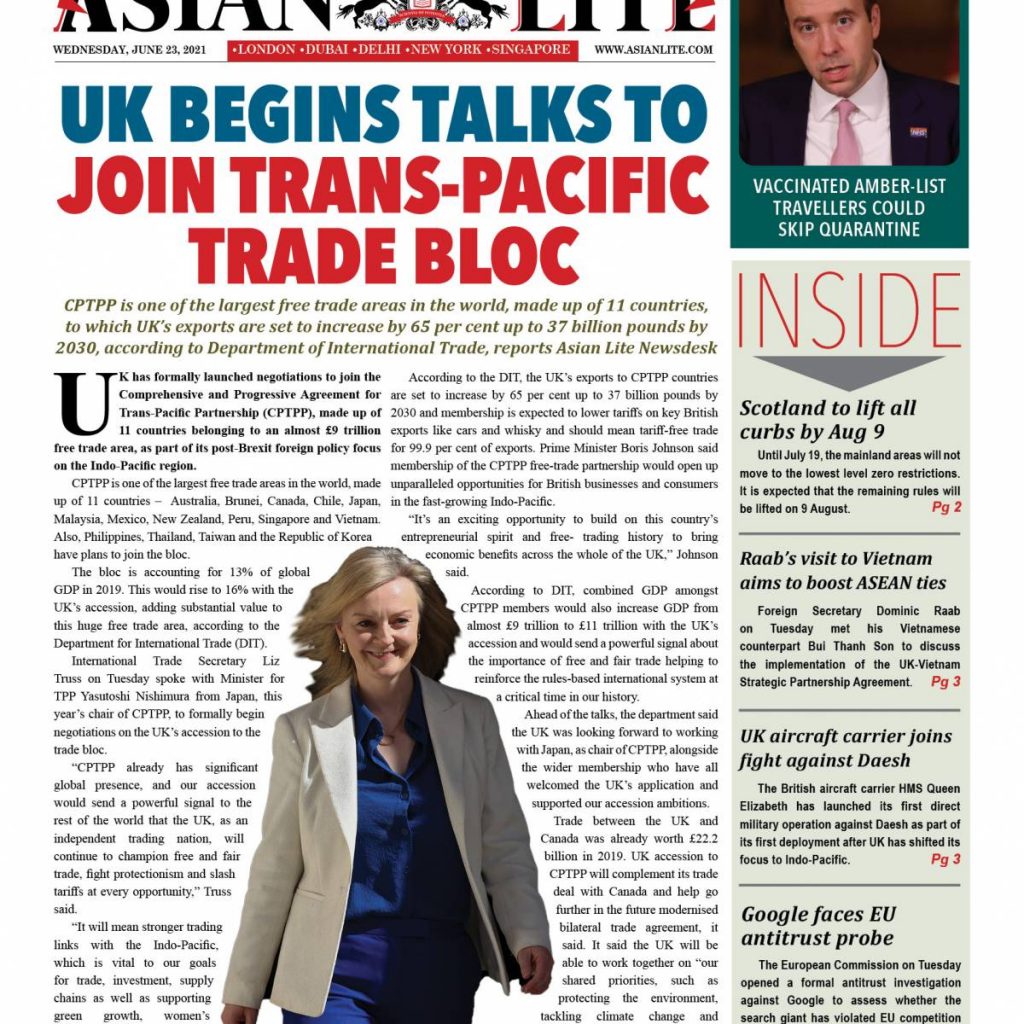 The UK will continue to work closely with Canada to boost trade and support jobs, it added.
British High Commissioner to Canada Susan Le Jeune d'Allegeershecque said, "Today as we launch our negotiations with CPTPP nations, we welcome the new opportunities that our accession creates for working with Canada on rules based trade, and for enhanced collaboration between UK and Canadian businesses in global supply chains. Our accession builds on strong existing trade terms with Canada, which will be complemented by the bilateral negotiations we look forward to launching later this year."
ALSO READ-Scotland, Ireland ease Covid curbs
READ MORE-Scotland eases lockdown curbs