Advertisement

With new light on Frida Kahlo works, Saudha Society of Poetry and Indian Music, brings at Royal Albert Hall a unqiue musical and poetic colaboration…Rahul Laud reports
On Wednesday 13 July 2022 at 7.30pm a reinterpretation of Mexican surrealist painter Frida Kahlo's melancholic universe of art will be brought to new shade of light through breath-taking presentation of Indian classical music at the Royal Albert Hall .
Saudha Society of Poetry and Indian Music, (www.saudha.org) will present an art-initiative live in partnership with Royal Albert Hall.
Directed by poet Ahmed Kaysher, this visceral presentation, will feature the world's finest Hindustani classical violinist Vidushi Kala Ramnath joining from USA, leading Tabla maestro Pt Sanju Sahai, the finest British-Bengali singer of this generation Shapla Salique, an acclaimed spoken-word artist Shree Ganguly, an award-winning filmmaker Makbul Chowdhury (digital content) and poet Shamim Shahan is on the back-stage management.
The director Ahmed Kaysher said "This is a landmark and absolutely unique fusion of two different art forms. Indian classical music, with its absolute versatility, never attempted to explore and interpret the intensity of human emotions of other subtle art forms like painting, specially Frida's works that have an ocean of dramatic and transcendental elements, which off-course, what Indian classical music keenly delves into. "
Kaysher said " As a firm believer of exploring different arts through interpretation, re-interpretation, construction, de-construction and reconstruction – the horizon that Jack Derrida introduced to arts and literature, Saudha, has been re-interpreting different arts of the globe with other art forms for last 13 years e.g. Bach's Goldberg variation through Raag Chayanat; Eliot's Waste Land in the light of Nazrul's Bidrohi ( As part of the centenary celebration of the Waste land); intensifying the meaning and the mood of Indian classical music with the presentation of haunting verses of poetry from Lorca, Neruda, Cavafy, Tagore, Rumi etc, as well as rendering visual interpretation through dance and other visual arts."
He continued "These historic fusions of arts and music have been staged nationwide and at prestigious venues like Southbank centre, Royal Albert Hall, the House of Commons, Edinburgh Festival etc, and we managed to create a fresh flow of new audiences and followers in the last 13 years. I am also working on transcending the subtlety of Indian classical music through mingling this with Javanese classical set of Gamelan and off-course, medieval music of India called Vaishnav through early European music e.g. Troubadour. We are planning to do a world tour next year with these two unique art-initiatives."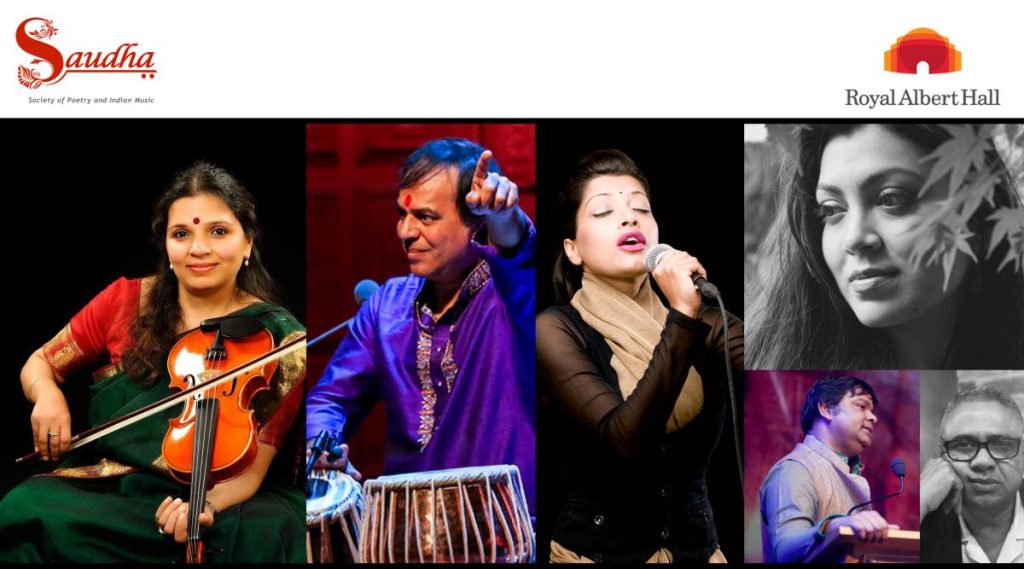 Hindustani violinist Vidushi Kala Ramnath said "It's an immense privilege to contribute to this amazing concert. It's always a pleasure working for Saudha, a leading Indian classical and global music promoter in the UK and to be back at the Royal Albert Hall after a good few years."
The door opens at 7pm and the concert starts at 7.30pm at the Elgar Room of the Royal Albert Hall.
Link for info:
Saudha – Frida Kahlo Through Indian Classical Music | Royal Albert Hall — Royal Albert Hall
ALSO READ: Saudha Hosts a Hub for Artist Communities to Protest Against War
Advertisement