Advertisement

At present, Tamil Nadu's share on the export front stood at $26 billion and this should be increased to $100 billion by 2030, he said after presenting the FIEO Southern Region Export Excellence Awards…reports Asian Lite News
Asserting that exports are very crucial to achieve economic growth, Tamil Nadu Chief Minister M K Stalin on Wednesday called upon the captains of industries to step up the exports by about $ 100 billion and meet the government's ambitious target of achieving $ one trillion dollar economy by 2030.
At present, Tamil Nadu's share on the export front stood at $ 26 billion and this should be increased to $ 100 billion by 2030, he said after presenting the FIEO Southern Region Export Excellence Awards. His government has already initiated several measures to attain the objective, he said at the event held under the aegis of the Federation of Indian Export Organisations (FIEO).
"I had unveiled plans in September last year on export promotion and the government is taking several steps in this direction. To name some, efforts are on to establish a Knowledge City, State Export Promotion Committee, and International Furniture Park," Stalin said.
He gave away the FIEO awards in the presence of Industries Minister Thangam Thennarasu and MSME Minister T M Anbarasan. The event saw the participation of top business leaders from various industries and awards were presented in multiple categories, including highest foreign exchange earner (top exporter) in southern region, top five-star exporter in southern region, top four-star exporter in southern region, among others.
"I am happy to inform that during 2020-21 fiscal, Tamil Nadu stood third in the country by exporting to the tune of Rs 1.93 lakh crore, contributing 8.97 per cent to the nation's overall exports. This share should be increased every year. This government's desire and also my ambition is make Tamil Nadu first among Indian States in exports," the Chief Minister said.
"Exports are very crucial to achieve economic growth. Currently, the southern zone has a share of about 27 per cent in India's exports. I am sure in five years, this will increase to 35 per cent," the Chief Minister said.
FIEO should ensure the Central government scheme of One District One Product (ODOP) is implemented in all the districts in Tamil Nadu, he said and pointed out that nearly 24 of the State's unique products such as Thanjavur painting, Coimbatore's Kota cotton saree, Kovilpatti's peanut candy, and Salem silk are awaiting geographical indication (GI) tag. These products have good export potential, he added.
A Sakthivel, president, FIEO, and Israr Ahmed, FIEO's regional chairman, were among those who spoke.
Former national president of All India Manufacturers' Organisation and convener of Consortium of Indian Associations, KE Raghunathan, said that the state's target of $1 trillion economy is achievable but external factors, such as the pandemic, will have an impact.
"Reaching that mark is feasible because Tamil Nadu is a state that is industrial, it has decentralised empowerment, it produces close to 150,000 engineers every year," he said. In Raghunathan's view, Tuesday's developments show that the investments cover an array of various industries unlike in Global Investors' Meet (GIM) where 90% of the investments were in the renewable energy sector. The investment sites are spread throughout Tamil Nadu and the government had recognised high-value and low-value projects equally, he said.
Big investments
Recently, Guidance Tamil Nadu, the state nodal agency for investment promotion, entered into an MoU with American Tamil Entrepreneurs Association (ATEA) to promote start-ups in the fields of innovation, research and development. The government has sanctioned a grant of Rs 5 crore to five start-ups selected for this program.
An MoU was signed between General Electric Company and TIDCO to establish a Centre of Excellence to enhance the production of aircraft and aeronautical components for industries in the aerospace and defence sector using advanced manufacturing technologies.
The investments are in the fields of power plants, electronics, auto components, industrial parks, IT/ITeS services, food processing, footwear, pharmaceuticals, and textiles. The tie-ups are with companies such as JSW Energy to set up 450 MW Wind Power Generation in Tuticorin, Tirunelveli, Dindigul and Tiruppur with a Rs 3000-crore investment.
Germany-based ZF Wabco is to make auto components in SIPCOT Oragadam Phase 2 in Kancheepuram with an investment worth Rs 1,800 crore. Singapore-based Capital Land is to set up a data centre in Chennai for Rs 1,200 crore and Tata Consultancy Services will generate employment for 15,000 people for their Phase III project at Sipcot Siruseri with an investment worth Rs 900 crore.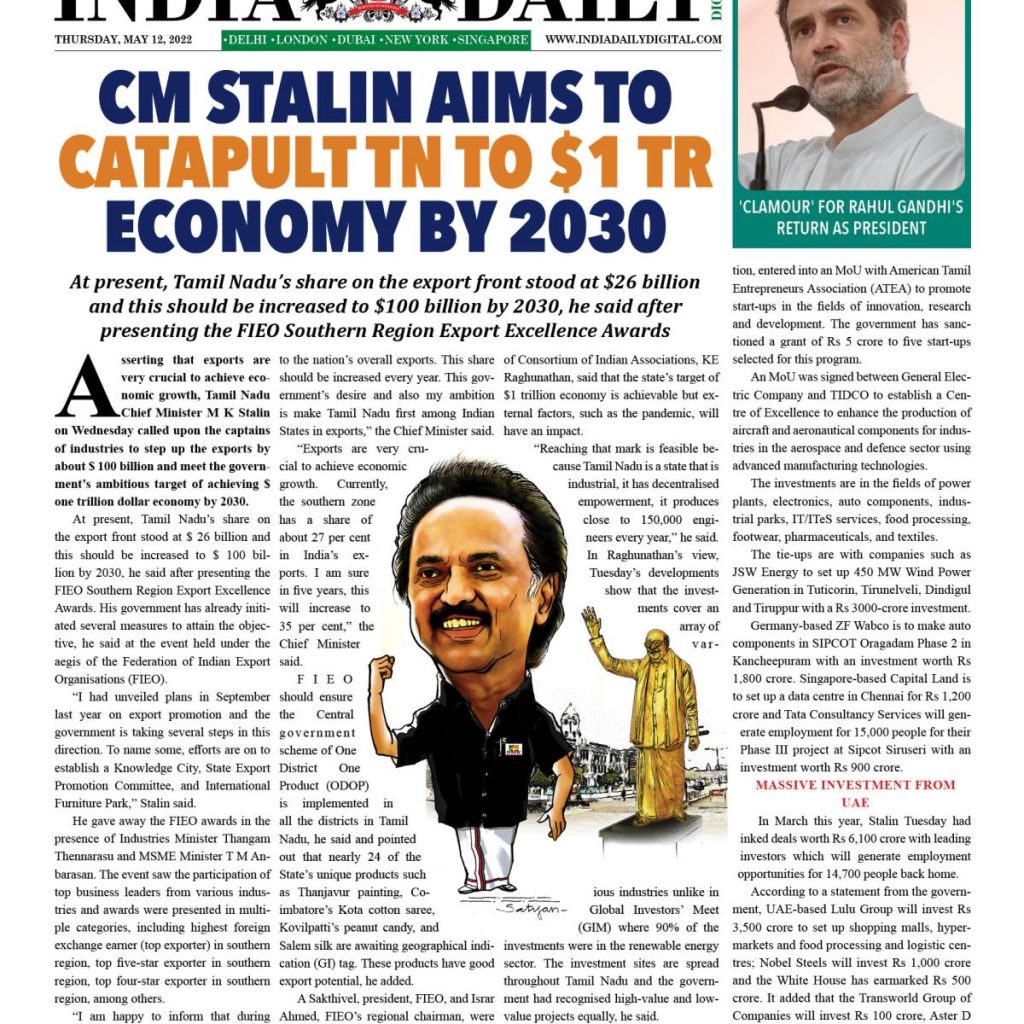 Massive investment from UAE
In March this year, Stalin Tuesday had inked deals worth Rs 6,100 crore with leading investors which will generate employment opportunities for 14,700 people back home.
According to a statement from the government, UAE-based Lulu Group will invest Rs 3,500 crore to set up shopping malls, hypermarkets and food processing and logistic centres; Nobel Steels will invest Rs 1,000 crore and the White House has earmarked Rs 500 crore. It added that the Transworld Group of Companies will invest Rs 100 crore, Aster D M Healthcare has proposed an investment of Rs 500 crore and Sharaf Group will invest Rs 500 crore.
ALSO READ-Stalin to send rice, medicines to Lanka