Advertisement

The Lusophone Food and Spirits Festival will highlight the gastronomic ties between India and the Lusophone world…reports Asian Lite News
Goa will host the International Lusophone Festival from December 3-6. By hosting the event, India hopes to strengthen its ties with the Lusophone world, which comprises countries that speak the Portuguese language.
The festival is being organized by the Ministry of External Affairs (MEA) in collaboration with the Indian Council of Cultural Relations (ICCR) and the Goa government.
Goa has long-standing ties to the Lusophone world, which have been cultivated through the presence of Portuguese cultural organizations like the Orient Foundation and the Camoes Institute, which support the Portuguese language and culture in India.
"This has deepened our economic, cultural co-operation and people-to-people ties with the CPLP member countries," the MEA said in a press release issued on Tuesday.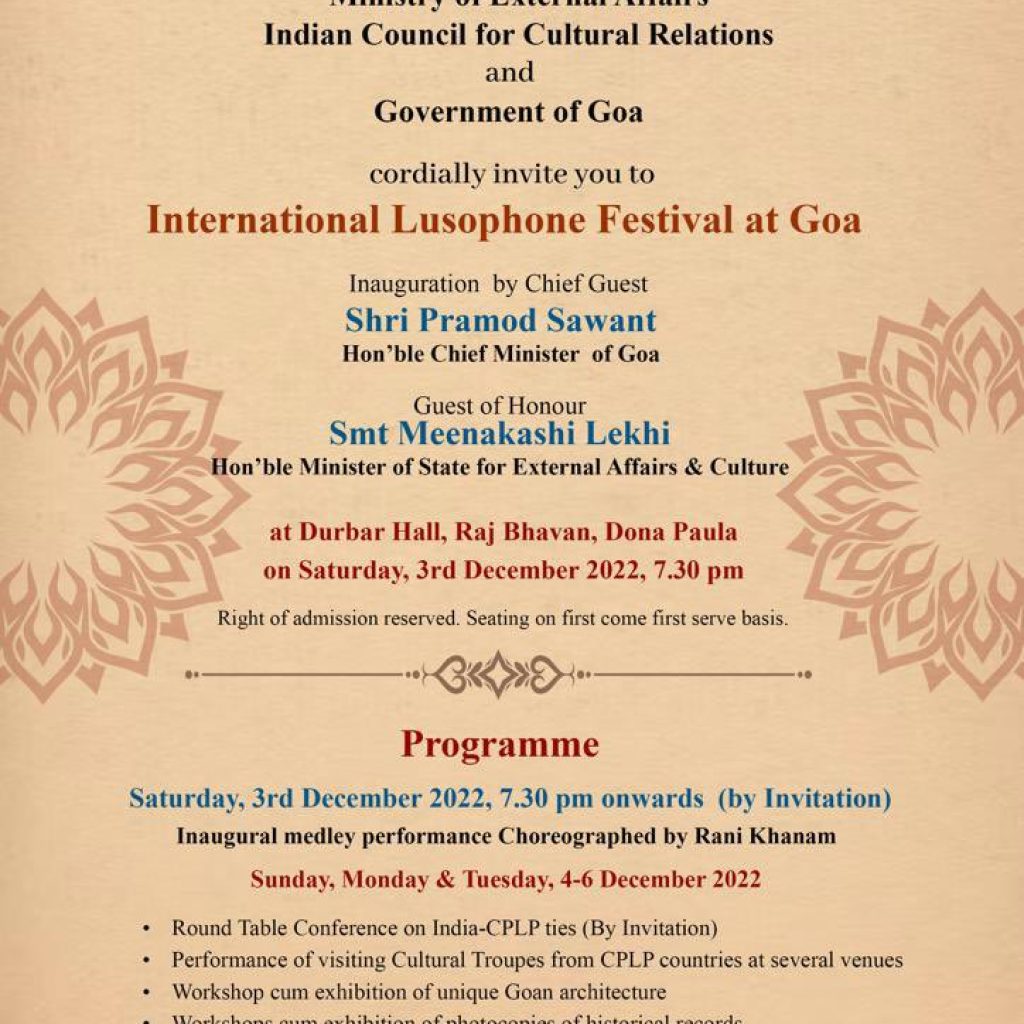 Goa Chief Minister Pramod Sawant will inaugurate the International Lusophone Festival on December 3. Minister of State for External Affairs and Minister of State for Culture Meenakshi Lekhi will be the guest of honour.
The festival will include performances by visiting cultural troupes from the CPLP countries (about 70 artists) at several venues in Goa namely ESG complex, Azad Maidan, Sanskruti bhavan, Institute Menezes Braganza among others
Workshops on Lusophone music are being organized for artists and volunteers as part of the festival, along with other workshops and an exhibition of replicas of historical documents and the distinctive architecture, handicrafts, and furnishings of Goa.
The Lusophone Food and Spirits Festival will highlight the gastronomic ties between India and the Lusophone world.
The festival will also host discussions with the themes "India's Outreach to the Global South-Exploring Convergence with CPLP" and "India-Lusophone Historical and Cultural Linkages: Retrospect and Prospects." The discussions will examine not only India's current and historical Lusophone connections but also the best course of action for future engagement.
The Lusophone Commonwealth (Comunidade Lusofona), commonly known as the Community of Portuguese Language Countries (Comunidade dos Pases de Lngua Portuguesa), is a global forum that was established on July 17, 1996, at the first CPLP Heads of State and Government Summit in Lisbon.
In July 2021, India became an associate observer of the CPLP. World Portuguese Language Day was observed in Delhi on May 5, 2022, as part of India's association with CPLP. (India News Network)