Advertisement

Some Kannada organisations have also reacted, submitting they won't be quiet if Hindi is imposed in the state…reports Asian Lite News
Union Home Minister Amit Shah's statement that Hindi should be accepted as an alternative to English and not as a local language has led to stiff opposition from Southern states including BJP-ruled Karnataka.
'Won't fall for Hindi slavery'
Siddaramaiah, former Karnataka Chief Minister, dubbed it as an attempt to impose Hindi language in the country, saying he won't be quiet if any attempt is made to impose Hindi.
"The statement is not only against the federal principles of the country but also an insult to other languages. Amit Shah should immediately withdraw the statement," he said.
Also, the social media in the state is abuzz with comments under the hashtag #IndiaAgainstHindiImposition.
"Time has come for the non-Hindi states to stage a protest," he noted.
Some Kannada organisations have also reacted, submitting they won't be quiet if Hindi is imposed in the state.
Amit Shah has stated that people from different states should speak in Hindi, not English and he also stated that Hindi should be accepted as an alternative to English.
"Amit Shah's diktat of asking states to use Hindi as a language of communication instead of English is objectionable," Siddaramaiah, a Congress veteran, said.
"As a Kannadiga with self-respect, I condemn Shah's statement," he said.
"We are not against Hindi, English, Tamil, Malayalam, Gujarati languages. However, the priority in Karnataka should be given to the Kannada language. If any attempt is made to impose Hindi, it is not possible to remain quiet," he said.
Siddaramaiah said it is unfortunate to see Shah promoting Hindi language, and "carry out the slavery of Hindi" by neglecting his mother tongue Gujarati, as he hails from Gujarat.
"Mahatma Gandhi who hailed from Gujarat was a proponent of diversity, different languages, ethos. But, it is a tragedy that Amit Shah sees a role model not in Mahatma Gandhi but in Veer Savarkar, a pseudo-nationalist and proponent of 'one culture' and 'one language'," the Congress leader said.
A R Rahman takes a stand
Oscar-winner and one of India's top music directors A R Rahman has tweeted a poster highlighting the significance of Tamil and what the language means to Tamilians.
Rahman tweeted the poster of a woman holding a staff with the Tamil letter 'Lazha' on it. Interestingly, the letter is unique to Tamil language. The poster, titled 'Tamizhanangu', also had lines from a poem by revolutionary poet Bharathidasan. The line, "Inba Thamizh Engal Urimai Sempayirukku Vaer" loosely means "Delightful Tamil is the root of the staple crop of our rights".
Thousands have liked the tweet that Rahman has put out with several other top writers, actors, journalists retweeting the tweet to voice their support for Rahman's statement.
'Language chauvinism will boomerang'
Reacting to Home Minister Amit Shah's statement Telangana Rashtra Samithi (TRS) working president K.T. Rama Rao on Saturday warned that language chauvinism and hegemony in the country will boomerang.
Highlighting unity in diversity as India's strength, KTR, as Rama Rao is popularly known, tweeted: "India is a union of states and a true 'Vasudhaika Kutumbam'. Why don't we let people of our great nation decide what to eat, what to wear, who to pray to and what language to speak! Language chauvinism/hegemony will boomerang.
"I am an Indian first, a proud Telugu and Telanganaite next. Can speak in my mother tongue Telugu, English, Hindi and a little bit of Urdu too. To impose Hindi and diss English will be a great disservice to the youngsters of this nation who have global aspirations. #stopHindiImposition."
This is the first reaction by a leader from the two Telugu states to Shah's statement.
DMK organ hits out
'Murasoli', the organ of Tamil Nadu's ruling DMK, on Sunday come out strongly against the recent statement of Union Home Minister Amit Shah that Hindi should be accepted as an alternative to English and not to local languages.
In an article, it recalled how party patriarch and former Chief Minister, late M. Karunanidhi had, as a 14-year-old student, marched across the streets of Tiruvattur against the then Central government's move to impose Hindi on the people of the state.
The people of Tamil Nadu still have not forgotten the rally taken out by Karunanidhi against Hindi, it said, adding: "Do not forget it".
In a direct call to the people of Tamil Nadu to strongly oppose the imposition of Hindi, the article asserted that there was no coward in the state and that Hindi cannot be imposed on them.
Karunanidhi's son and present Chief Minister, M.K. Stalin has strongly come out against the Union Home Minister's statement, saying that it would destroy national integration.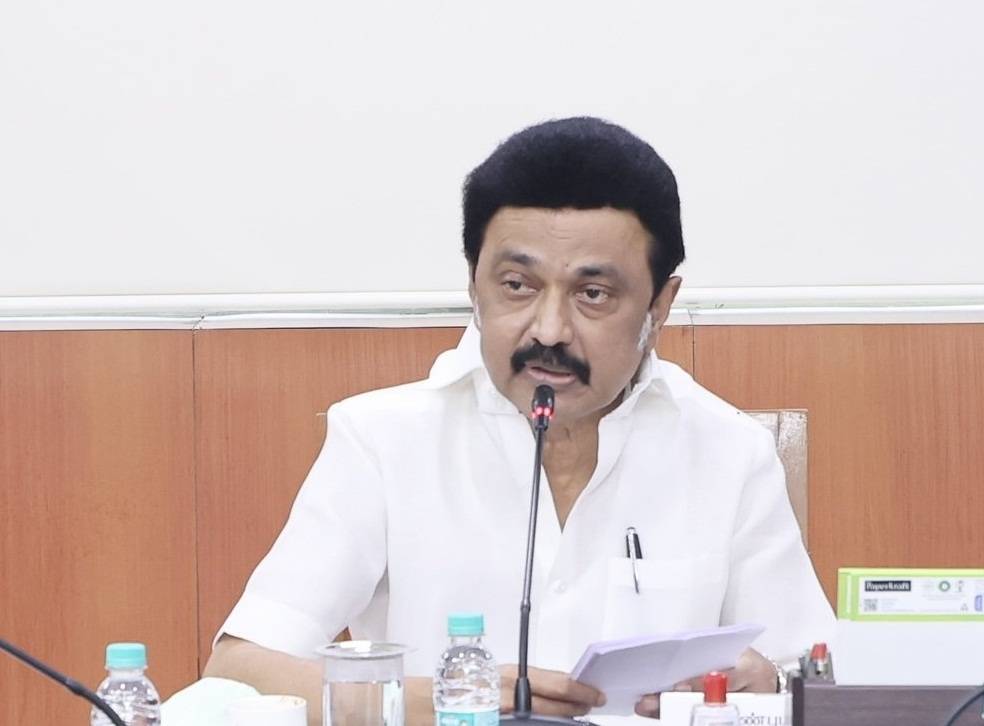 Several state parties, including the opposition AIADMK, have also come out against the statement of Amit Shah and the VCK and the DK have announced that they would conduct protest marches across the state against the statement of the Union Home Minister.
MDMK leader Vaiko has also said that the imposition of Hindi on the people of Tamil Nadu will never be accepted and reminded the power centres in New Delhi to remember the anti-Hindi agitations that had taken place in Tamil Nadu in earlier days.