Advertisement

Stalin, in a memorandum submitted to Modi during their meeting in New Delhi, said due to the economic crisis in Sri Lanka, many Tamils from the island nation may enter Tamil Nadu by sea….reports Asian Lite News
Tamil Nadu Chief Minister M.K. Stalin urged Prime Minister Narendra Modi to permit his government to send essential commodities and life-saving medicines to Sri Lanka.
Stalin, in a memorandum submitted to Modi during their meeting in New Delhi, said due to the economic crisis in Sri Lanka, many Tamils from the island nation may enter Tamil Nadu by sea.
Recently 16 Sri Lankan Tamils had reached the state as they were not able to afford the essential commodities in Sri Lanka, he said, adding that it "is also informed that more such persons may be arriving due to worsening economic conditions".
According to Stalin, the Tamil Nadu government is willing to provide essential commodities and life-saving medicines to the Tamils living in northern and eastern parts of Sri Lanka as well as those working in plantation sector who are reeling under severe food crisis.
"It is requested to accord necessary permission to undertake this benevolent activity," he told Modi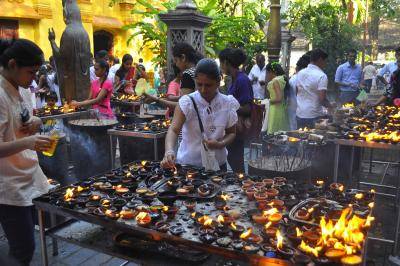 Festival allowance
The Sri Lankan government has approved a proposal to pay an allowance of 5,000 LKR ($17) to low-income families for two months in view of the festive season.
Minister of Energy Gamini Lokuge told the media that the government has identified around 3.1 million low-income families to receive the allowance, which is akin to a bonus for the upcoming Sinhala and Tamil New Year, reports Xinhua news agency. The Minister added that the government has the necessary funds to provide the allowance.  The government will spend 30.1 billion LKR on the allowance.
Sri Lanka awaits the arrival of a diesel shipment under Indian credit line on Saturday to end current 13-hour-long power outage which has disrupted the entire country.
Power Minister Pavithra Wanniarachchi on Thursday told media that ongoing 13 hour power cut could be reduced to two hours with the diesel shipment scheduled to arrive in the island under a $500 million credit line from India.
He said that the shipment would arrive on Saturday night and the Ceylon Electricity Board would be able to restore power from Sunday. However, she warned with hydropower generation having come to standstill with no rain and shortage of fuel due to dollar crunch, it was unlikely to improve the situation and the power cut would be continued till May.
The daily trading of the Colombo Stock Exchange (CSE) had to be limited to two hours from Thursday onwards due to extensive power cuts around the country.
Sri Lanka mainly depends on thermal power generated from coal and fuel oil and
hydropower. Power generation from fuel had been limited to two diesel power plants while
the rest have been shut down.
The island nation is facing its worst-ever economic crisis since independence, mainly due to shortage of foreign currency and the fast depreciation of its currency.
 Immediate neighbour of the island nation, India has come to rescue with nearly $2.5 billion financial assistance from January to purchase essential such as fuel, food, and medicines.