Advertisement

Soaring prices dampen festive spirit as Ethiopians celebrate Othodox Easter
Holiday shoppers in Ethiopia's capital have encountered soaring prices on the market as Ethiopian Orthodox followers prepare to celebrate Easter on Sunday.
In Ethiopia, Easter comes after a 55-day of fasting from animal products, mainly meat, milk, butter and eggs. It is celebrated with a series of events, including the slaughter of sheep, goats, or oxen, depending on the financial capability of a household.
Ethiopia follows the Eastern Orthodox calendar, different from that of the widely used Gregorian calendar.
"The price of a sheep has gone up significantly with a big-sized sheep being sold for up to 12,000 birr (235 U.S. dollars)," Jelian Shafo, a trader in Berchiko Sheep and Goat Trading Center, told Xinhua.
"An average-size sheep was about 4,000 birr (128 dollars) just a year ago. Now it is sold at 8,000 birr (156 dollars)," he said, blaming the price hike on consecutive failed rains that hit pasture in rural areas since last year.
Higher transportation cost, almost double that of the previous holiday season, also pushed up prices, said Shafo, who has to get his sheep and goats from Arsi-Bale areas, about 300 kilometers southeast of the capital, Addis Ababa.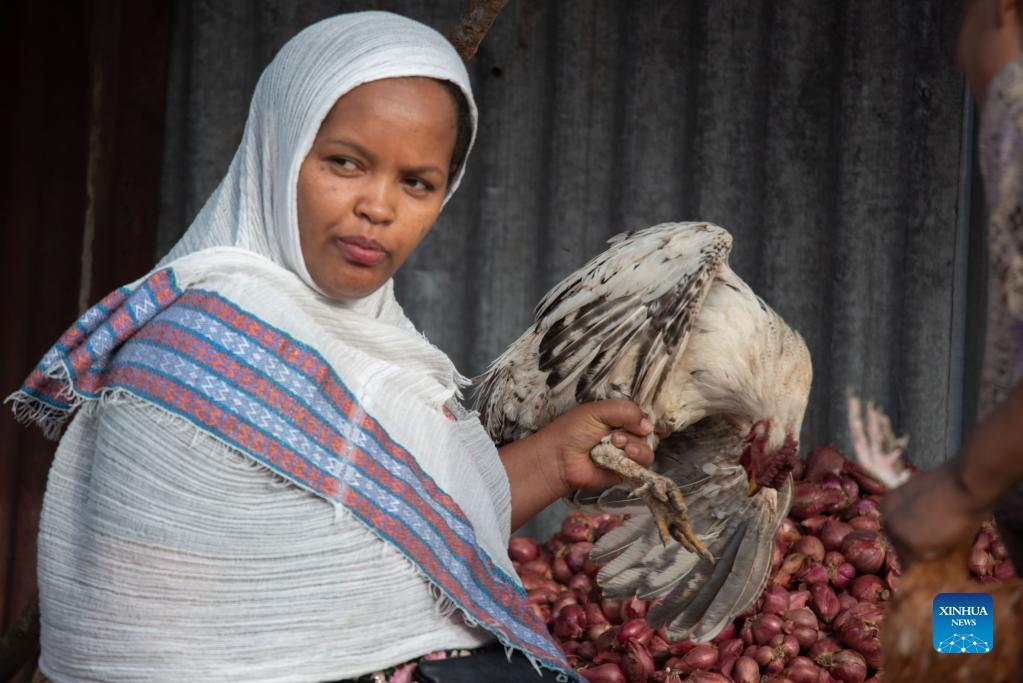 Addis Ababa is the most preferred destination for traders to resell the livestock they buy from smallholder farmers, who are engaged in the fattening of sheep, goats and bulls in the countryside.
For now, Shafo said, buyers are not interested in buying his livestock, even though he was trying to sell them at buying prices before the holiday market ends.
Sisay Bedada, another trader at Berchiko Sheep and Goat Trading Center, also complained for the price surges.
"Livestock prices soar. Up to 5,000 birr (98 dollars) is added on the price of a big sheep as compared to the price of the same during last holiday," he said.
Bedada said higher prices for fodder and supply shortages resulting from violence and bloodshed in some parts of Ethiopia are also to blame.
The 18-month conflict in the northern part of the country, the unrest in some Amhara and Oromia regions, coupled with the socioeconomic impacts of the COVID-19 pandemic and higher fuel prices on the global market have all helped push up prices of commodities in Ethiopia.
According to the Central Statistical Agency, inflation remains high, reaching 34.7 percent in March, when the rate for food shot up to 43.4 percent, the highest in several years.
Local and federal authorities have been trying to ease inflationary pressures through administrative actions, including the introduction of a temporary price cap for food items and a three-month ban on rent increase by landlords.
At Shola chicken market, prices are also much higher than last year.
"Life has turned to be tough due to soaring prices of each and every commodity," one shopper, Yemariamnesh Hailu, told Xinhua.
"An egg used to sell for about 5 birr a year ago. Now it is 9 birr," said Hailu, who depends on pottery for her livelihood.
ALSO READ: World Bank announces $300 mn rehabilitation fund for Ethiopia
During holidays like Easter, people in Ethiopia have a tradition of slaughtering a cow or ox for sharing among a group. The tradition, called "Kircha" in Amharic, helps low-income earners access to meat.
Belayneh Zenebe, another shopper, said he is considering participating in "Kircha" with his neighbors, provided that he could afford his share of 6,000 birr (117 dollars) to get a piece of meat.
The price of a medium-sized ox is being sold at 60,000 birr (1,176 dollars) this Easter, about 30 percent higher than during the Ethiopian Orthodox Christmas holiday earlier this year, traders told Xinhua.
The soaring cost of living in Africa's second most populous nation has also been exacerbated by a shortage of edible oil.
The Ministry of Finance said recently that the country will import 150 million liters of edible oil during the coming three months.
The government had earlier cut taxes and tariffs on imports of all edible oil products, but the measure seemed to be not enough to improve the situation.