Advertisement

"My biggest inspiration came from reading books on and of Guru Nanak, meeting Mother Theresa and Dalai Lama and to some extent, Osho inspired me into doing something and giving back to society, and helping me grow spiritually." Dr. Bubbles Kandhari interacts with Asian Lite's Iqbal Azeez
Dr. Bubbles Kandhari is a leading figure of the Indian diaspora in the UAE. Her days are busy with multiple roles in business, community, and social circles. She is the Vice-Chairperson of Guru Nanak Darbar Gurudwara Dubai; Director of Al Dobowi Group; Chairperson, Young Hearts Group; Chairperson Dubai Ladies Group; Board Member of Special Needs Future Development Centre and radio jockey for Dubai Radio Stations. Besides all the caps she dons, she is also a poet and had released an anthology titled Dil Se in 2021.
Dr Bubbles graduated with honours in economics, statistics, and politics from Elphinstone College, Mumbai. In 1976, she along with her spouse and two children came to Dubai to grow the family business and formed the Al Dobowi Group. Excerpts of Asian Lite's Iqbal Azeez in conversation with Dr Bubbles: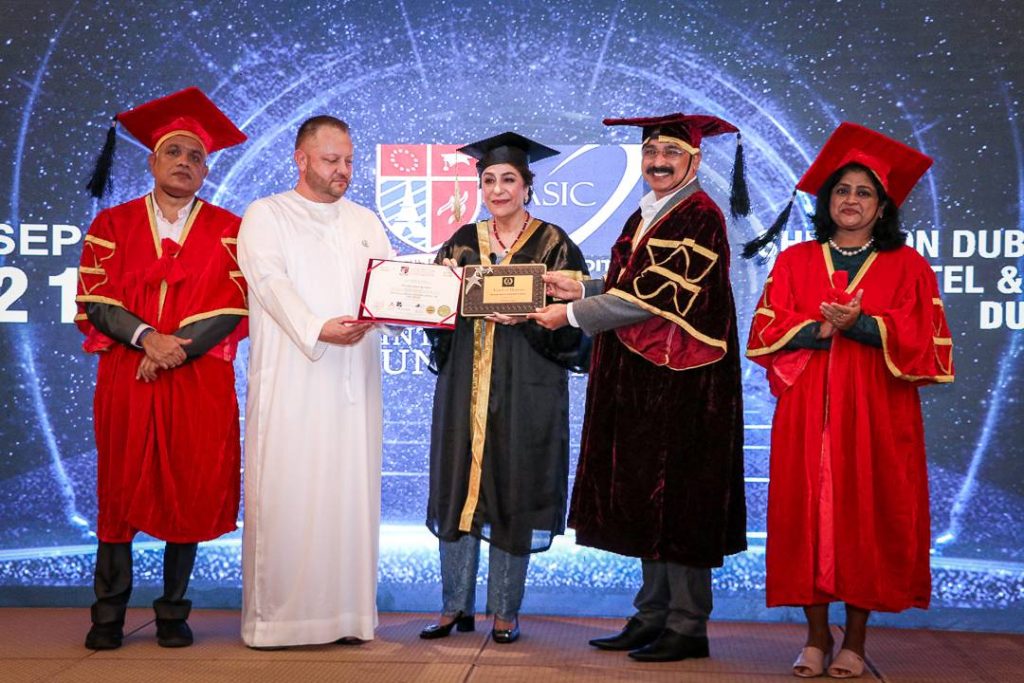 Completing almost 45 years in the UAE. When you look back, what is your greatest achievement in life?
Getting a Doctorate degree in the field of Philanthropy from European International University in 2021 and serving the community by educating underprivileged children, promoting interfaith ties to bring peace and harmony in the world. All my CSR and philanthropic activities are undertaken through the Gurudwara's activities. Setting up the Young Hearts Group and The Dubai Ladies Group too are some of my achievements.
You are active in different fields. But, what is your favorite role?
I believe that serving humanity is the true calling in life and I contribute my time and resources towards social service. I experience a soul-fulfilling joy in teaching children on spirituality, Kirtan and Gurmukhi, organising free medical camps on Fridays, donating food packets to labour camps through NGO's and contributing to the education of underprivileged children and adults. I have initiated activities like growing education for underprivileged children, serving the Sikh community, and feeding the needy through the Gurudwara. In the next five years, I envision expansion and intensified efforts for the education of underprivileged children. I also aspire to promote inter-faith dialogue in order to bring peace and harmony to the world.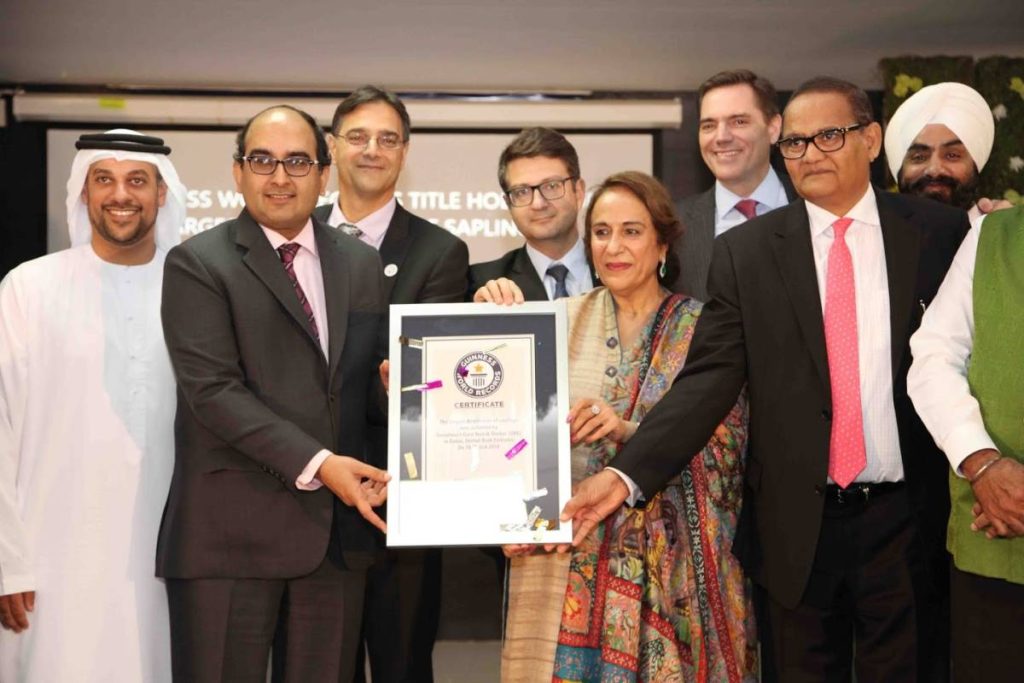 You are a successful businesswoman and played a key role in making Al Dobowi a success story. What was your role in Al Dobowi's success?
I am involved in policymaking, giving directions for growth, planning, and implementation.
What was the turning point in your life?
I strongly believe that my involvement in the building of Dubai's only Gurudwara has been the biggest turning point of my life. When I moved to Dubai with Surender in the mid-1970s, the Sikh community was about 1,000 strong, in stark contrast to the 50,000 Sikhs who live in the UAE today. Private homes in Dubai weren't big enough to accommodate mass gatherings every year. The slow but steady rise over the years prompted Surender and fellow community leaders to look out for a larger space for worship of the Guru Granth Sahib, the central religious scripture in Sikhism. But it wasn't an easy journey to build a place of worship in a foreign land.
We are indebted to His Highness Sheikh Mohammad Bin Rashid Al Maktoum, the Vice president and Prime Minister of UAE and Ruler of Dubai who donated the land and encouraged us to make the Gurudwara – which is the greatest symbol of the inter-faith-respect and regard for another. This gesture has been appreciated not only by the Sikhs of Dubai but by Sikhs all over the world. This magnanimous gesture has put a firm seal on a relationship that goes back hundreds of years.
Today, I feel proud to say Guru Nanak Darbarhas become the symbol of Sikh religious worship in the UAE. Thousands of pilgrims as well as people from other religions from across the UAE visit the Gurudwara. It has also become a must-visit tourist place for tour groups from India and UK. The Gurudwara has 35 full-time staff and dozens of volunteers who help organise events during festivities. Since we opened, the Gurudwara has served Langar free to over 8 million visitors. The food in the Gurudwara kitchen is made under the stern guidelines of ISO22000, to ensure safety for all. It serves 15,000 vegetarian meals every Friday and about 1,500 daily during the week to people who visit the Gurudwara regardless of their religion or race.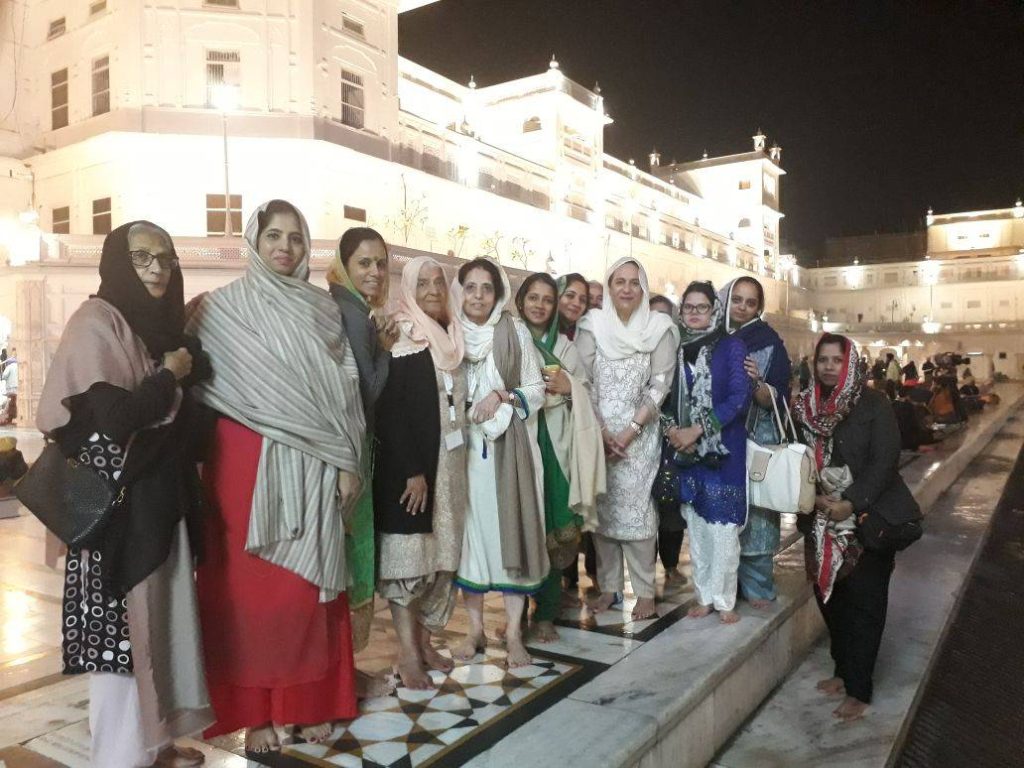 Guru Nanak Darbar Dubai is the first Gurudwara in the world to receive ISO Certifications for the following management areas:
ISO 9001:2015 – Quality Management Standard
ISO 14001:2015 – Environmental Management Standard
ISO 45001:2018 – Occupational Health and Safety Management Standard
ISO 22000:2015 – Food Safety Management Standard
In fact, we are the only religious institution in the world to get all 4 levels of ISO Certification.
It has won two Guinness World Records titles for "Serving Continental Breakfast to Most Nationalities (101) in 2017 and "Distribution of the largest number of saplings (2083)" in 2018
It has a consistent excellent review from TripAdvisor website recognising Gurudwara Dubai as an awardee of "Certificate of Excellence for Superior Service" and making it the most photographed Gurudwara in the world.
Dubai Department of Tourism and Commerce Marketing has included Guru Nanak Darbar in its list of attractions and establishments found in Dubai. Guru Nanak Darbar is also featured on the Dubai Tourism website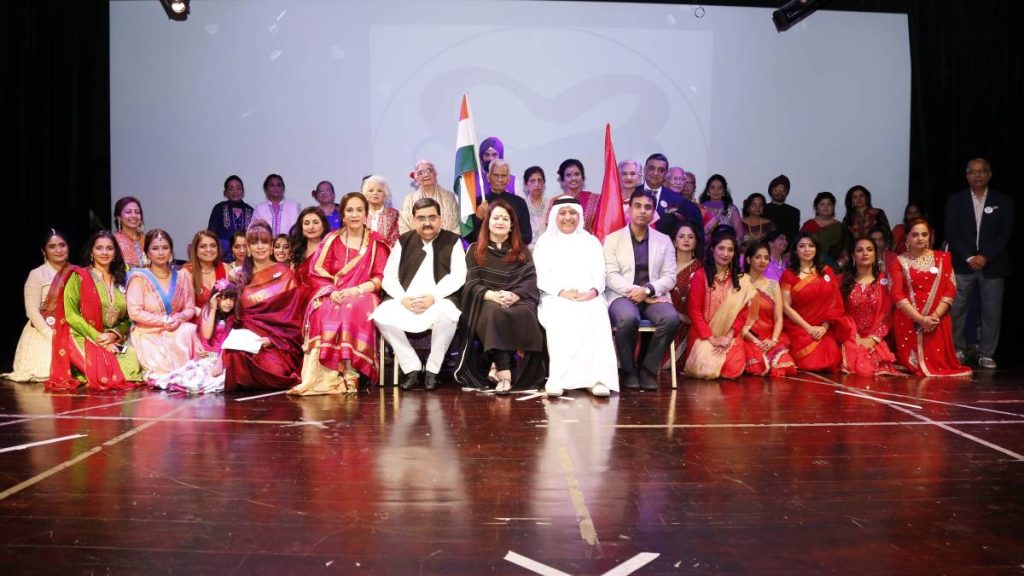 What is the biggest challenge you faced in life and how did you manage to overcome it?
Personally, I know a lot of women who had faced the daunting challenges of being accepted as heads of institutions in India and abroad. But I have never faced any such situation in my life owing to the support from my family. While working at the Gurudwara on social service campaigns, I found that people were more comfortable in explaining their problems to and in relying on women, as they felt that women were more sympathetic and considerate towards their problems.
Do you have any role models in personal life and professional life?
My biggest inspiration came from reading books on and of Guru Nanak, meeting Mother Theresa and Dalai Lama and to some extent, Osho inspired me into doing something and giving back to society, and helping me grow spiritually. I firmly advocate that treating each individual with complete dignity, consideration, and respect is the only effective way to build a strong team in an organisation.
My husband, Surender. He has been my mentor. He taught me how to handle people and how to tackle problems.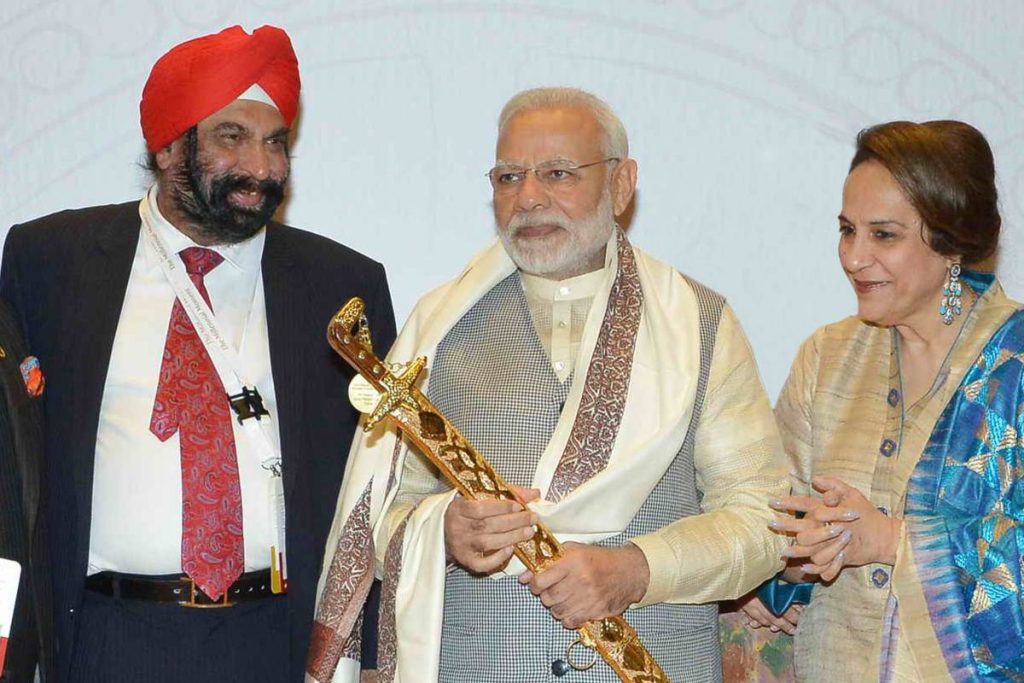 Who is the best critic and the best supporter in in your life?
My family especially my husband Surender Singh Kandhari. My extended family that is the Young Hearts Group – family of senior citizens have always given me so much love and motivated me to work harder towards my philanthropic activities
Where do you want to see India by 2025?
I want to see India as a superpower.
The best thing about being in the UAE?
In the UAE we find the Rulers and the Emiratis have respect for the otherness of others. The UAE has been an open country widely embraced by locals, residents and visitors – evident among the 200 nationalities living in mutual amiability. The UAE has united people of differing faiths and found common ground among those who come from different religious traditions and cultures.
The UAE is committed to be at the forefront of enabling harmonious co-existence among all religions and cultures in propelling progressive society through the value of tolerance. And this commitment was manifested to the Sikh community when His Highness Sheikh Mohammed Bin Rashid Al Maktoum, Vice-President and Prime Minister of the UAE, and Ruler of Dubai, granted 25,400 sq. ft. of land for free to build the world's most modern and the region's largest Gurudwara Sikh temple, the Guru Nanak Darbar Dubai.
How do you maintain your work, life balance?
There is a saying in our scripture Sri Guru Granth Sahib, Mann jeete jag jeete. It means if you can control your mind, you can control the world. I believe if there is peace in the house, there can be peace in the world. When you are passionate about your work time flies and you have enough energy to do other things.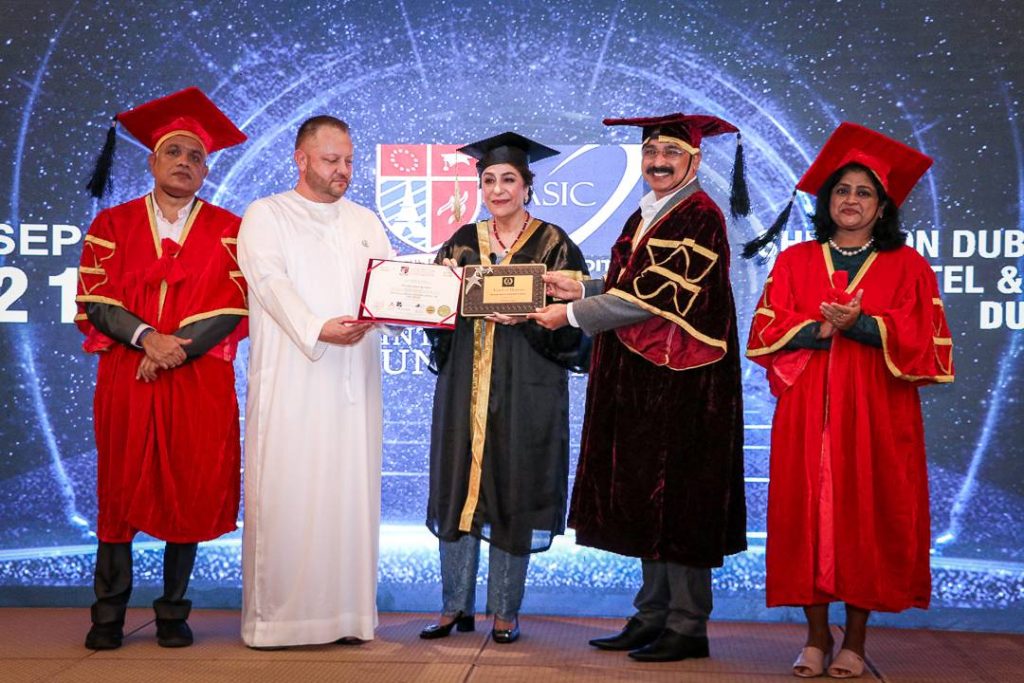 What is the reason for creating the Young Hearts Group?
TheYoung Hearts Group, is an initiative that I started in 2015 for senior citizens in Dubai. It is a social group which spends time together involving ourselves in various activities. Just as the youngsters are our future, the elderly are the backbone of our society and their experiences enrich our lives. The idea behind this initiative is to motivate, encourage and uplift the spirit and talents of the elderly.
You are also part of Dubai Ladies Group. What are the activities it undertakes?
It is a socio-ethnic group that communicates on issues of mutual interest for the betterment of society.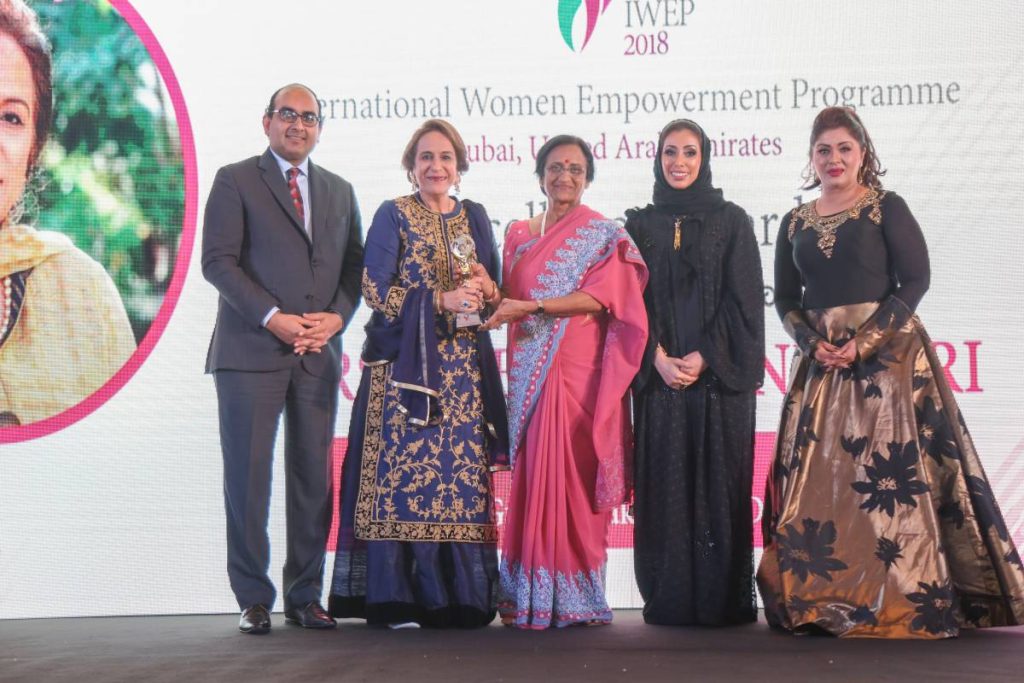 You are a professional turned entrepreneur. What is your advice to the millennials who want to follow in your footsteps?
Be sincere to yourself. Work sincerely and diligently. Learn to serve, share and respect others. Do not be bogged down by difficulties that may come your way.
A message to the youth, "We human beings come into this world only for a definite life span and during this phase, we must do something good and useful with our lives. The true goal and meaning of life can be attained by contributing to other people's happiness. In today's world, people are shrinking within themselves. I ask the next generation to extend their helping hands to people in times of difficulty and need. We must share the good fortune that we enjoy, as I believe that the art of true and meaningful living lies in the art of giving."