Advertisement

Goa recorded a high voter turnout of 78.94% in the single-phase election. UP and Uttarakhand recorded 62.52% and 59.61% turnout, respectively, reports Asian Lite News
Goa registered a very high voter turnout of 78.94 per cent in polling for the 40 Assembly seats which passed off peacefully with no untoward incident reported from any part of the state which witnessed a multi-cornered contest, officials said.
They said this was preliminary voter turnout and the final figure may cross 80 per cent as electoral fate of 301 candidates were locked in EVMs which will be opened on March 10 for counting. To check the spread of COVID-19, voters were provided hand gloves at polling stations.
Addressing a press conference, Chief Electoral Officer (CEO) Kunal said the highest voting was registered in the Sankhalim constituency in North Goa at 89.61 per cent, while the lowest voter turnout was 70.20 per cent at Benaulim in South Goa.
Chief Minister Pramod Sawant is the BJP candidate from Sankhalim.
The poll officer said the overall voter turnout stood at 78.94 per cent.
"This is a tentative percentage of voting, while the exact data would be available later. The voting percentage may cross 80 per cent after adding votes polled through ballot papers," CEO Kunal said.
Over 11 lakh people were eligible to cast their votes. They include 9,590 persons with disabilities, 2,997 aged over 80 years, 41 sex workers and nine transgenders.
The Vasco constituency had the highest number of 35,139 voters, while the Mormugao seat had the lowest number of voters at 19,958, he said.
Kunal said, "13,150 postal ballots were issued and a total of 12,546 people voted through postal ballots." He said polling was held at 1,722 booths, of which 105 were manned by only women personnel (also called 'pink booths') and eight by differently-abled persons.
The CEO said 80 candidates had criminal antecedents, which were published in the media before the voting as per a Supreme Court mandate.
A senior police official said the election was conducted in a peaceful manner and no serious complaint of any malpractice was received.
He said three FIRs related to different incidents were registered during the day.
In one of the incidents, the car of a person, who is related to a political leader, was set on fire at Bicholim, while at Sanvordem a person was found with cash, the police official said.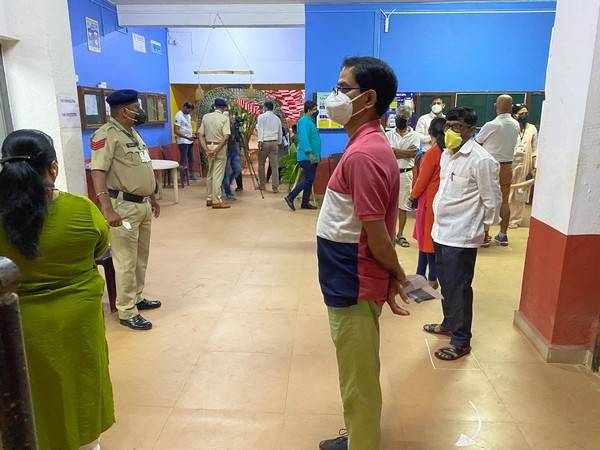 He said the total cash seizure was Rs6.06 crore during the period of code of conduct which came into force in early January.
Besides, liquor worth Rs3.57 crore was also seized during the period, the official added.
Over 62% polling in Uttarakhand
Over 62% polling was recorded in Uttarakhand where voting to 70 assembly seats spread over 13 districts concluded peacefully on Monday, officials said. The polling percentage in the 2017 assembly elections in the state was 65.56%.
"Polling was held peacefully at the 11,697 polling booths across the state with 62.5% of the electorate casting their votes till the close of polls," Chief Electoral Officer (CEO) Saujanya said at a press conference.
Polling came to an end at 6 pm.
Ninety-eight voter verifiable paper audit trails, 30 Central Units and 31 Balloting Units had to be replaced during polling while a total of 203 FIRs were lodged for Model Code of Conduct violations on Monday, she said.
Polled electronic voting machines will be kept in strongrooms after scrutiny by general observers and under CCTV camera surveillance till the day of counting on March 10, the CEO said.
Counting will be carried out under a three-tier security cordon, she said.
Seizures made up to the polling day were worth Rs18.80 crore which is three times more than the seizures worth Rs6.85 crore made in the 2017 assembly polls, Ms Saujanya said.
Long queues of voters were seen outside booths as polling began at 8 am amid strict adherence to Covid protocols, and among them were also centenarians, who despite their age exercised their franchise.
People were allowed to cast their votes only after wearing gloves.
Giving out district-wise polling data till 5 pm, officials said Haridwar district saw the highest voter turnout at 67.58 per cent followed by Uttarkashi with 65.55 per cent, Udham Singh Nagar 65.13, Nainital 63.12, Rudraprayag 60.36 per cent, Chamoli 59 per cent, Bageshwar 57.83 per cent, Champawat 56.97 per cent, Dehradun 52.93 per cent, Tehri 52.66 per cent, Pauri Garhwal 51.93 per cent, Almora 50.65 per cent and Pithoragarh 57.19 per cent.
There were also reports from Uttarkashi, Rudraprayag and Pithoragarh districts where around 10 villages boycotted the polls due to non-construction of roads.
In the day, CEO Saujanya inspected the model polling booths in Nehru Colony and Hathi Barkala in Dehradun to see if Covid protocols were being followed by voters and officials.
On faulty EVMs at certain polling stations, she had said they were immediately replaced.
61% turnout in 2nd phase of UP polls
Over 2 crore voters decided the electoral fate of 586 candidates in the fray today in the second phase of the election to 55 assembly seats in politically crucial Uttar Pradesh.
Of the estimated 2.02 crore eligible voters, there are 1.08 crore male, 94 lakh female, and 1,269 third gender voters.
In the second phase, 23,404 polling places and 12,544 polling stations were set up. Voting has ended in UP across 9 districts.
Voting started at 7 am and continued till 6 pm across 55 Assembly constituencies of Amroha, Budaun, Bareilly, Bijnor, Moradabad, Rampur, Saharanpur, Sambhal and Shahjahanpur in the western part of the politically crucial state.
Earlier in 2017, the Bharatiya Janata Party (BJP) had won 38 of the 55 constituencies, Samajwadi Party had bagged 13 and the Congress and Bahujan Samaj Party (BSP) had got two seats each.