Advertisement

UK signs a deal with Rwanda, a country 4500 miles away from the British border, to handle asylum applicants.  The government will pay £120 million trial involving mostly single men arriving in Britain on boats or lorries…reports Asian Lite News
"Unworkable, unethical and extortionate"
That was the reaction from Labour on Prime Minister Boris Johnson and Home Secretary Priti Patel's decision to shift asylum seekers to Rwanda. The Liberal Democrats added – Expensive and ineffective.
Under the proposal, Rwanda would take responsibility for the people who make the more than 4,500 mile journey, put them through an asylum process, and at the end of that process, if they are successful, they will have long-term accommodation in Rwanda.
Just after signing the deal, Priti Patel tweeted with a pic of the cover of the agreement: Today I've signed a world-leading new partnership with Rwanda to break the people smugglers' deadly business model and help us protect the genuinely vulnerable through safe and legal routes.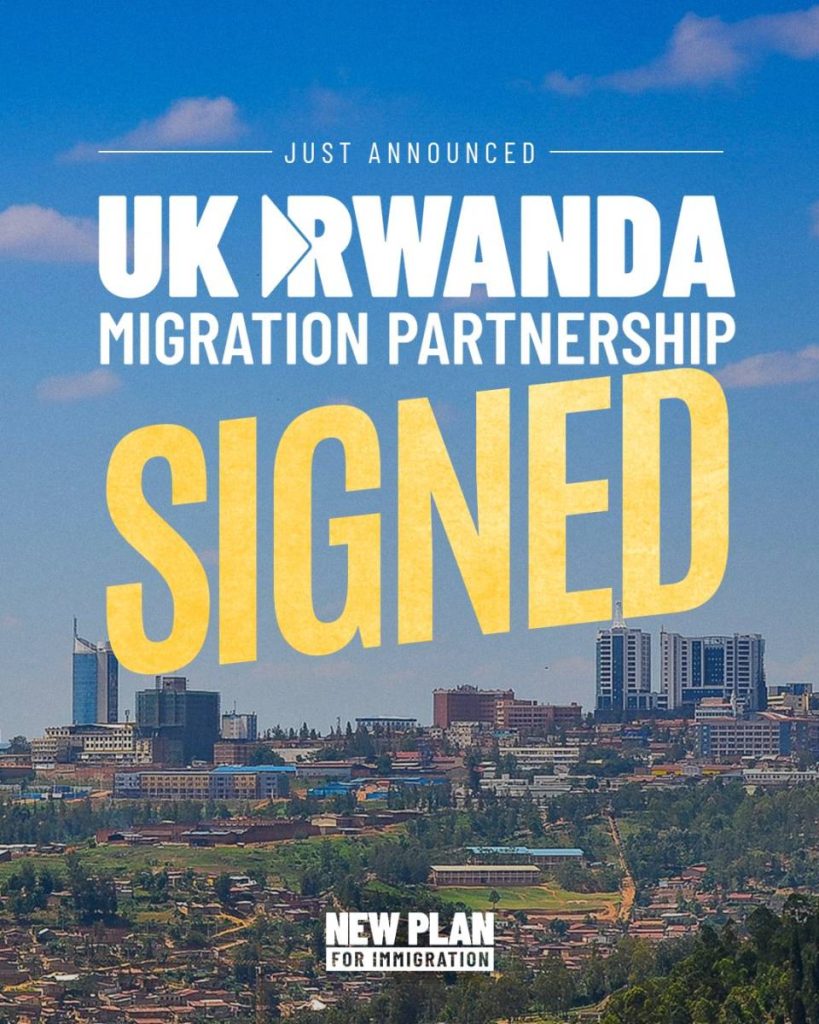 The Rwandan government said migrants will be "entitled to full protection under Rwandan law, equal access to employment, and enrolment in healthcare and social care services".
The UK Home Office believes existing asylum law will be enough to implement the plan, but questions remain about the legality of the scheme. Questions have also been raised over the human rights record of the Rwandan government and its president, Paul Kagame, BBC reported.
A number of his critics have been killed, or been subject to assassination attempts, but Rwanda has always dismissed suggestions its government was involved.
The British government itself expressed concern over "continued restrictions to civil and political rights and media freedom" in Rwanda at the United Nations, calling for independent investigations into "allegations of extrajudicial killings, deaths in custody, enforced disappearances and torture".
Mr Johnson in his speech at Kent to unveil the plan defended Rwanda. He said the African country which was rocked by sectarian violence in 1994, as being one of the safest countries in the world adding it was "globally recognised for its record of welcoming and integrating migrants".
The Lib Dems said the government was "slamming the door" in the face of refugees, while the SNP's Ian Blackford described the plan as "absolutely chilling".
Mr Johnson said he wanted to make clear to people arriving on the Kent coast they were better off taking legal routes and that the new plan would "over time prove a very considerable deterrent".
Last year, 28,526 people are known to have crossed in small boats, up from 8,404 in 2020.
"Uncontrolled immigration creates unmanageable demands on our NHS and our welfare state, it overstretches our local schools, our housing and public transport, and creates unsustainable pressure to build on precious green spaces. Nor is it fair on those who are seeking to come here legally, if others can just bypass the system," the prime minister added.
"It's a striking fact that around seven out of ten of those arriving in small boats last year were men under 40, paying people smugglers to queue jump and taking up our capacity to help genuine women and child refugees. This is particularly perverse as those attempting crossings, are not directly fleeing imminent peril as is the intended purpose of our asylum system.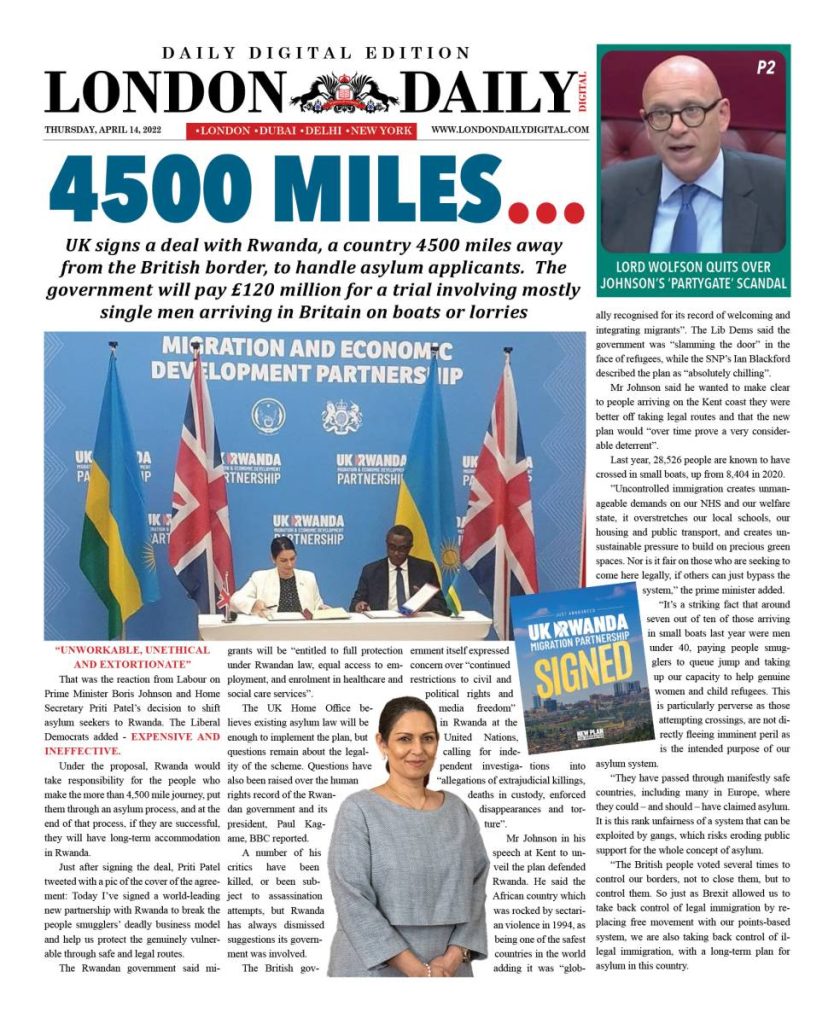 "They have passed through manifestly safe countries, including many in Europe, where they could – and should – have claimed asylum.It is this rank unfairness of a system that can be exploited by gangs, which risks eroding public support for the whole concept of asylum.
"The British people voted several times to control our borders, not to close them, but to control them. So just as Brexit allowed us to take back control of legal immigration by replacing free movement with our points-based system, we are also taking back control of illegal immigration, with a long-term plan for asylum in this country.
"It is a plan that will ensure the UK has a world-leading asylum offer, providing generous protection to those directly fleeing the worst of humanity, by settling thousands of people every year through safe and legal routes."