Advertisement

With the aim to connect a bridge between the Bengali culture and the people across continent the United Kingdom Bengali Convention (UKBC) will attempt to bring together the Bengali diaspora in UK and Europe to celebrate everything: Bengali – language, culture, food etc. will host its annual convention to raise awareness and recognise contributions of Bengalis in all spheres, reports Rahul Laud.
Music that traditionally binds Bengalis together is the staple of the two-day cultural extravaganza at the 3rd edition of UKBC 2022, to be held on Saturday 27th August and 28th August 2022, in Stroller Hall(1) and in Carole Nash ,Hall 2 in Manchester.
The conference is expecting to draw attendees along with 75 Bengali organisations and charities with its offerings of sports, business, performing arts, politics, science, innovation, social welfare, charity etc. The sole attempt of this event is to reflect common Bengali heritage overall. In the list of celebration artists are invited from India to perform.
The event will showcase celebrity artists like Poushali Chatterjee, Jayati Chakroborty, Monami Ghosh, Trijoy, Anindya Chatterjee and Iman Chakraborty.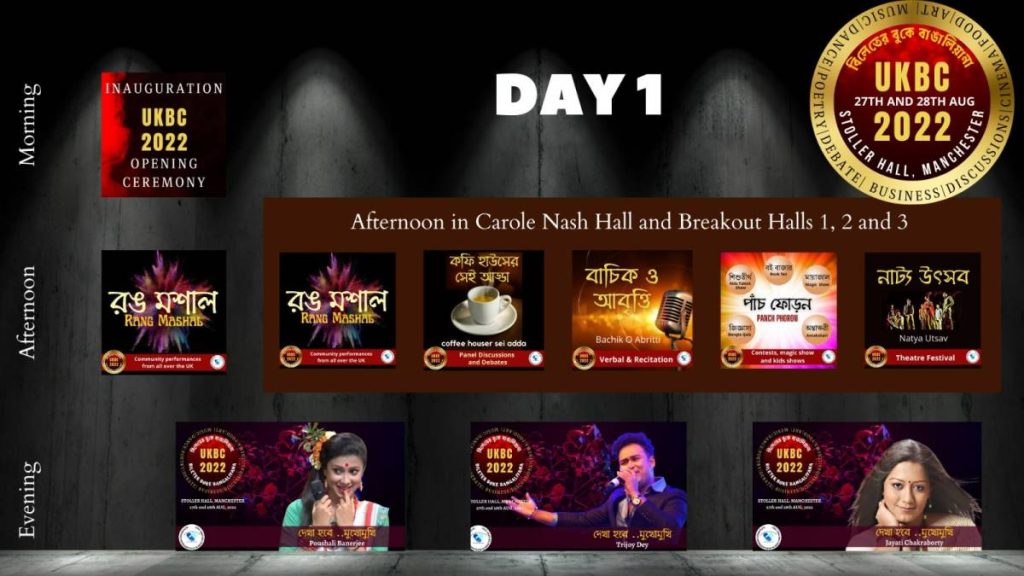 The conference also has literary seminars and discussions. Among many the prime focus of seminar is renowned Bengali author and novelist Shirshendu Mukhopadhyay, Prachet Gupta, Dolonchampa Dasgupta, Noor from Mitra Ghosh Publishers and UK based internationally acclaimed Bengali writer Dr Nabakumar Basu.
In addition to Pachforon, which aims essentially to provide the spices of conventional Bengali families, children will present solo dance, song, recitation or any other innovative performances. Antakshari and a Quiz competition will also be held, say the organisers.
At the UKBC Natya Utsav (Drama festival) performance of children can be seen in a wonderful drama based on the introspective story of Ramkrishna Paramhansdev, Swami Vivekananda and Sister Nivedita ,besides, the mature performers would perform "Tahar Nam Ranjana" ,a tragedy drama.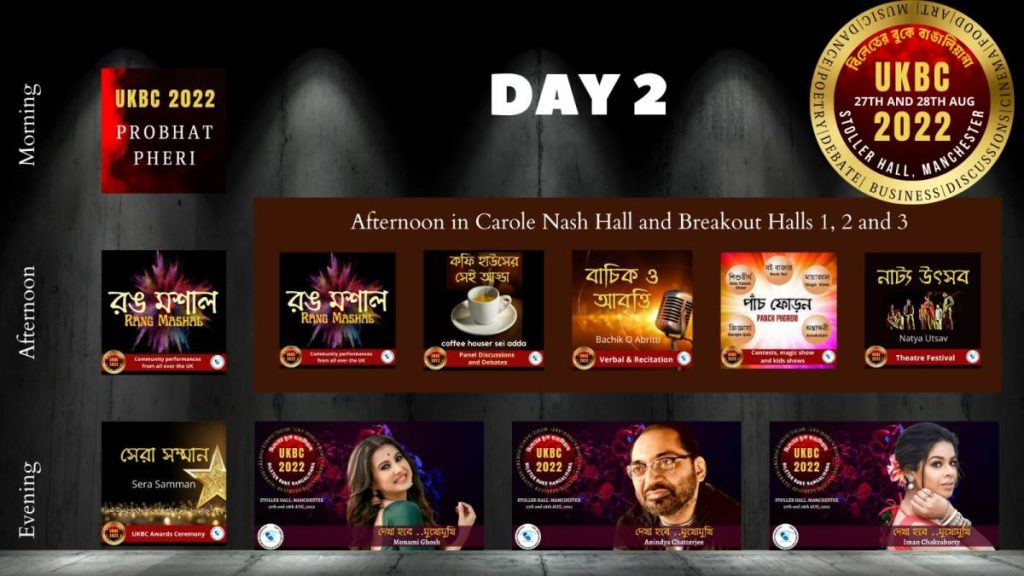 At Another program named Bachik o Abriti, various talented performers from different parts of UK will participate to recite poems, short stories to showcase power of recitation.
Coffee Houser Adda and Rang Moshal will attempt to foster ties strengthen Bengali – Britain cultural assimilation .On day 1, the programme will commence with Prabhat Feri (a road march) . The Opening Ceremony is to be presented with a mesmerizing performance, based on a dance drama theme by the silver screen queen Monami Ghosh; followed by various solo and duet dance and singing performances by artists like: Sridevi Bhattacharya, Debjani Deshpandey, Madhuchanda Ganguly, Debatrisha Sengupta and many more. Various dance and music groups will also perform to enthral audience.