Advertisement

Chancellor Rishi Sunak unveiled his Spring Statement with measures to ease the pressure on working families. But the TUC accused the chancellor of ignoring the plight of working families … reports London Daily Digital Newsdesk
Chancellor Rishi Sunak announced that he is increasing the rate at which workers start paying national insurance to £12,570 to ease the burden on the low paid. The national insurance threshold will now be in line with income tax from July this year.
He also announces that fuel duty will be cut by 5p per litre from 6pm today.
Responding to the Spring Statement, which forecasts that wages will fall in value by 2.0% this year, the equivalent to a real terms £552 pay cut, TUC General Secretary Frances O'Grady said: "In the midst of the biggest wages and bills crisis in living memory, Rishi Sunak's Spring Statement has failed families who need help now.
"We did not get the urgent help with soaring bills that families need. And the rise in the national insurance threshold will mostly benefit better-off households.
"The Spring Statement small print shows that pay packets are now expected to fall in value by £11 a week this year. After 12 years of Tory government, Britain needs a pay rise. But this Chancellor has no plan to get wages rising and give working people long-term financial security."
Responding to the Chancellor's failure to penalise P&O parent company DP World following their sacking of nearly 800 workers with no notice and no consultation last week, Frances added:
"Not only is the Chancellor not standing up for struggling families, he is not standing up to bad bosses. He should have taken all public contracts off DP World, including freeports, and clawed back all funding they received during the pandemic until they reinstate the workers. Bad bosses should know they are not welcome to do business in the UK."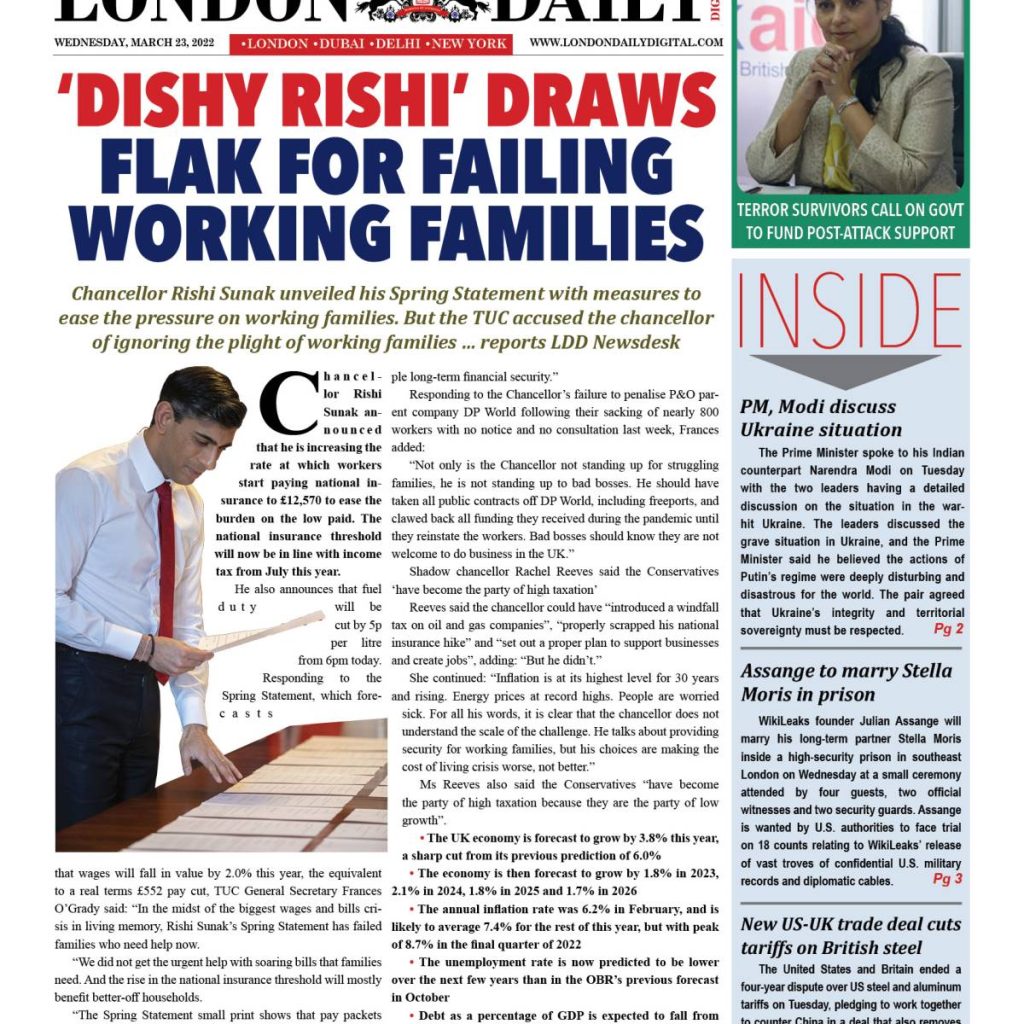 Shadow chancellor Rachel Reeves said the Conservatives 'have become the party of high taxation'
Reeves said the chancellor could have "introduced a windfall tax on oil and gas companies", "properly scrapped his national insurance hike" and "set out a proper plan to support businesses and create jobs", adding: "But he didn't."
She continued: "Inflation is at its highest level for 30 years and rising. Energy prices at record highs. People are worried sick. For all his words, it is clear that the chancellor does not understand the scale of the challenge. He talks about providing security for working families, but his choices are making the cost of living crisis worse, not better."
Ms Reeves also said the Conservatives "have become the party of high taxation because they are the party of low growth".
The UK economy is forecast to grow by 3.8% this year, , a sharp cut from its previous prediction of 6.0%
The economy is then forecast to grow by 1.8% in 2023, 2.1% in 2024, 1.8% in 2025 and 1.7% in 2026
The annual inflation rate was 6.2% in February, and is likely to average 7.4% for the rest of this year, but with peak of 8.7% in the final quarter of 2022
The unemployment rate is now predicted to be lower over the next few years than in the OBR's previous forecast in October
Debt as a percentage of GDP is expected to fall from 83.5% of GDP in 2022/23 to 79.8% in 2026/27
The government is forecast to spend £83bn on debt interest in the next financial year, the highest on record
ALSO READ-Rishi Sunak to unveil mini budget