Advertisement

The number of contenders will be whittled down to two through more rounds of secret ballot, before British parliamentarians break up for the summer recess on July 21…reports Asian Lite News
Eight candidates have been nominated to enter the race to be the leader of the Conservative Party and replace outgoing Boris Johnson as the Prime Minister, the party's backbench 1922 Committee said.
The eight contenders who successfully enlisted the required backing of at least 20 Conservative lawmakers are: Former Chancellor of the Exchequer Rishi Sunak; Foreign Secretary Liz Truss; International Trade Minister Penny Mordaunt; backbench lawmaker Tom Tugendhat; Attorney General Suella Braverman; newly appointed Chancellor Nadhim Zahawi; former Equalities Minister Kemi Badenoch; and former Foreign Secretary Jeremy Hunt.
The first round of voting among Tory lawmakers will be held on Wednesday and only those contenders who receive at least 30 votes can enter the second ballot, which is to be held on Thursday, according to the rules set by the 1922 Committee, which runs the leadership contest.
The number of contenders will be whittled down to two through more rounds of secret ballot, before British parliamentarians break up for the summer recess on July 21.
The final two contenders will then go through a postal ballot of all the Conservative members, numbering around 200,000, over the summer and the winner will be announced on September 5, becoming the new Tory leader and the UK's next Prime Minister.
The Tory leadership race was triggered after Johnson was forced to bow to the inevitable on Thursday by an avalanche of resignations of cabinet ministers and other junior government officials in protest against his scandal-plagued leadership. Johnson continues to serve as caretaker Prime Minister until a new Tory leader succeeds him.
Johnson, who won a landslide victory in the general elections in 2019, lost support after he was caught in a string of scandals, including the Partygate scandal and the Chris Pincher scandal related to allegations of sexual misconduct by the former Conservative Party deputy chief whip.
Won't demonise Boris, says Sunak
Meanwhile, Sunak marked the official launch of his Conservative Party leadership bid with a speech in which he pledged a "positive campaign", which will not participate in demonising outgoing Prime Minister Boris Johnson.
The 42-year-old UK-born Indian-origin politician, who is married to Infosys co-founder Narayana Murthy's daughter Akshata Murty, admitted he had disagreements with his former boss but also praised him as someone who has a good heart.
"Boris Johnson is one of the most remarkable people I've ever met. And, whatever some commentators may say, he has a good heart, Sunak said in his campaign launch speech in London. Did I disagree with him? Frequently. Is he flawed? Yes and so are the rest of us. Was it no longer working? Yes, and that's why I resigned. But let me be clear, I will have no part in a rewriting of history that seeks to demonise Boris, exaggerate his faults or deny his efforts," he said.
In an indirect reference to some reports over the weekend of damaging briefings and an alleged dirty dossier doing the rounds of the Tory groups, Sunak said: I am running a positive campaign focused on what my leadership can offer our party and our country.
"I will not engage in the negativity that some of you may have seen and read in the media. If others wish to do that, then let them. That's not who we are, we can be better."
On the issue that is seen as central to the leadership race, Sunak reiterated that as a former finance minister he is determined to steer the economy in the right direction but would not be making fairy tale promises on lowering taxes right away.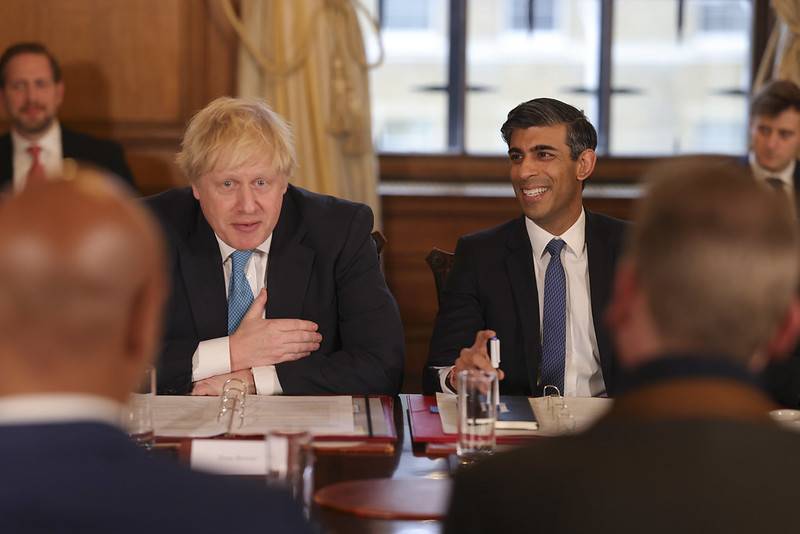 "We need a return to traditional Conservative economic values and that means honesty and responsibility, not fairy tales. It is not credible to promise lots more spending and lower taxes, he said, as a clear counter-attack to some of his rivals who have promised tax cuts. So, that is my plan: tackle inflation, grow the economy and cut taxes. It is a long-term approach that will deliver long-term gains for families and businesses across the United Kingdom. I am prepared to give everything I have in service to our nation, to restore trust, rebuild our economy, and reunite the country," Sunak said.
Unlike the more personal touch of a social media video which announced his intention to contest for the post of Tory leader following Johnson's resignation last week, the campaign speech was more focussed on policy. Sunak laid out his long-term strategy as the future prime minister, underpinned by values of hard work, patriotism, fairness, a love of family and pragmatism.
ALSO READ-Dead Man Walking at No10