Advertisement

His call for an international legion carried echoes of the International Brigades that fought against the fascists – backed by Nazi Germany – in the Spanish Civil War in the 1930s…reports Asian Lite News
Scores of British volunteers are preparing to leave shores to join the fight in Ukraine
The Russian aggression in Ukraine is prompting scores of Londoners and members of Ukraine diaspora to join the fight to defend the homeland. Foreign Secretary Liz Truss's support also fuelling the campaign.
Volunteers are also collecting donations, medical supplies and essential items like batteries, power-banks to support the refugees fleeing Ukraine.
Several people turned up to enrol at the Ukrainian embassy in London on Monday, after Foreign Secretary Truss said she would "absolutely" support British nationals who chose to go to help fight against the Russian invasion.
A diplomat at the embassy handed out sheets of paper to those wishing to join Ukraine's army, containing a phone number and an email address for a contact co-ordinating the volunteers. As well as Britons, nationals from other countries were also among those volunteering to join the fight against Russia.
Meanwhile, Ukrainian President Volodymyr Zelenskyy has announced the formation of a new "international legion" to help defend his country and appealed to foreign volunteers to come forward, promising them arms to fight against the Russian troops.
His call for an international legion carried echoes of the International Brigades that fought against the fascists – backed by Nazi Germany – in the Spanish Civil War in the 1930s.
Ukrainian foreign minister Dmytro Kuleba appeared to encourage the comparison, saying that just as Hitler had finally been defeated, "we will defeat Putin, too".
But there is a legal hurdle for the volunteers. In 2014, the Crown Prosecution Service warned that UK nationals who went to fight in the Syrian civil war could be committing an offence, even if they joined the rebels fighting to overthrow President Bashar Assad. So the volunteers are facing terrorism charges on their return.
Meanwhile, another report says that Roman Abramovich is involved in the attempts to broker peace between Russia and Ukraine, Chelsea owner's spokesperson claimed.
The Russian billionaire handed "stewardship" of Chelsea to the club foundation's trustees on Saturday amid the ongoing crisis between Russian and Ukraine, in a move aimed to protect the Stamford Bridge club. However, it has now emerged that Abramovich is attempting to help bring about an end to Russia's invasion of Ukraine.
"I can confirm that Roman Abramovich was contacted by the Ukrainian side for support in achieving a peaceful resolution and that he has been trying to help ever since. Considering what is at stake, we would ask for your understanding as to why we have commented on neither the situation as such nor his involvement. Thank you," Abramovich's spokesperson was quoted as saying by Skysports.
Ukrainian film director and producer Alexander Rodnyansky also confirmed that Abramovich is involved due to his connections with both the Russian and Ukrainian Jewish communities.
 "I can confirm that the Ukrainian side has been trying to find someone in Russia willing to help them in finding a peaceful resolution," said Rodnyansky. "They are connected to Roman Abramovich through the Jewish community and reached out to him for help.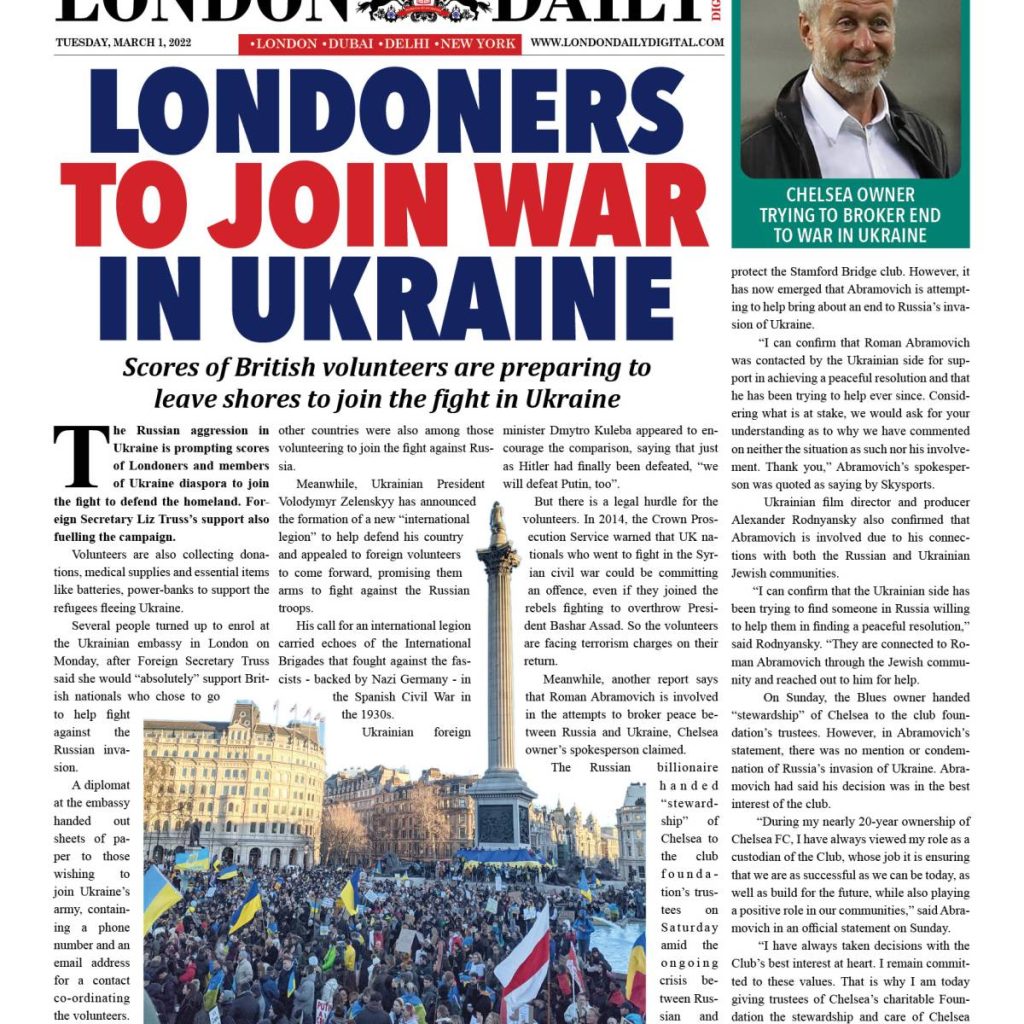 On Sunday, the Blues owner handed "stewardship" of Chelsea to the club foundation's trustees. However, in Abramovich's statement, there was no mention or condemnation of Russia's invasion of Ukraine. Abramovich had said his decision was in the best interest of the club.
"During my nearly 20-year ownership of Chelsea FC, I have always viewed my role as a custodian of the Club, whose job it is ensuring that we are as successful as we can be today, as well as build for the future, while also playing a positive role in our communities," said Abramovich in an official statement on Sunday.
  "I have always taken decisions with the Club's best interest at heart. I remain committed to these values. That is why I am today giving trustees of Chelsea's charitable Foundation the stewardship and care of Chelsea FC. I believe that currently, they are in the best position to look after the interests of the Club, players, staff, and fans."
ALSO READ-Sajid Urges Londoners to Retain NHS App