Advertisement

This Autumn, on the 30th September ,1st and 2nd October, the beautiful suburbia of Solihull in West Midlands will be host to its very first Durgotsav – the autumn festival celebrating the homecoming of the Hindu Goddess Durga, the primordial Mother. Organised by Solihull Sarbojonin, this 2-day long celebration will be held at Solihull Women's Insititute, B91 3DQ.
Steeped in a rich socio-cultural history hailing from the colonial era, Durga Pujo or Durgotsav is the crowning celebration within the Bengali community, transcending the barriers of gender, class, community, religion and race. Besides celebrating the Mother Goddess, this beautiful festival coincides with the bigger celebration of Navratri and Dussehra, celebrated nationwide in India and the United Kingdom.
Solihull Sarbojonin – a group formed by the Indian Bengali diaspora living in and around Solihull, has in the recent past, organised numerous community events that have helped propagate Bengali culture within the British Indian community and beyond, educating and amalgamating the next generation as well as supporting local businesses and organisations to create a holistic environment. While Durga Puja is currently celebrated quite extensively within the UK, the substantially large local Indian population lacked one in Szolihull, or nearby Warwickshire , Rugby, and Coventry – and this event has been instrumental in bringing the people of these regions together. Not surprisingly, it has already begun to generate overwhelming support from various local and global organisations, SMEs, and individuals from different and varied fields.
With Solihull Sarbojonin's motto – 'shobar shathe, shobar majhe', the 3-day long festival aims to go beyond just its religious identity; and aims to showcase Bengali food, art, businesses, music and culture in an integrated and wholesome celebration, welcoming everyone to come and attend the event as well as partake in the festivities. The event is 'open to all' and is completely funded through voluntary donations and crowdsourcing.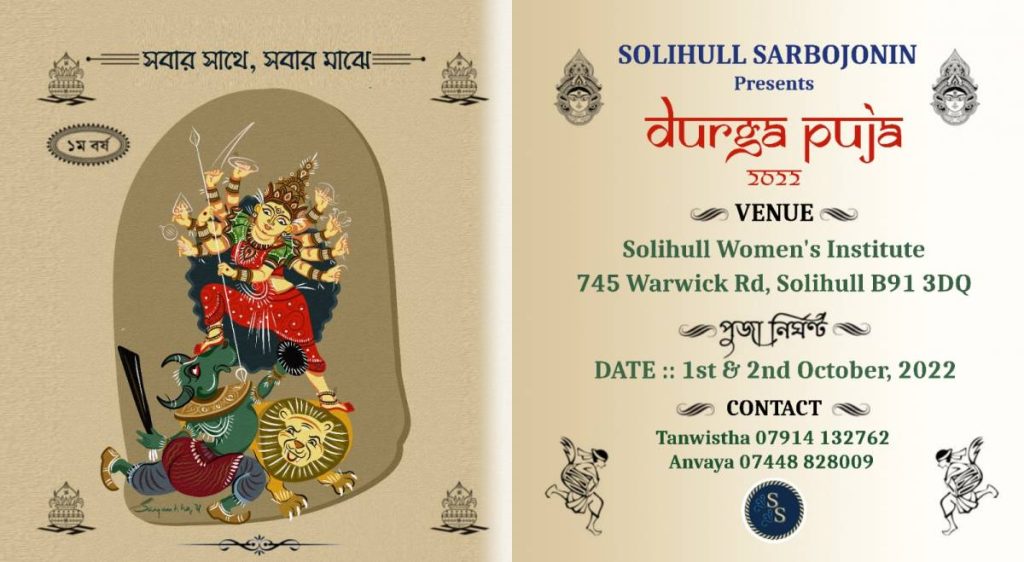 In its bid to remain eco-friendly and socially responsible, Solihull Sarbojonin has also chosen to uphold the theme: Conservation + Restoration. Consequently, the group has decided on restoring and repurposing a pre-loved set of effigies instead of sourcing a new one from India, substantially reducing their carbon footprint as well. Furthermore, they plan to issue a digitised copy of their annual magazine, alongside running their promotions, marketing and funding processes digitally, as much as possible, while also buying and sourcing locally, using eco-friendly materials and supporting British farmers and businesses.
Solihull Sarbojonin and its growing family of members cordially welcome you all to be a part of their festivities and extend your support to the first of many, many such beautiful celebrations.
For enquiries, business or social, please get in touch by emailing TeamPR@solihullsarbojonin.org
ALSO READ: MIP launches refreshed strategy to bolster Indo-MCR ties