Advertisement

Lord Ranger paid tribute to all those who worked closely with him and how the success of Sun Mark was a result of a combination of customers, and suppliers and other service providers coming together to help each other to progress….reports Asian Lite News
London-based FMCG giant Sun Mark held its annual celebration dinner in Dubai during the Gulfood exhibition at the lavish Shangri-La Hotel. It was, as always, a glittering affair with esteemed guests mostly from the Middle East and South Asian region but with many flying in from as far away as the USA, Canada, Mauritius and with the array of guests resembling a gathering of the United Nations.
Sun Mark has been exhibiting at the Dubai Food Exhibition for over 10 years. Sun Mark as the pride of Britain is one of the largest exhibitors at the exhibition, showcasing not only Sun Mark brands but the best of British through its unique association with the leading British Brands, thereby being able to support its customers globally most competitively. The evening was hosted by Lord Rami Ranger CBE, chairman of Sun Mark group with the Chief Guest Dr Aman Puri, Counsel General for India to UAE.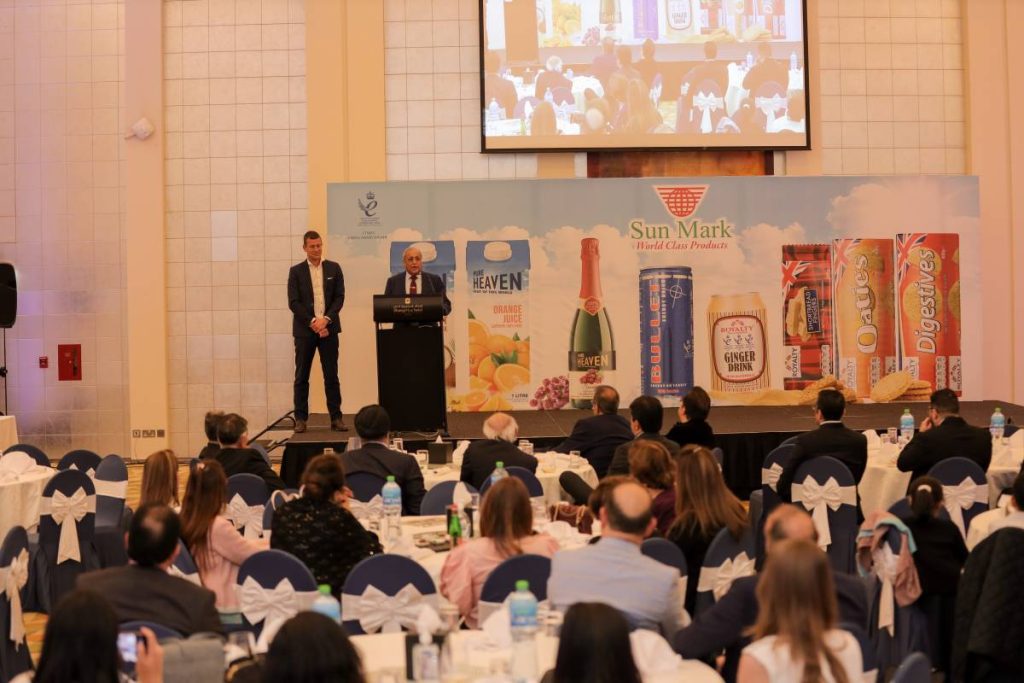 The evening began with Mr. Harmeet (Sunny) Ahuja, CEO of Sun Mark, welcoming the guests. He expressed how he and his colleagues had missed meeting friends who they would otherwise see every year. He went on to share what the pandemic had meant to him and what he had seen a change in society but that he was very happy to see so many old friends again.
Lord Ranger paid tribute to all those who worked closely with him and how the success of Sun Mark was a result of a combination of customers, suppliers and other service providers coming together to help each other to progress. He thanked his team from Sun Mark for all of their efforts. He reminded his guests that with the right values anyone can succeed and told his own story and how it can inspire anyone to do the best they can.
Mr Paresh Rughani, the international motivational speaker, addressed the guests and shared his views on Lord Ranger's inspirational leadership and how he has always emphasized the role of his family in his achievements; so much so that Paresh was thinking of writing a book about him.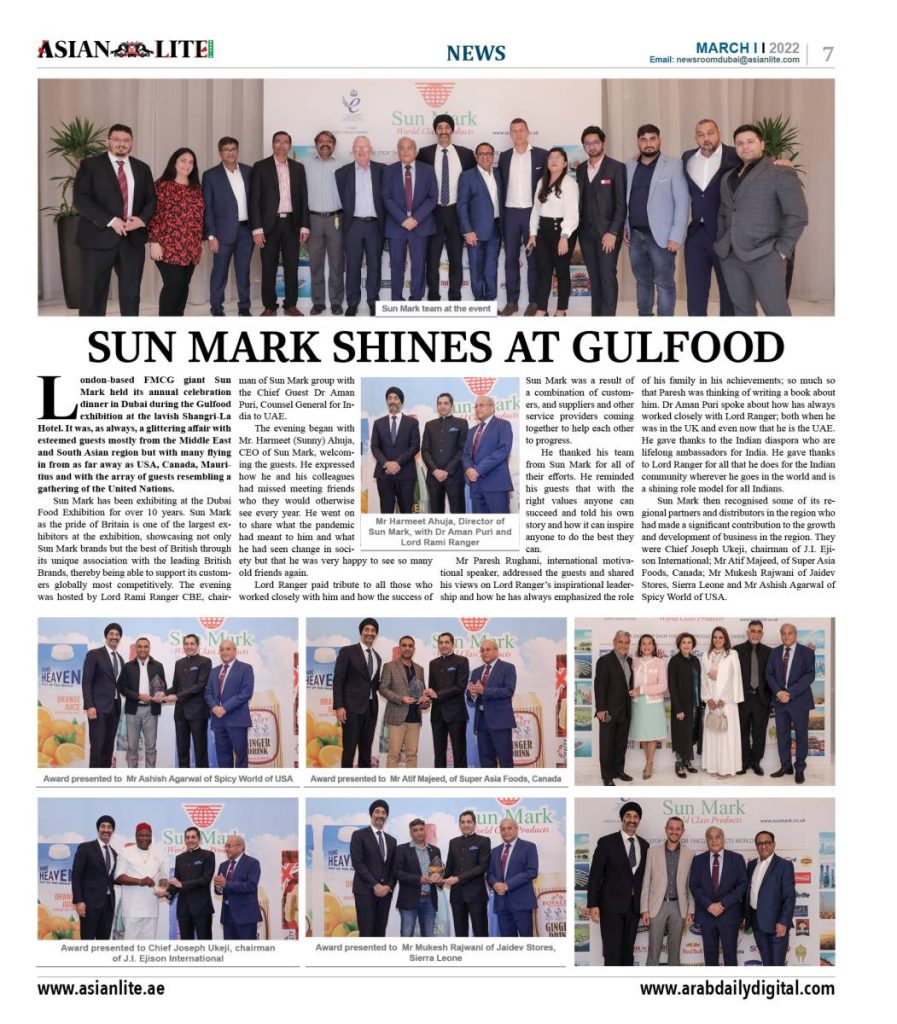 Dr Aman Puri spoke about how has always worked closely with Lord Ranger; both when he was in the UK and even now in the UAE. He gave thanks to the Indian diaspora who are lifelong ambassadors for India. He gave thanks to Lord Ranger for all that he does for the Indian community wherever he goes in the world and is a shining role model for all Indians.
Sun Mark then recognised some of its regional partners and distributors in the region who had made a significant contribution to the growth and development of business in the region. They were Chief Joseph Ukeji, chairman of J.I. Ejison International; Mr Atif Majeed, of Super Asia Foods, Canada; Mr Mukesh Rajwani of Jaidev Stores, Sierra Leone and Mr Ashish Agarwal of Spicy World of USA.
The Vote of Thanks was given by Mr Mohnish Singh of Sun Mark who thanked Lord Rami Ranger CBE and Sun Mark UK and UAE team for making the evening possible and for bringing together such a myriad of people from all over the world.
Sun Mark is the only British company to have the accolade of being awarded the Queen's Award for Enterprise in International Trade for an unprecedented 5 consecutive years and is currently engaged in sales in over 130 countries and its reputation extends far and wide.