Advertisement

Does the Rishi Sunak controversy prove that the very rich cannot rule us? Or does it also have an element of racism? …. Comment by Mihir Bose, former Sports Editor, BBC
Let us take the question of race. I am always reluctant to see race as an issue just because the person involved is non-white. However, what this issue raises is how this country is still struggling with the legacy of empire. The non-domicile status was created in the days of the empire to help the British earning money abroad, many from the slave trade. This was important.
For as Eric Williams' classic Capitalism and Slavery, now reissued by Penguin, shows, the slave trade not only led to the belief in white supremacy but it provided the money for Britain to become the first great industrial power. To give these slave masters a tax break was important. The fact that people can still be non-doms shows that despite all the talk that the empire is history the British still like to cling on to various bits of the empire. How curious that this does not benefit the British any longer.
In claiming to be a non-dom Akshata Murthy was saying she considers India her home which, as the veteran political commentator Nigel Dudley says, does raise the question, "would she want to return there with her husband and if so he must be the first Chancellor to make it clear while in office that he intends to live somewhere else in the not too distant future."
The other question also relates to the Empire but this concerns what has happened to two former colonies of this country. The colony that defined the first empire, America and after it was lost the colony that replaced it as the centre of the second empire, India.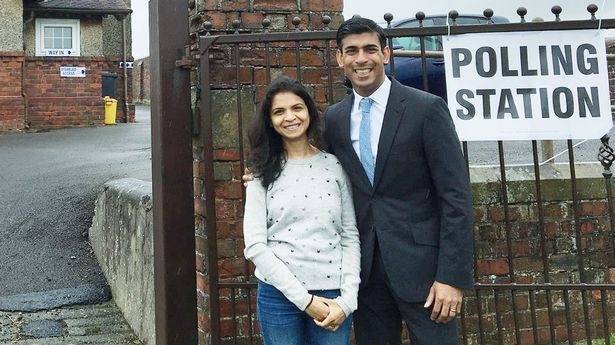 Take India. Akshata Murthy as a non-dom benefited from a provision in a 1956 treaty that was designed to stop Indian citizens being double-taxed on their estates in the UK and India. India abolished inheritance tax in the 1980s, but this tax exemption was never revoked.
When this treaty was negotiated India was a poor country which every year waited for news from the Aid India Club meeting in Paris to find out how much aid it had got. Also, America sent India PL 480 free wheat. Now, of course, all that has changed with the growth of companies like Infosys. It started with a capital of only $250 in 1981 and is now a $ 15.64 billion company with a market capitalization of approximately $ 106.44 billion. It pays dividends of millions and if you can claim non-dom status, as Akshata Murthy legally can, then it would make no sense not to do so. She has clearly been well advised by her tax consultants and taken advantage of provisions in the UK tax system which she is entitled to. Nothing wrong with that.
But this has come about because she met a British citizen of Indian origin while studying in America. And here we have a story of American immigration. Back in 1956, when that little known treaty between India and UK was negotiated, the US did not welcome Indians.
Contrary to popular belief the Statue of Liberty calling out to the world "Give me your tired, your poor, your huddled masses yearning to breathe free," did not apply to non-whites. For decades America kept out Asians. The 1917 White immigration policy created an 'Asiatic barred zone', covering a whole swathe of Asia, including India and the Pacific, and the Supreme Court often upheld provisions barring Asians from becoming US citizens. This was reinforced under the 1924 Immigration Act. The consequence was that many Indians began to leave the US and by 1940 the Indian population had dwindled to 2,405.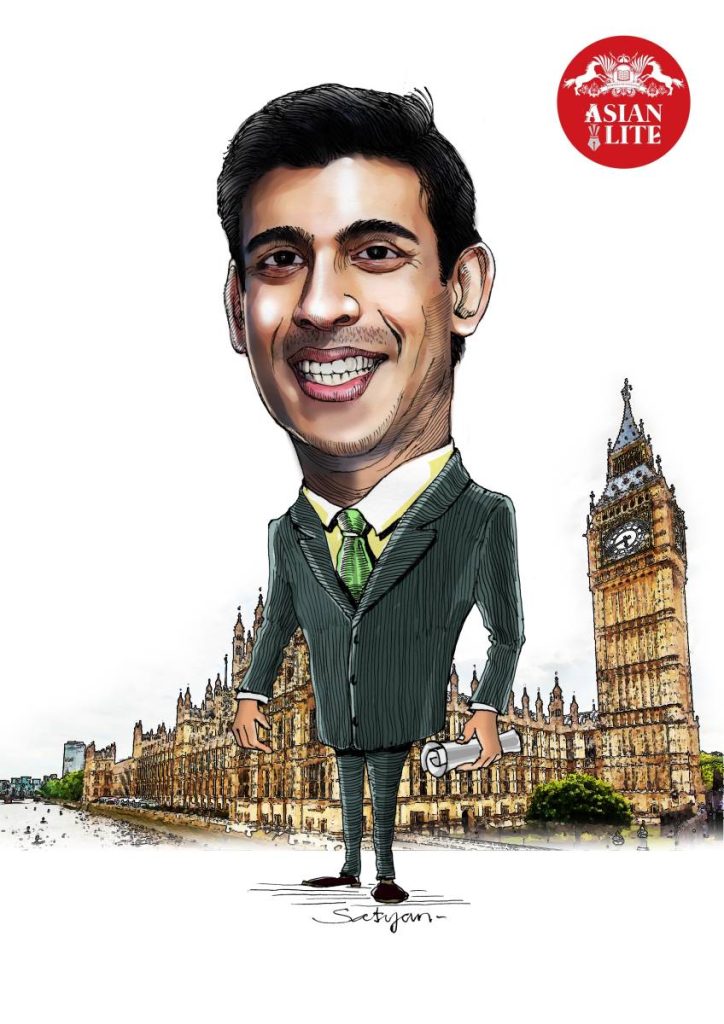 Not till almost twenty years after Indian Independence were these restrictions lifted, and it was only from 1960 onwards, when the newly elected John Kennedy spoke of changing the 1924 Act, that Indian immigration to the US began to grow, and grow quite dramatically.
In 1960 there were only 12,300 Indians in the US: 0.1 per cent of all immigrants, and 2.5 per cent of Asian immigrants. By 1970, five years after President Johnson repealed the 1924 Act—the same time as the blacks in the south got the right to vote—the number had increased to 51,000: 0.5 per cent of all migrants and 6.2 per cent of Asians. By 2011 there were nearly 1.9 million immigrants born in India: 4.6 per cent of all migrants and 16.1 per cent of Asian migrants. This now constitutes such a powerful ethnic block that the 2016 election at one stage held out the prospect of seeing Bobby Jindal, who came to the US from Punjab in his mother's womb and was Governor of Louisiana from 2008 to 2016 , becoming the Republican Presidential candidate.
Rishi and Akshata went to America to study at a time when Indians were welcome and they could aspire to get green cards which Rishi did. The question here is would this whole saga been different had say Rishi, while studying at Stanford not married a woman of Indian origin but a white American? Here it is worth recalling that many prominent white British men married white American women. Many of these women were known as "dollar princesses" and they came over to Britain seeking titled men. Winston Churchill's mother was an American and in his war-time address to the US House of Congress he said that had it been the other way round he would have addressed the Congress as of right. The wife of the Lord of manor in Downtown Abbey was also an American.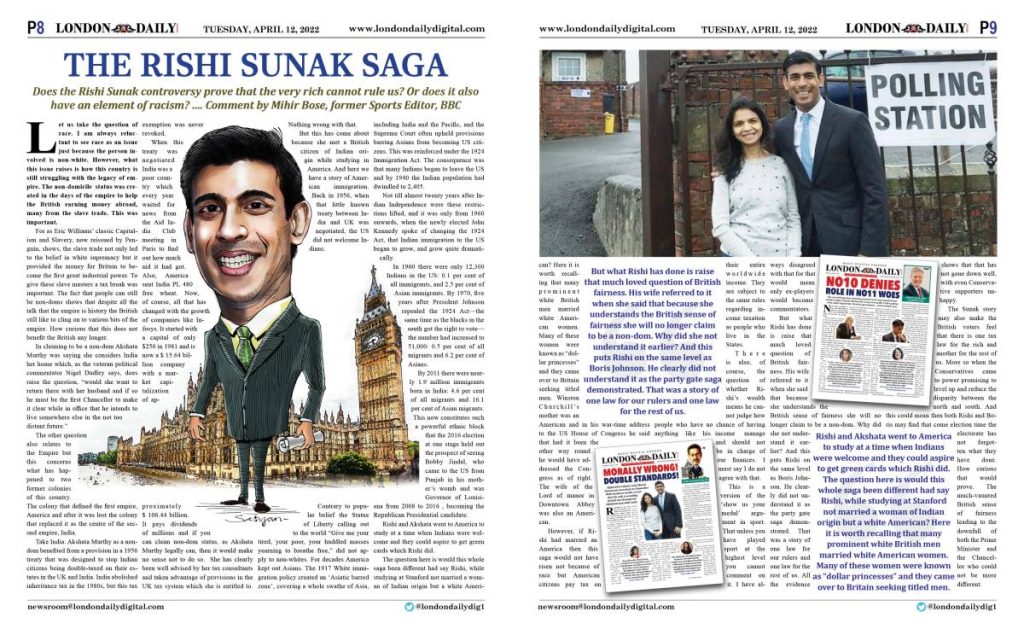 However, if Rishi had married an America then this saga would not have risen not because of race but American citizens pay tax on their entire worldwide income. They are subject to the same rules regarding income taxation as people who live in the States.
There is also, of course, the question of whether Rishi's wealth means he cannot judge how people who have no chance of having anything like his income manage and should not be in charge of our finances. I must say I do not agree with that. This is a version of the 'show us your medal' argument in sport. That unless you have played sport at the highest level you cannot comment on it. I have always disagreed with that for that would mean only ex-players would become commentators.
But what Rishi has done is raise that much loved question of British fairness. His wife referred to it when she said that because she understands the British sense of fairness she will no longer claim to be a non-dom. Why did she not understand it earlier? And this puts Rishi on the same level as Boris Johnson. He clearly did not understand it as the party gate saga demonstrated. That was a story of one law for our rulers and one law for the rest of us. All the evidence shows that that has not gone down well, with even Conservative supporters unhappy.
The Sunak story may also make the British voters feel that there is one tax law for the rich and another for the rest of us. More so when the Conservatives came to power promising to level up and reduce the disparity between the north and south. And this could mean then both Rishi and Boris may find that come election time the electorate has not forgotten what they have done. How curious that would prove. The much-vaunted British sense of fairness leading to the downfall of both the Prime Minister and the Chancellor who could not be more different.