Advertisement

The anti-encroachment drive began in the violence-hit Jahangirpuri area at around 10.40 a.m. in the morning…reports Asian Lite News
CPI(M) leader Brinda Karat on Wednesday termed the demolition drive carried out by the Municipal Corporation in Jahangirpuri area of Delhi "bulldozing the constitution."
"The law and the constitution have been bulldozed by these illegal demolitions," Karat said as she visited the site where the JCB cranes were demolishing the illegal structures in Jahangirpuri.
Incidentally, the CPI (M) leader stepped in at a time when the JCB was about to demolish the illegal encroachment outside a temple. "The Supreme Court has given the order to maintain the status quo on the demolition drive, I have just come here to implement that order," Karat told mediapersons.
The anti-encroachment drive began in the violence-hit Jahangirpuri area at around 10.40 a.m. in the morning. The first demolition was of a tobacconist's shop and then the JCB proceeded further to demolish another juice-cum-tobbacco vendor next to it. A double storey scrap dealer's shop was also razed to the ground.
The residents in the vicinity of the demolition drive could be seen watching from the rooftops and the windows of their houses. While speaking to IANS, several expressed their resentment over the government's strict action which came just 4 days after the severe communal clashes.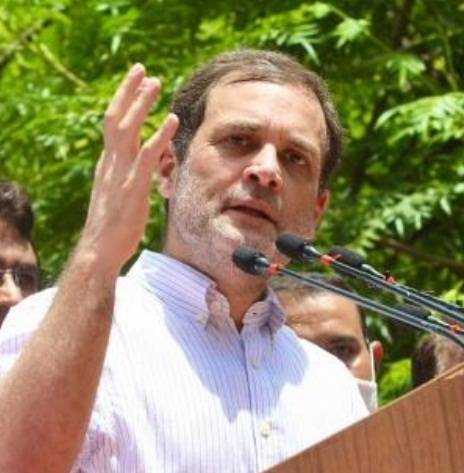 "Demolition of India's constitutional values"
The Congress on Wednesday accused the Centre of undermining constitutional authorities after it failed to immediately follow the Supreme Court's order of a status quo on the demolition drive in Delhi's Jahangirpuri area.
Congress leader Rahul Gandhi said its demolition of Constitutional values and shared picture of preamble which is threatened by a bulldozer.
"This is a demolition of India's constitutional values. This is state-sponsored targeting of poor & minorities," he said in a tweet.
Earlier Congress leaders had termed it "brazen contempt" and a very dangerous precedent of defiance by the civic agency and Delhi police.
Senior advocate Dushyant Dave on Wednesday again mentioned the Jahangirpuri demolition matter before a bench headed by Chief Justice N.V. Ramana, saying despite the top court's order, the municipal corporation had not stopped the demolition drive.
Dave said the top court in the morning ordered status quo on the demolition, yet the municipal corporation did not stop the demolition drive at Jahangirpuri.
He urged the top court to ask the secretary general to communicate the court's order to the North Delhi Municipal Corporation (NDMC), Mayor NDMC, and Commissioner of Delhi Police.
"Once it's widely reported in the media, this is not appropriate…," said Dave.
The Chief Justice then asked the registry to communicate the court's status quo order on the demolition drive to the respondents in the matter — NDMC Commissioner, Mayor and Delhi Police Commissioner.