Advertisement

Delhi police had denied permission to the Congress for holding a protest in the national capital..reports Asian Lite News
Congress MP Rahul Gandhi and part leader Priyanka Gandhi Vadra was detained amid a massive protest by the party against rising prices, unemployment and GST hike on essential items. The party leaders were stopped by Delhi police when they were protesting outside the Congress headquarters.
Amid the multi-layered security arrangements outside the Congress party headquarters in the national capital on Wednesday, the party workers staged an intense protest that was led by Priyanka Gandhi Vadra.
The police had placed several barricades to stop the Congress workers from taking out any kind of march towards the Prime Minister's residence.
As per latest reports, the party workers, raising slogans against the Central government, are continuously attempting to cross those barricades.
Priyanka Gandhi, refusing to budge, crossed the 3-feet tall barricade after jumping it. As she tried to move forward, she was stopped by the women police personnel and subsequently the Congress General Secretary sat in the middle of the road in protest.
Till now several party leaders, including Sachin Pilot have been detained by the police. "It is our right to meet the President. This Parliament session was called by the President and if the prime motive of Parliament is not fulfilled then it is our duty to meet her," party leader Pramod Tiwari said.
Congress leader Rajiv Shukla said their party's protest march has been stopped by the police, however, they will still try to move forward and if need be even give their arrest.
The Congress launched a pan-India protest – dubbed as "Halla Bol" – in protest against the government. In Delhi, cops had announced ban on large gatherings in the New Delhi district and had clarified that no demonstrations would be allowed. However, with barricades put up all over amid huge police force, standoffs between cops and Congress leaders ensued soon after demonstrations started.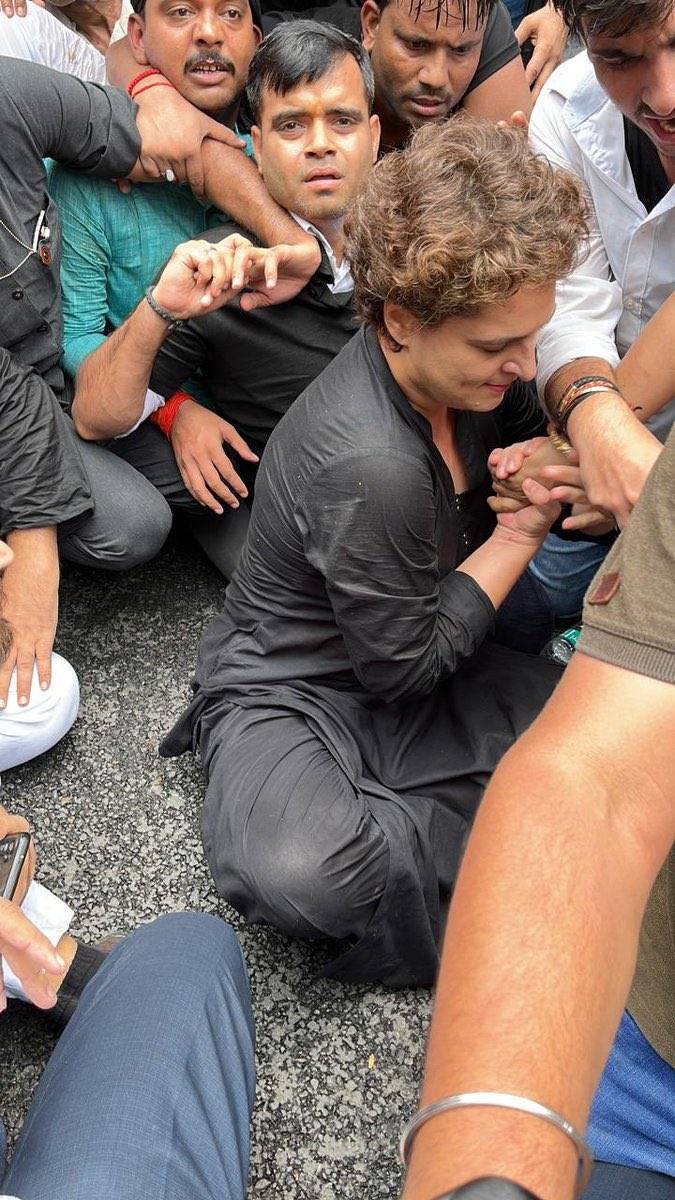 "Our job is to raise the issues of the people…Some Congress MPs were detained, also beaten by police," Rahul Gandhi said while speaking to reporters. He and his party members were seen wearing black clothes to register the protests. Last week, he was detained with top Congress leaders amid agitations against Sonia Gandhi's questioning by the Enforcement Directorate in the National Herald case.
When asked about the MPs being manhandled, he said, "That is fine. I'm happy to be manhandled. Our job is to resist these forces, our job is to make sure that Indian democracy is protected. Our job is to raise issues of the people like price rise and unemployment and we are doing that."
Earlier, in a video tweeted by the party, Congress chief Sonia Gandhi was seen standing in parliament as her colleagues raised slogans against the government over the GST (Goods and Sales Tax) on food products. Visuals showed Rahul Gandhi leading march to the President's house.
In another clip tweeted by the Congress's Manish Tiwari, he was heard saying: "We were headed towards Rashtrapati Bhavan to give a memo. We were detained at Vijay Chowk. Now we are being taken to Kingsway camp. We will continue our protest."
Ahead of the march, a BJP vs Congress war of words was triggered as Rahul Gandhi said, "India is witnessing death of democracy". "Is there democracy in the Congress," the BJP's Ravi Shankar Prasad had shot back saying, recalling the Emergency era.
Congress leader Jairam Ramesh, taking to Twitter, said, "For the past 3 months, ever since the Congress President announced the Bharat Jodo Yatra from Kanyakumari to Kashmir, these people have intensified the poisonous politics of vengeance and fear against the Congress party and our leaders. It's not just a coincidence."
ALSO READ-Priyanka to take stock of UP defeat