Advertisement

The upcoming military aid package, the 18th such tranche, brings U.S. commitment to about $9.8 billion and includes munitions for long-range weapons and armored medical transport vehicles…reports Asian Lite News
The Biden administration announced a $1 billion security assistance package for Ukraine on Monday, the largest weapons installment yet since Russia's full-scale invasion began in late February.
The upcoming military aid package, the 18th such tranche, brings U.S. commitment to about $9.8 billion and includes munitions for long-range weapons and armored medical transport vehicles.
The package consists of additional ammunition for High Mobility Artillery Rocket Systems or HIMARS, 75,000 rounds of 155 mm artillery ammunition, 20 120 mm mortar systems and 20,000 rounds of 120 mm mortar ammunition as well as munitions for National Advanced Surface-to-Air Missile Systems or NASAMS.
The HIMARS, manufactured by defense giant Lockheed Martin, are designed to shoot a variety of missiles from a mobile 5-ton truck and have sat high on Ukrainian wish lists. Under Secretary of Defense for Policy Colin Kahl said that the U.S. was not sending HIMARS in this latest package, only ammunition for the system. Kahl declined to say how many rounds of ammunition would be in the next delivery.
The U.S. has thus far provided 16 HIMARS to Ukraine.
The Pentagon will also send 1,000 Javelins, hundreds of AT4 anti-armor systems, 50 armored medical treatment vehicles, anti-personnel munitions, explosives, demolition munitions and demolition equipment.
Until now, the largest Ukraine assistance package was announced on June 15 but that installment was a mixture of presidential drawdown authority and the Ukraine Security Assistance Initiative. Monday's package, solely a presidential drawdown authority, means the weapons come directly from U.S. stockpiles.
"We will continue to consult closely with Ukraine and surge additional available systems and capabilities carefully calibrated to make a difference on the battlefield and strengthen Ukraine's eventual position at the negotiating table," Secretary of State Antony Blinken said in a statement.
In recent days, Russia has been moving troops and equipment in the direction of the southern port cities to stave off the Ukrainian counter-offensive.
"At every stage of this conflict, we have been focused on getting the Ukrainians what they need, depending on the evolving conditions on the battlefield," Colin Kahl, undersecretary of defence for policy, said.
While the US has already provided 16 HIMARS to Ukraine, Mr Kahl said the new package does not include additional ones.
He added: "These are not systems that we assess you need in the hundreds to have the type of effects needed.
"These are precision-guided systems for very particular types of targets and the Ukrainians are using them as such."
He declined to say how many of the precision guided missile systems for the HIMARS were included in Monday's announcement, but said the US has provided "multiple hundreds" of them in recent weeks.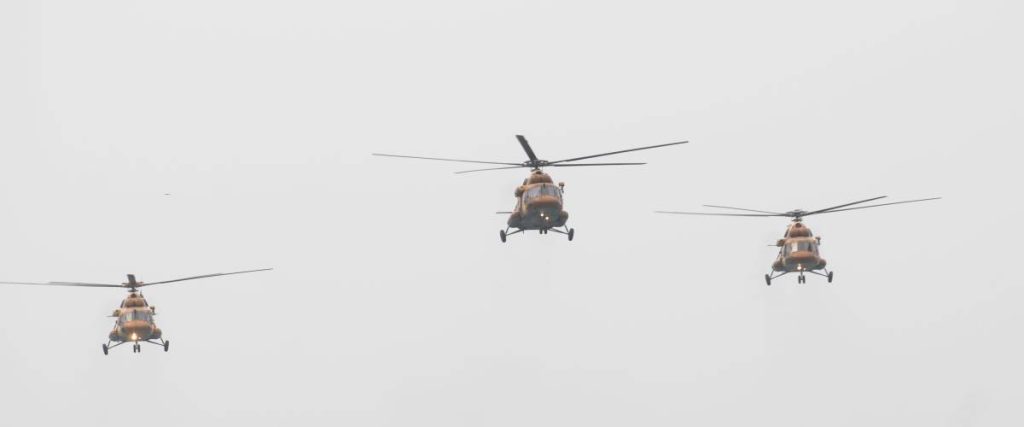 US to train Ukrainian pilots
Last month the House of Representatives has approved an amendment for the defense budget bill for 2023 to train Ukrainian pilots on F-15 and F-16 fighter jets amid the reeling crisis in Ukraine, said the head of the Ukrainian presidential office, Andriy Yermak.
The training program for the Ukrainian pilots will cost 100 million US dollars, Yermak said, adding that the draft law must be passed by the US Senate and later signed by US President Joe Biden to come into effect. Ukrainian Ambassador to the United States, Oksana Markarova said that the US defense budget bill for 2023 envisages allocating Ukraine 1 billion dollars in security aid in the 2023 fiscal year which runs between Oct 1, 2022, and Sept 30, 2023.
US security assistance to Ukraine has turned out to be more than USD 6.1 billion since Russia launched its "brutal, unprovoked, full-scale invasion" of Ukraine on February 24.
Earlier, condemning Russia's "premeditated, unprovoked, unjustified, and brutal war" on Ukraine, Blinken had said that the US will continue to provide Ukraine with the arms to defend itself and the steady flow of US security assistance from the coalition of more than 40 Allies and partners will continue to bolster Ukraine's defenses as well as improve its ability to defend its sovereign territory and secure hard-fought victories on the battlefield.
"We have imposed swift and severe sanctions on Russia's economy and the elite of President Putin's regime. We have enhanced NATO's ability to deter and defend against any aggression by Russia on its Eastern Flank. And we will continue to deliver crucial military capabilities to Ukraine's brave defenders," he stated in the official statement.
Moreover, Washington through the US Agency for International Development (USAID) in coordination with the US Department of the Treasury also contributed USD 1.7 billion as part of budgetary aid to Ukraine under President Joe Biden's commitment to President Volodymyr Zelenskyy.
This contribution was made possible with generous bipartisan support from Congress. These resources have helped the Ukrainian government continue carrying out core functions – for example, keeping gas and electricity flowing to hospitals, schools, and other critical infrastructure, supporting the provision of humanitarian supplies to citizens, and continuing to pay the salaries of civil servants and teachers.