Advertisement

According to reports, the records being released to Congress are visitor logs showing appointment information for individuals who were allowed to enter the White House on the day of the insurrection….reports Asian Lite News
US President Joe Biden has ordered the National Archives to handover Trump White House visitor logs to the House committee probing the Capitol riot of January 6, 2021, once again rejecting former President Donald Trump's claims of executive privilege, media reported.
According to reports, the records being released to Congress are visitor logs showing appointment information for individuals who were allowed to enter the White House on the day of the insurrection.
In a letter sent on Monday to the National Archives, White House counsel Dana Remus said Biden had considered Trump's claim that because he was president at the time of the attack on the US Capitol, the records should remain private, but decided that it was "not in the best interest of the United States" to do so, it was reported.
Last month, Trump had assured that he would pardon rioters charged with deadly assault on the US Capitol on January 6, 2021, if the former president decides to run in the 2024 presidential election and wins.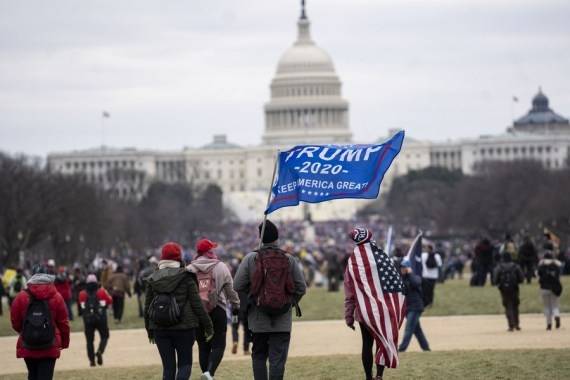 "If I run and if I win, we will treat those people from January 6 fairly, we will treat them fairly, and if it requires pardons, we will give them pardons because they are being treated so unfairly," Trump said at a Saturday rally in Texas.
The ex-president, however, did not elaborate again on whether he plans to join the presidential race.
Also, Trump will launch his own social media network by the end of March, Fox Business said, citing sources familiar with the matter.
The network, named TRUTH Social, will be fully operational by the expected launch date at the end of the current quarter, the report said on Wednesday.
The Trump Media & Technology Group (TMTG) currently conducts beta testing, and Americans will be able to download its app or create an account by the same time, the report said.
Trump's new network is not public yet, but is already available for pre-order in the Apple App Store, the report added.
TRUTH Social will cooperate with Rumble – a platform, which is positioning itself as an alternative to YouTube and Amazon Web Services (AWS), according to the report.
Trump promised last week that his network will fight back against Big Tech censorship and will protect the right to free speech and expression.