Advertisement

The Emirates Central Cooling Systems Corporation (Empower), which is 70% owned by DEWA, plans to spend around AED3 billion mainly to expand district cooling capacity and network…reports Asian Lite News
Dubai Electricity and Water Authority (DEWA) has plans to invest AED40 billion on capital expenditure in the next five years including the expansion of renewable and clean energy projects, said Saeed Mohammed Al Tayer, MD & CEO of DEWA.
He noted that DEWA plans to invest about AED16 billion to strengthen and expand electricity and water transmission and distribution networks, about AED12 billion to complete the Independent Power Producer (IPP) projects in the Mohammed bin Rashid Al Maktoum Solar Park, the Hassyan Power Complex and the Independent Water Producer (IWP) projects at Hassyan, in addition to completing other ongoing DEWA projects in infrastructure and smart systems.
The Emirates Central Cooling Systems Corporation (Empower), which is 70% owned by DEWA, plans to spend around AED3 billion mainly to expand district cooling capacity and network to meet demand growth for district cooling services.
"DEWA will continue to invest and enhance renewables' generation capacity, through informed plans based on the latest tools for future foresight, in order to meet the increasing demand for electricity and water. We provide our services in accordance with the highest levels of quality, availability, reliability and efficiency and will keep pace with the rapid growth of Dubai across all areas. Our plans will consolidate Dubai's position as an advanced model that provides a favourable and supportive environment for investments," said Al Tayer.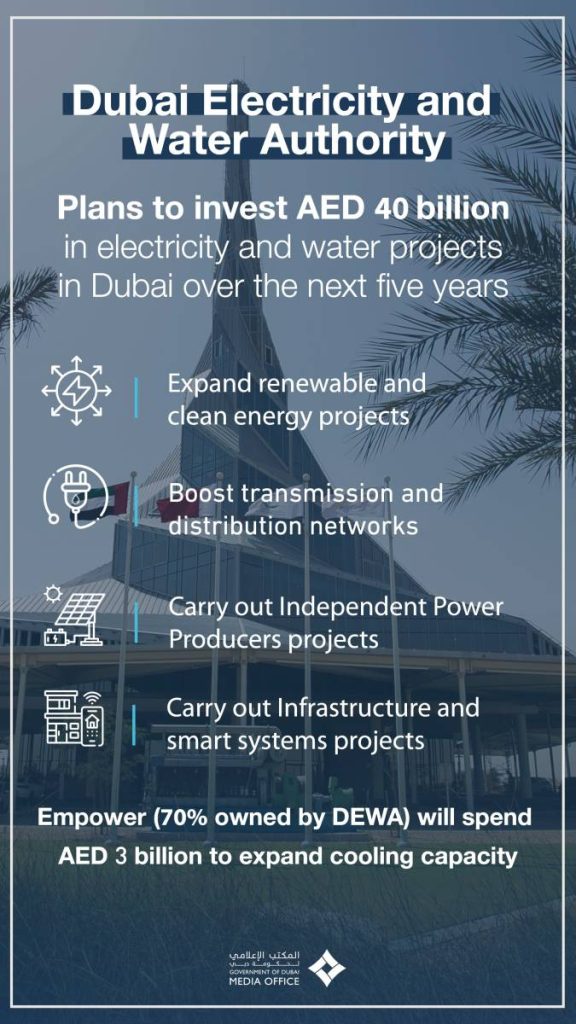 Increase in energy demand
Al Tayer had earlier said that energy demand in Dubai during the first half of 2022 increased by 6.3% compared to the same period in 2021. Demand for energy in the first half of 2022 reached 23,096 GWh compared to 21,729 GWh in the first half of 2021.
"We continue to raise the production capacity of electricity and water according to the highest standards of availability, reliability, efficiency and quality, thanks to a sound governance system across all DEWA's operations," Al Tayer said.
"This is to ensure that we keep pace with the growing demand for electricity and water as well as future needs of customers, developers and businesses while providing a convenient margin. DEWA's growth plans align with Dubai's 2040 Urban Master Plan, Dubai's Clean Energy Strategy 2050 and Dubai's Net Zero Carbon Emissions Strategy 2050, which aims to provide 100% of Dubai's energy production capacity from clean energy sources by 2050."
Al Tayer said that the increase in energy demand in Dubai reflects the economic recovery and the return of key activities. Dubai has proactively benefited from the Fourth Industrial Revolution technologies and implemented robust precautionary measures to ensure business continuity. This vision has contributed to Dubai presenting a global role model in readiness to deal with different challenges and turn them into promising opportunities.