Advertisement

During the visit, Goyal is scheduled to interact with business leaders, Indian students and the diaspora, reports Asian Lite News
Days after inking the Economic Cooperation and Trade Agreement (ECTA), Union Minister of Commerce and Industry Piyush Goyal has reached Melbourne for a three-day visit to Australia.
India and Australia signed the Economic Cooperation and Trade Agreement (IndAus ECTA) on Saturday.
During the visit, Goyal is scheduled to interact with business leaders, Indian students and the diaspora.
Goyal will hold wide-ranging discussions with his Australian counterpart, MP Dan Tehan, Minister for Trade, Tourism and Investment, on carrying forward the ECTA.
ECTA is the first trade agreement of India with a developed country after more than a decade.
It provides for an institutional mechanism to improve trade between the two countries.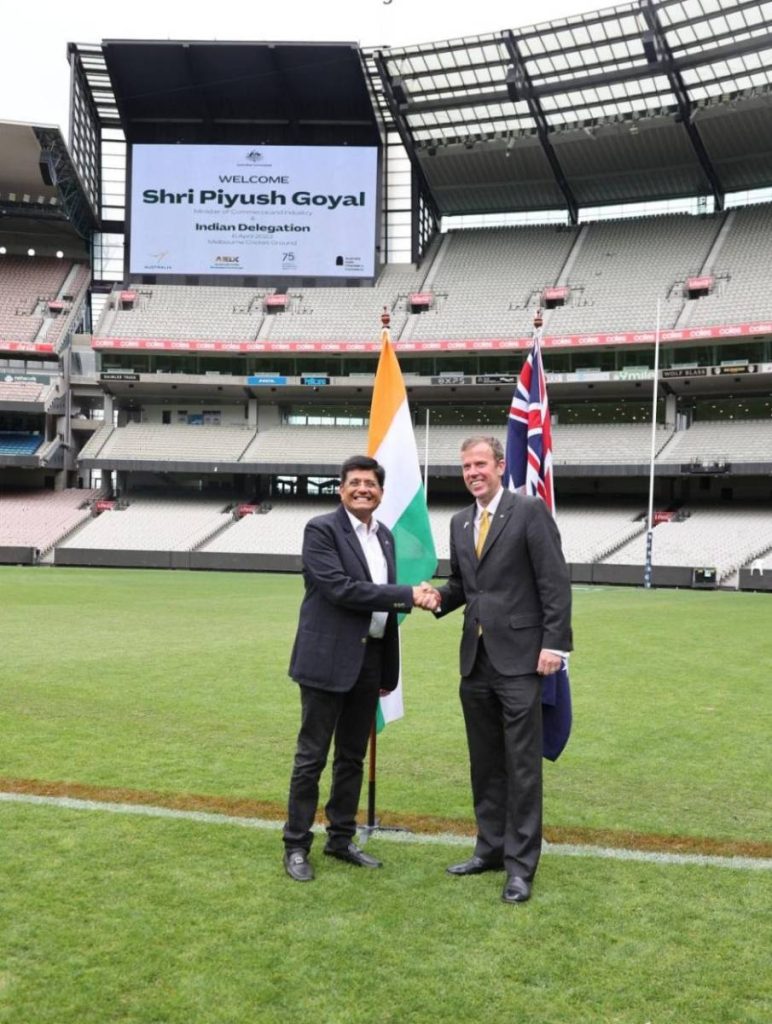 Meets Tony Abbott
Minister Goyal has met Tony Abbott, Australian Prime Minister's Special Trade Envoy in Melbourne on Tuesday.
Taking to Twitter, Goyal said that Abbott has played a key role in realising the India-Australia Economic Cooperation and Trade Agreement (ECTA).
"It was a pleasure meeting Australian PM's Special Trade Envoy for India @HonTonyAbbott in Melbourne. He has played a key role in realising the #IndAusECTA. Discussed how both countries can build on this deal to increase supply chain resilience in the Indo-Pacific region," Goyal tweeted.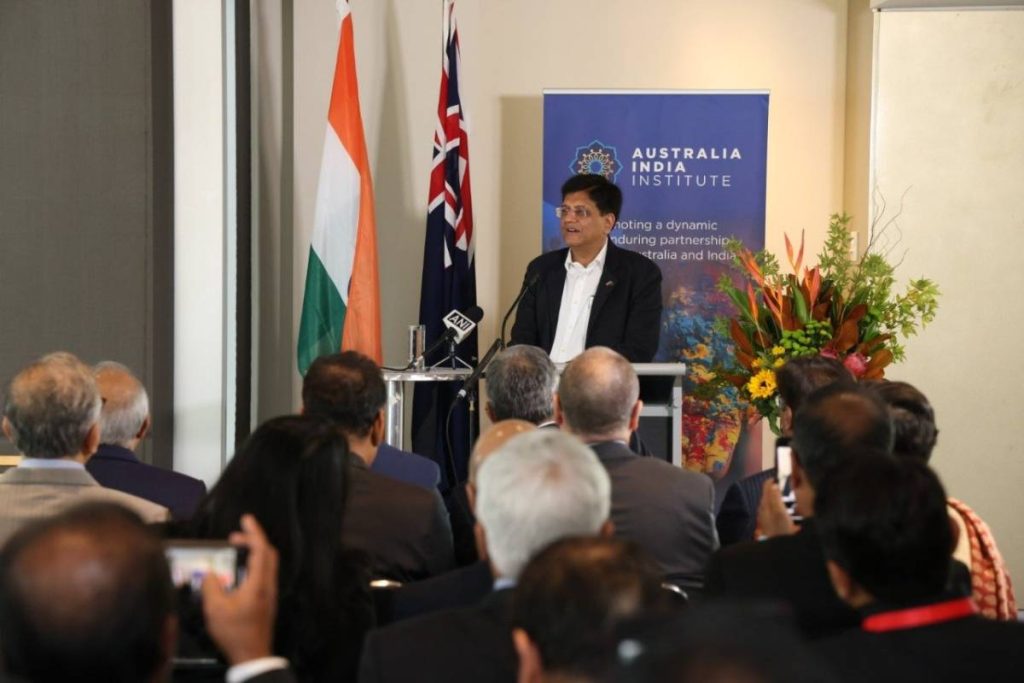 Visits Melbourne University
Minister Goyal on Wednesday paid a visit to the University of Melbourne as part of his three-day visit to Australia.
He was accompanied by Australia's Trade Minister Dan Tehan and Allan Myers, Chancellor, University of Melbourne, at the Melbourne Law School in The University of Melbourne.
"The University of Australia, particularly welcomes the terms of agreements that focus on students, education and research," said University of Melbourne Provost, Professor Nicola Phillips.
"We know education is a key pillar of the Australia-India relationship. And it is excellent that new opportunities emerged through this interim free trade agreement for students choosing to live study and work in Australia and in Melbourne," she added.
Highlights trade deal
Minister Goyal has also underlined the importance of the India-Australia Economic Cooperation and Trade Agreement, saying even though the agreement was signed a bit late but its "better late than never."
Addressing a key event at Melbourne University, Goyal said, "The India-Australia Economic Cooperation and Trade Agreement (ECTA) gives us an opportunity to get back the brotherhood, fraternity and togetherness that was rightly due."
The minister emphasised that India-Australia are 50 years too late in enhancing ties between the two countries.
"This is a relationship where we could have naturally helped each other to grow, prosper and make a better future for the people of both countries forward," he added.
Appreciating the pace at which the trade deal was concluded between the countries, Goyal said, "Even though you are late but its good that you are there. That's the sentiment that the IndAus agreement has… better late than never."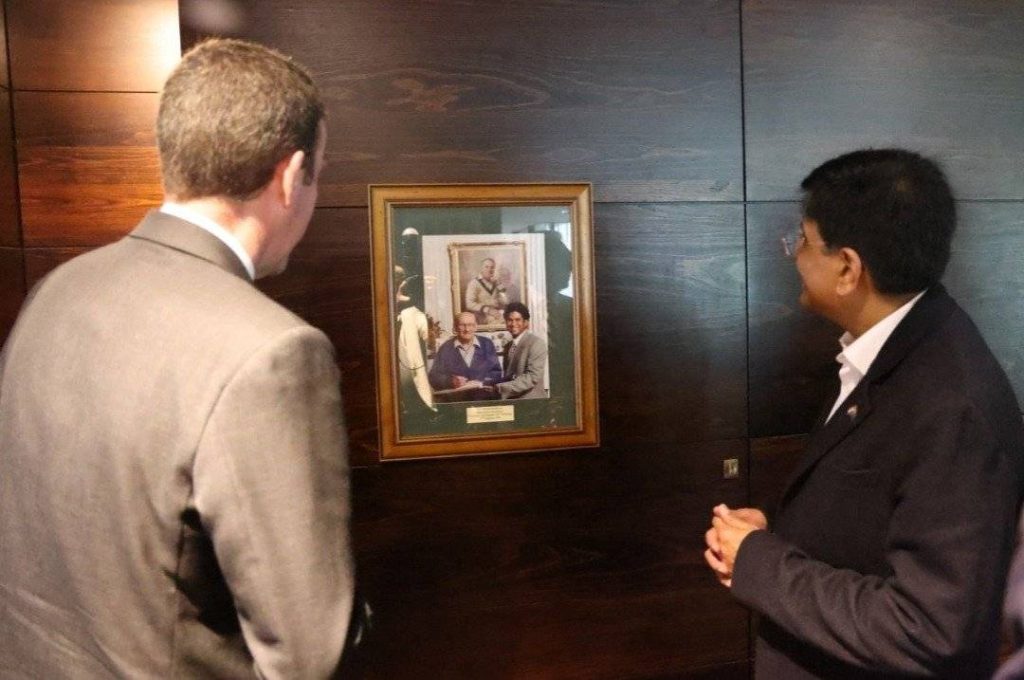 Goyal further said India and Australia are already at a very advanced stage of entering into an agreement on greater collaboration on the education front. "…I hope that The University of Melbourne will play an important role in our future plans together."
During his address, Goyal paid tribute to the health workers, doctors and nurses who contributed to saving lives during the COVID-19 pandemic.
He also paid tribute to cricket legend Shane Warne, who recently passed away. "All of India admired Shane Warne. He was a truly remarkable cricketer. The King of Spin as they would call him and all of us mourned his passing away at a very young age."
Goyal will also be meeting Assistant Minister for Customs, Community Safety and Multicultural Affairs Jason Wood, Minister for Immigration and Multicultural Affairs Alex Hawke, Deputy Premier of Western Australia and Minister for State Development, Jobs and Trade, Tourism, Commerce and Science Roger Cook and Shadow Trade Minister Madeline King.
On April 7, Goyal and Minister Dan Tehan will address and interact with students at the University of New South Wales in Sydney and pay tributes at the statue of Mahatma Gandhi in the University campus.
He will later address the Emerging Diaspora Business Leaders Reception hosted by India-Australia Business and Community Awards (IABCA). Later in the evening, Goyal, accompanied by Minister Dan Tehan and Minister Alex Hawke, Minister for Immigration and Multicultural Affairs, will attend a Community event at the Swaminarayan Temple in Sydney. Before leaving Sydney on April 8, Goyal will also meet Alan Joyce, CEO & MD, Qantas Airways.
Australia is the 17th largest trading partner of India and India is Australia's 9th largest trading partner. The ECTA is expected to almost double the bilateral trade from $ 27.5 bn (2021) to about $ 45 to $ 50 Billion in the next 5 years. ECTA is expected to create new employment opportunities, raise living standards and enhance the overall welfare of the people of both countries. Additional employment generation is expected to be 10 lakhs within the next 5 years.