Advertisement

Activist Max Mok alleged that he was 'assaulted' after he began shouting 'free East Turkestan' and 'Hong Kong independence'….reports Asian Lite News
Chinese 'nationalists' have clashed with Hong Kong human rights protesters at a China versus Australia basketball match, media reports said.

Crowds were left shocked at the violent display during the FIBA World Cup qualifier on Thursday at the John Cain Arena in Melbourne, Daily Mail reported.

Activist Max Mok alleged that he was 'assaulted' after he began shouting 'free East Turkestan' and 'Hong Kong independence'.

Footage showed him yelling and holding a poster before he is pushed by a larger man as his girlfriend tries to hold him back.

Mok's poster was demanding the release of Mirzat Taher, an Australian Uyghur political prisoner held in China for 25 years, Daily Mail reported.

Another protester brandishes a Tibetan flag — used since the 1960s as a symbol of the Tibetan independence movement.

The flag is banned in mainland China because the Communist superpower claims Tibet as its territory, therefore says the flag of the People's Republic of China should represent it.

Security personnel at the John Cain Arena were forced to intervene to break up the clash and then called in the police to assist them.

It is understood that the police removed some of the crowd members involved from the stadium.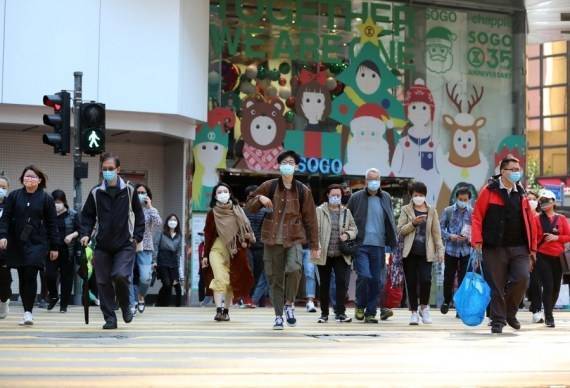 Character of HK has fundamentally changed
Critics think that Beijing has shattered this promise in recent years with a restrictive national security law and electoral reforms which allow only "patriots" to run for Hong Kong's leadership, BBC reported.

The 2020 law followed massive pro-democracy protests in 2019, which included violent clashes between demonstrators and police.

Now, observers say, there is a slim hope for a more democratic political system and they fear that the character of the city has fundamentally changed, with Beijing in full control.

"Most Hong Kong people think that 'one country, two systems' has already disappeared," says Ted Hui, a former pro-democracy lawmaker who has fled the city, BBC reported.

Authorities say the national security law affects a minority, but Hui says it stifles Hong Kong's once-vibrant civil society.

In its wake, dozens of groups, including political parties and unions, have disbanded. The annual candlelight vigil commemorating the 1989 Tiananmen Square massacre and the July 1 handover anniversary march have been effectively banned by authorities.

Several pro-democracy media outlets, including Apple Daily and Stand News, have closed down in the past year, BBC reported.

Hong Kong, once a beacon of press freedom in Asia, was ranked 148th in the world for press freedom this year, tumbling down nearly 70 places since the previous year.

And "the city of demonstrations" — which has a long history of peaceful protest — has fallen silent since the national security law took effect.

"It's fair to say that no large-scale, on-the-ground protests will occur in Hong Kong in the foreseeable future," said Jeffrey Ngo, a policy and research fellow of US-based Hong Kong Democracy Council, BBC reported.

"Beginning in 2020, you have people in Hong Kong who are either in jail and therefore can't do anything, or some who try to stay out of jail so they self-censor for good reason."