Advertisement

The Kerala Chief Minister, who is already in UAE since Saturday, had met with Abdullah bin Touq Al Marri, the UAE Minister of Economy on Monday, reports Asian Lite News
The India Pavilion at Expo 2020 Dubai is all set to host Kerala Week from February 4-10. Kerala Chief Minister Pinarayi Vijayan will inaugurate the special week, aimed at boosting business and investment opportunities in the state, on Friday.
The chief minister, who is already in UAE since Saturday, had met with Abdullah bin Touq Al Marri, the UAE Minister of Economy on Monday.
"Had a fruitful interaction with Abdulla bin Touq Al Marri, UAE Minister of Economy," Vijayan tweeted soon after the meeting. "Discussed the welfare of NRKs and the prospects of fresh investments in Kerala's industrial sector."
He also thanked the UAE authorities and the Indian mission in Abu Dhabi for "the warm welcome and the wholehearted support offered for Kerala's progress."
Vijayan was accompanied by India's Ambassador to UAE, Sunjay Sudhir and chairman of Lulu Group International, M A Yusuffali.
The chief minister is scheduled to meet with Abdulrahman Al Awar, Minister of Human Resources and Emiratisation and Thani bin Ahmed Al Zeyoudi, Minister of State for Foreign Trade, on February 3, the Khaleej Times reported citing Indian mission in Abu Dhabi.
The Indian mission also confirmed that, UAE Minister of Tolerance and Coexistence, Sheikh Nahyan bin Mubarak Al Nahyan, will also be present at the inaugural ceremony of the Kerala Week.
ALSO READ: Expo hosts colourful celebrations on India's R-Day
The chief minister will be accompanied by P Rajeev, Kerala's Minister for Law and Industries, Sunjay Sudhir, UAE Ambassador to India, Dr Aman Puri, Consul General of India to Dubai, and APM Mohammed Hanish, principal secretary (industries), along with other senior officials.
Kerala Week will showcase various projects, investment avenues, tourism, IT, start-ups, and up-skilling opportunities. The week will present the rich cultural heritage of the state as well. A special reception to host the Chief Minister, organised by Norka Roots, will be held on February 5 at the Al Nasr Leisure Land.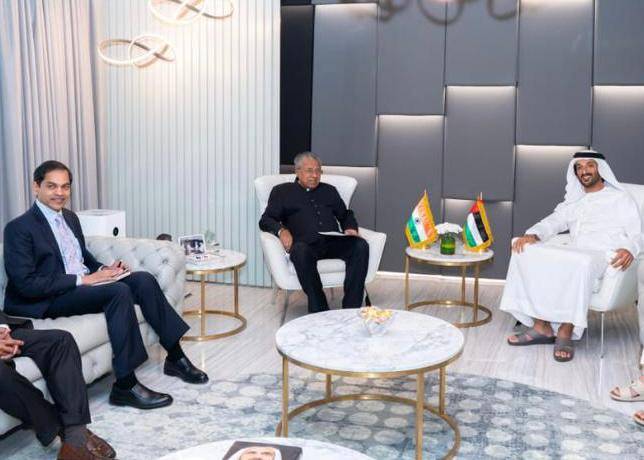 The upcoming weeks at the India Pavilion will witness participation from states such as West Bengal, Chhattisgarh, Andhra Pradesh, Tamil Nadu among others and sectors such as Steel, Healthcare, Information & Broadcasting, Agriculture, Electronics and Information Technology, Energy Conservation, Environment & Sustainability, Tribal Affairs to name a few.
States such as Gujarat, Karnataka, Telangana, Rajasthan, Maharashtra, Madhya Pradesh, Uttar Pradesh and UT of Ladakh among others have successfully showcased their business ecosystem along with rich cultural heritage and sourced investment opportunities from leading global investors. Additionally, sectors such as New and Renewable Energy, Space, Urban and Rural Development, Oil & Gas, Textile, Knowledge and Learning have held respective weeks to highlight the growth and investment opportunities in these areas.
ALSO READ: Indian startups impress global investors at Dubai Expo