Advertisement

The peer reviewed study by Shanghai's Fudan University, published in the Nature journal, said a decision by Chinese authorities to lift such measures could see more than 112 million symptomatic cases of Covid-19, five million hospitalisations, and 1.55 million deaths…reports Asian Lite News
The lifting of zero-Covid policies in China would see a "tsunami" of infections and almost 1.6 million deaths, a study claims, citing in part China's low vaccination rate among elderly residents, The Guardian reported.
China's government remains committed to a zero-Covid policy, employing resource intensive mass testing and case surveillance, and enforcing lockdowns, strict quarantine and isolation. A speech last week by the president Xi Jinping reaffirmed the commitment, despite the challenge posed by the Omicron variant which has already overwhelmed other countries' zero-Covid policies.
The peer reviewed study by Shanghai's Fudan University, published in the Nature journal, said a decision by Chinese authorities to lift such measures could see more than 112 million symptomatic cases of Covid-19, five million hospitalisations, and 1.55 million deaths.
"We find that the level of immunity induced by the March 2022 vaccination campaign would be insufficient to prevent an Omicron wave that would result in exceeding critical care capacity with a projected intensive care unit peak demand of 15.6 times the existing capacity," the paper said, The Guardian reported.
However it also said that with access to vaccines and antivirals and "maintaining implementation of non-pharmaceutical interventions", authorities could prevent the health system being overwhelmed. It suggested these factors could be more of a focus in future policies.
Health experts agree, but China analysts are also concerned the authorities have backed themselves into a corner with no political exit ramp for the policy without admitting failure, The Guardian reported.
Witnessing a surge in COVID-19 cases, China on Wednesday reported 222 confirmed local COVID-19 cases, the National Health Commission said on Thursday.
Of the new local cases, 144 infections were reported in China's financial hub Shanghai, Xinhua reported.
As the COVID-19 outbreak continues to spread in more and more cities in China, questions are mounting over the country's much-publicized "zero-covid" strategy that the government credited for bringing the country out of the pandemic.
Meanwhile, the ongoing severe lockdown restrictions in China's Shanghai to contain the spread of COVID-19 has drastically affected the day-to-day lives of the people due to food shortage.
Further, in a major escalation of COVID-19 restrictions amid a surge in Omicron variant cases, Beijing has banned all restaurant dining, shut down universal studios and ordered residents to provide proof of a negative Covid test to enter public venues.
According to reports, Shanghai residents have also been falling sick after consuming some of the food supplies because of the distribution of stale food by the authorities amid the city's COVID-19 lockdown.
The city's poor handling of the country's worst COVID-19 outbreak in two years has raised public distrust in the authorities and anger at the government.
As businesses in China continue to suffer due to zero-covid policy, global brands have revealed the damage to their bottom lines as both supply and demand took a major hit with millions of people living under strict lockdown.
Dozens of mainland Chinese cities, including the financial hub of Shanghai, have been locked down as authorities work to stamp out the coronavirus in recent weeks.
Many companies had just run up millions, or billions, of dollars in losses due to the war in Ukraine, which led to a massive — and costly — corporate exodus from Russia. The combination of both events has created a staggering one-two punch for multinational corporations, CNN reported.
"Like it or not, at this point if you're a multinational, China is probably your first or second-largest consumer market," said Ben Cavender, managing director of the consultancy China Market Research Group.
Over the last few years, many businesses have worked to shift at least some of their manufacturing outside China, thanks to the trade war with the United States. Last month, Apple warned of huge losses due to the COVID-19 outbreak in China, saying that supply chain issues could hit its sales by as much as USD 4 billion to USD 8 billion this quarter.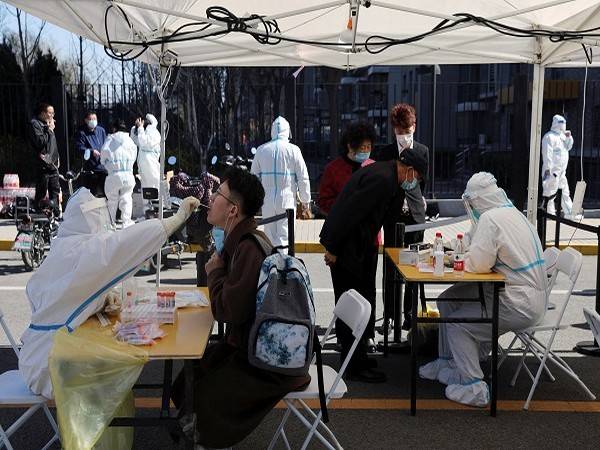 Additionally, Microsoft also said that shutdowns in Chinese production had hurt its supply of surface laptops and Xbox consoles, and could potentially "have a big impact" on its quarterly performance.
According to CNN, two of the world's biggest automakers– Volkswagen and Toyota– were forced to suspend production recently. While both companies have since resumed production, they warned that they would only build up gradually as supply chain snags continued.
However, many brands have expressed optimism about recovery for their businesses once the crisis subsides.
China's enormous services sector suffered its second steepest drop on record in April, while manufacturing activities also hit a record low. Despite that, Chinese President Xi Jinping has doubled down on the country's pandemic approach, saying that the government would "resolutely adhere to" its "zero Covid" policy.
Meanwhile, WHO Director-General Dr Tedros Adhanom Ghebreyesus has termed China's "zero Covid" policy as "unsustainable". "When we talk about the zero-COVID strategy, we don't think that it's sustainable, considering the behaviour of the virus now and what we anticipate in the future," he had said.
As per CNN's latest calculation based on government data, at least 31 cities in China are under either full or partial lockdown, potentially affecting about 214 million people across the country.
While other nations continue to reopen, some foreign companies may consider moving their regional headquarters out of China, according to Jorg Wuttke, president of the European Union Chamber of Commerce in China.(With inputs from ANI and IANS)